Rise, O Vampire, break the chains and emerge from thy coffin, for it is the bloodcurdling, sinister season of the year again… Trick, treat, or throw your friends the darkest, most grim halloween party that will leave them screaming from their nightmares, this Halloween! You wanna creep your friends out, scare them to the bones and above all, have a boisterous end-of-October party filled with monster candies, then what you're missing is PartyMojo's Halloween Horror Night Package to complete your perfect spooky affair.
For only
$280 Nett
, you can get 3 hours of any of the following activities
only for this October 2016!
3 Hours of Halloween Face Painting ($280 Nett)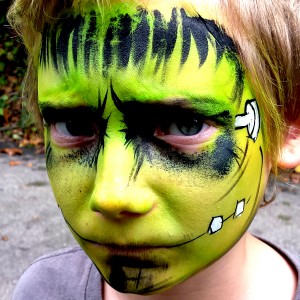 Want to be your own Victor Frankenstein? Ever wondered what your own creation of a monster would look like? Well, PartyMojo can tell you what! With our 3 hours of non-stop horror face painting Halloween Package, you and your friends can create any kind of monster of your choice! Our skillful, morbid face painters for the night will turn you into anything you please, from big old green Frankie, to Lord Voldemort! You wouldn't wanna wait another second for this marvelous deal for 3 Hours at only SGD $280 nett. Call us at PartyMojo now!
3 Hours of Halloween Glitter tattoo ($280 Nett)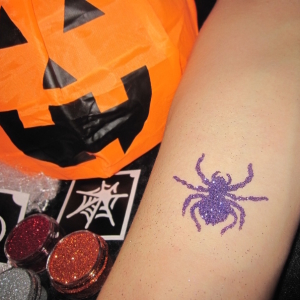 It's all spooky and dark this Hallooween, everyone's going black and green and nope, that's just not your cup of blood. You don't think the Air Brush Tattoo is glamorous enough, and you want to shimmer up your Halloween party this year! Well guess what? PartyMojo has exactly what you have in mind 😉 This year, we offer a full 3 hours non-stop Glitter Tattoo as one of our fabulous picks for our Halloween Package! Also for SGD $280 nett, grab the Glitter Tattoo package and go all chichi with your sparkling skulls this Halloween! No you don't need candles and a séance, PartyMojo is one call away!
2 Hours of Halloween Airbrush tattoo ($300 Nett)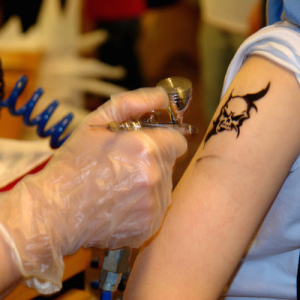 So you're all equipped with Halloween costumes and make up, all ready for the party.What you need now, is PartyMojo's frosty refreshin' 2 hours of non-stop Air Brush Tattoo Package to complete your chilly night! You and your friends can pick from our bundle of cool template designs to tattoo on your skin! Our airbrush tattoo is safe on all types of skin, so do not worry, get a spray, get out there and get flashy! This is definitely a package you shouldn't pass, for only SGD $300 nett!