Contact our PartyMojo office at 65696992 or Sales 81606655 / Yolanda 

81606622

 

to enquire now! Drop us a quick email at

[email protected]

today for your very own Slushies Drink Station!
Also known as Slush, Slurpee, Slushy. When it's hot out, a cold drink is a must! But instead of grabbing a bottle of boring iced tea or uncool water on a hot day consider treating your guests to something that will really help to beat the heat. Slurp away with our awesome slushies drink station with up to 16 flavours to choose from!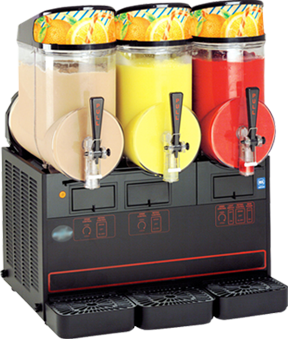 We offer up to 16 flavours of slushies for everybody to cool down in the hot weather! Check our FAQs for the list of delicious flavours! Please note that 1 unit of slushie contains 30 litres and it can serve up to 150 cups.
What is included?
1 Slushie machine
Paper cups and straws
Delivery, setup and teardown
| Unit(s)/Servings | Slushies Drink Station |
| --- | --- |
| 1 / 150 servings | $300 |
| 2 / 300 servings | $480 |
| 3 / 450 servings | $630 |
| Subsequent | Enquire for more information! |
*Delivery surcharge of $55 is applicable for Changi, Tuas, Jurong Island and Sentosa
What's included in PartyMojo's Slushies Drink Station?
Slushy machine, 1 slushy flavour of your choice, cups, delivery and setup!
What are the slushies flavours?
Apple, Barley, Blackcurrant, Blueberry, Cranberry, Fruit Punch, Honeydew, Lime, Lychee, Mango, Orange, Pineapple, Pink Guava, Rose, Soursop, Wintermelon.
Can I rent more than 1 slushy machine?
Yes! If you want more flavours or if you are expecting a large crowd, you may rent more machines!
How many servings can 1 unit of 30 litres serve?
1 unit of 30 litres can serve up to 150 cups.
What's required from me if I hire PartyMojo's Slushies Drink Station?
Simply provide us with a table and 3-pin power points and we're good to go! No table? No worries! We provide table rental at $20 each!
I need to cater to more people in 2 hours, can you do it?
No problem! We can cater to as many people as you want in the hour. This can be done so by adding more stations and manpower! Simply call or email to enquire with your event details and you will get a quotation within a day!
The mojo behind Mojo Team
Quality & Affordable Services
Professionally Trained Staff

More Than 70 Live Food Stations

Fun Filled Themed Packages
Cash / Cheque / Credit Card Payments
Coffee at your events!
It's almost cliche at any buffet or formal function or event to have the waiter ask you if you would like coffee or tea to go with your meal. That shows how indispensable coffee is as a basic beverage at most events. Put your trust in PartyMojo as we bring the hipster "cafe" to your guests at your next event! Our barista will brew quality lattes and teas on the spot with professional coffee machines just like the ones you can find in cafes!
How is coffee served?
The coffee and tea will be prepared on the spot! The coffee will be brewed on the spot to offer a good quality blend of roast and coffee to achieve that excellent cup of coffee. As for the tea, tea bags will be soaked in hot water to really bring out the aromatic flavour. In addition, you get to stamp on your company logo or any design of your choice on the paper cups to make your event even more unforgettable! Please note that the logo is only available in black.
What coffee and tea selections do you offer?
We all have that standard signature coffee that we go to and even the barista or cashier somehow remembers our order. Be ensured that the guests' signature coffee can be found from our list! Our barista will brew on the spot this top picks: Espresso, Long Black, Flat White, Cappuccino, Cafe Latte and Cafe Mocha. As for the tea, guests can pick from the many selections! We provide Ceylon Tea, Rose Tea, Green Tea, Acai Berry & Pomegranate Tea.
Fun fact about coffee!
Forget about what Asian parents say about coffee stunting growth or numbing your senses. The largest study to date has concluded that regularly drinking coffee could significantly lower the risk of death and that's great news for all you coffee lovers out there! If coffee makes you happy, just get it! Shouldn't you be celebrating by catering coffee for your next event? Well, we've heard your call and our coffee stations are here for you! Enquire with PartyMojo today at 6569 6992 or 6569 6998 about catering coffee for your event!
Terms & Conditions
Payment Terms
All prices quoted are in Singapore Dollars (SGD) and are subjected to 8% GST.
A 100% full payment is required to confirm the booking.
Breakage and damages to any equipments will be charged to client accordingly.
A transport surcharge of $30 is applicable for the following venues: Changi, Tuas, Sentosa, Turf city.
All cheques are made payable to PARTYMOJO PTE LTD.
Payment can be made via bank transfer to: DBS current Acc 003-932293-3 Branch code: 7171-003.
PartyMojo now accepts PayNow! The QR Code can be found at the bottom of the invoice issued.
Postponing of event can only be done 5 working days prior to the event.
Postponing of event is subjected to a $100 – $150 surcharge, subjected to availability.
50% of invoice charges if cancellation is made more than 5 working days before event time.
100% of invoice charges if cancellation is made 5 working days before event time.
Other Terms
PartyMojo will not be liable for cleaning up of any mess created by the activities/party guests.
PartyMojo reserves the right to cease the party immediately if the client verbally abuses any of our staffs. In the event that the client's guest verbally abuses a PartyMojo staff, PartyMojo staff will inform the client immediately. If the abuse does not cease, PartyMojo reserves the right to leave the event immediately.