在海上,我们无忧无虑,生活就像多彩的气泡一样美好!如果您一直渴望着来一次甲板上的派对,那么我们精心打造的水手航海派对将是您的不二选择!戴上精美可爱的水手帽,小心那些在岸上打闹的鲨鱼!快让您的孩子成为船长,开启一段奇幻的海上旅行!铺下日光浴垫,尽情享受海风与阳光吧!派对达人会为您献上美味的食物和精彩的娱乐活动!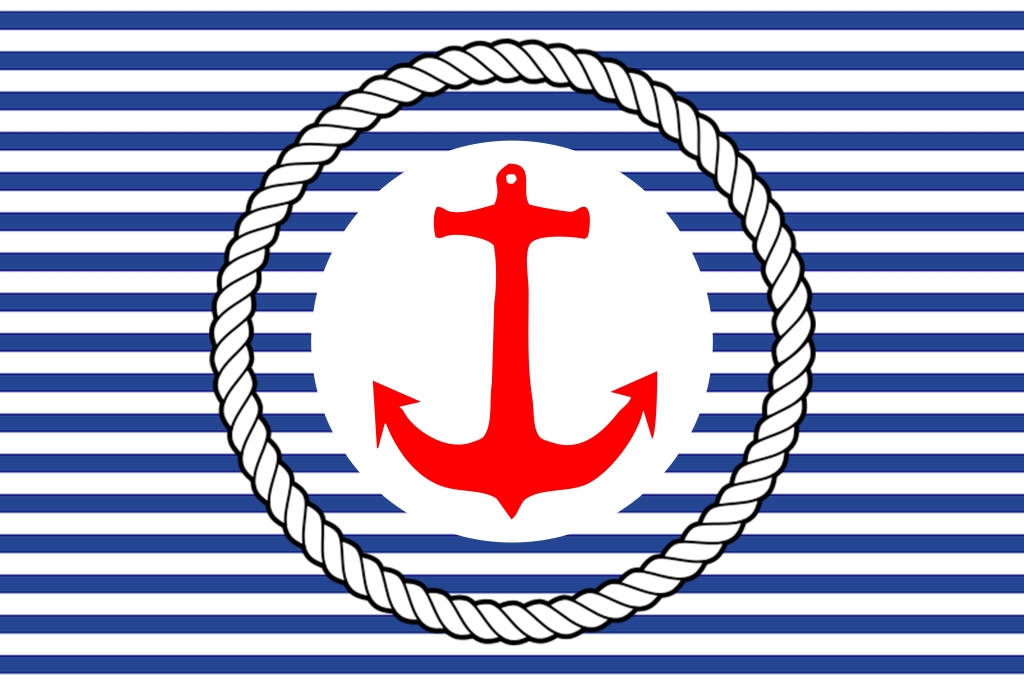 1. 水手航海主题装饰
- 2米长x3米宽以水手主题为背景的照相区 (2小时的租借时间)
- 50 个精美的蓝白空气气球
- 1对1.6米主题气球柱!
*派对盟主团队将提前2小时到场地布置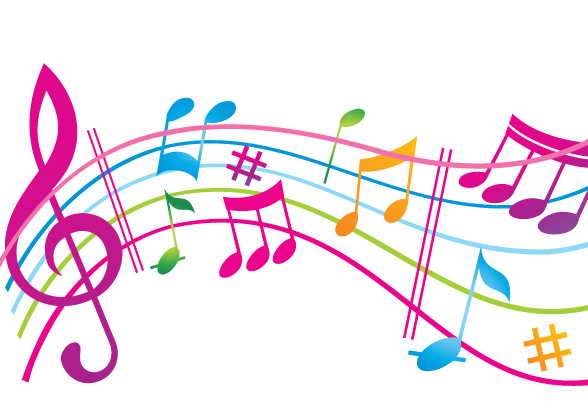 2. 派对音乐
- 出租两个小时蓝牙音乐播放器(若地点是普通大小的活动室/客厅,建议您使用蓝牙音乐播放器。若地点是较大的酒店活动室/餐厅,建议您使用他们的音乐系统。我们也欢迎您聘请我们专门为户外活动订购的音乐系统。)
- 最全的派对音乐供您选择!
- 最棒的派对气氛!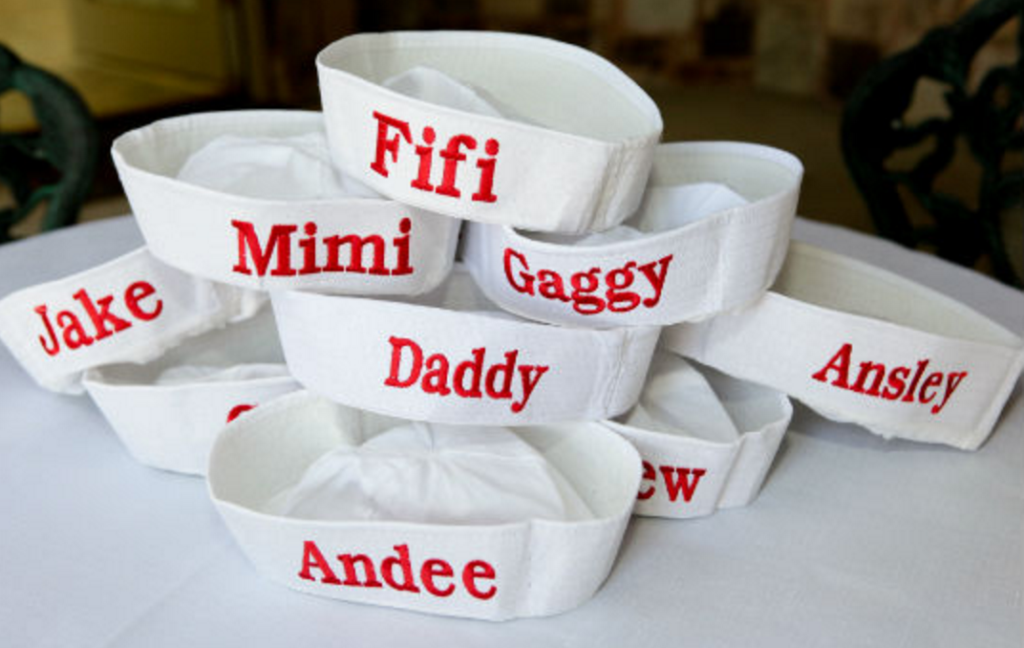 3. 人手一顶的水手帽
– 所有的孩子都可以获得一顶水手帽!
– 孩子们可以把帽子带回家!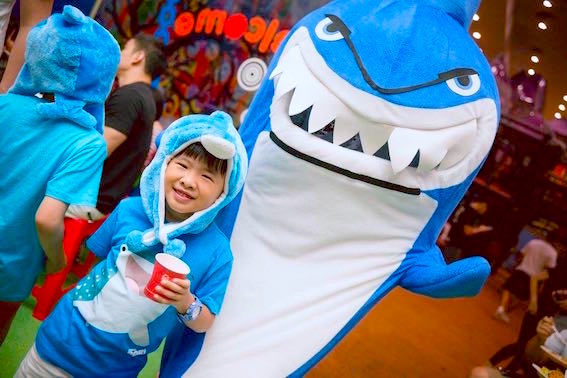 4. 鲨鱼吉祥物
– 1个鲨鱼吉祥物!
– 吉祥物会出现1个小时
– 与客人们拍照互动!
– 和小朋友们玩游戏!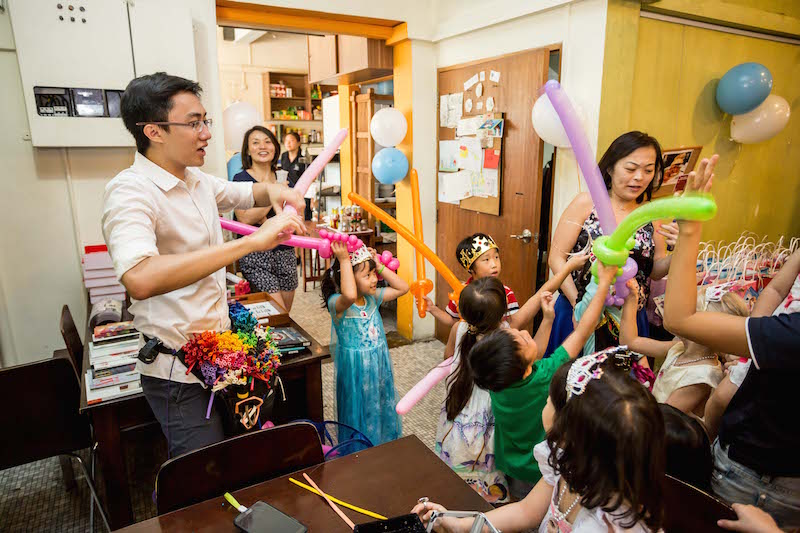 5. 专业特制气球
– 1 小时自由特制气球活动!
– 欢迎询问我们专业的气球艺术家任何问题!
– 大人们也可以参加!
– 可以请求换成其他活动!(扎辫子/闪光纹身)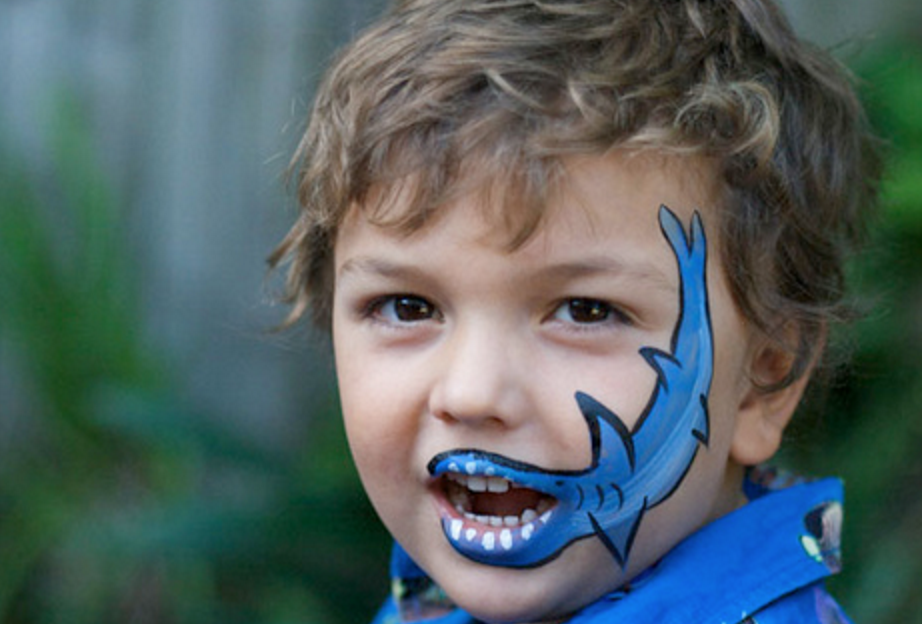 6. 高级脸部彩绘!
– 持续2小时的面部 或 手臂彩绘!所有人都可以参加!
– 大人们也可加入活动!
– 我们用的彩绘材料全部从英国进口,无毒无污!
– 可以请求换成其他活动!(扎辫子/闪光纹身)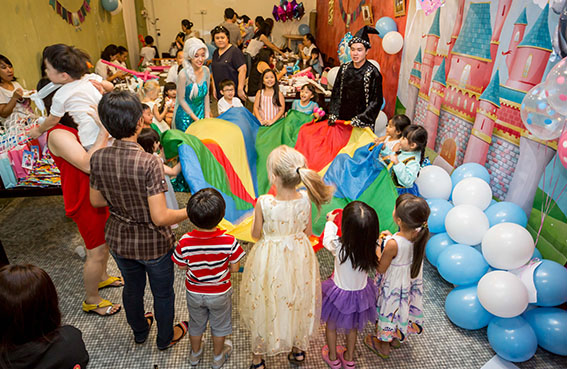 7. 有趣炫酷的游戏!
– 45 分钟的游戏时间,与我们的派对主持人一同度过!
– 总共可选5个精彩游戏!(马铃薯袋子游戏、降落伞、凌波舞、捉人游戏以及更多)
– 我们会为您提供所有游戏道具和背景音乐!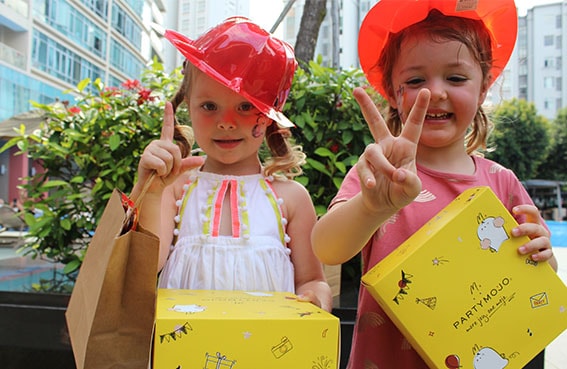 8. 好礼送不停!
-专业人士精心设计的礼盒
-每个礼盒都有一个迷你Mojo小袋,洁面毛巾和一只可爱的Mojo小兔子!
-礼盒可能会改变。请与我们的派对筹办者联系以获取更多信息!
-若您想自己订购或更改盒子内的礼物,请将您订购的礼物交给我们的工作人员。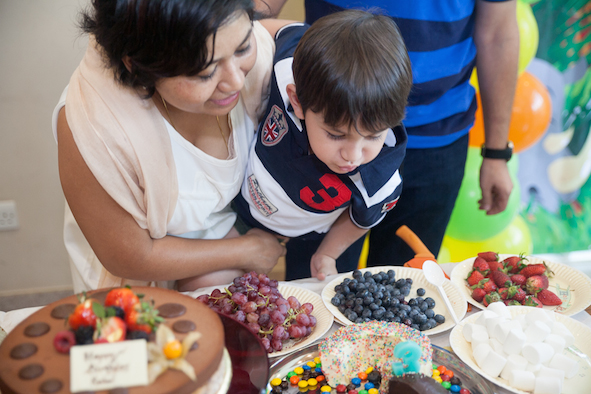 9. 切蛋糕仪式!
– 我们将聚集所有客人,然后为您主持切蛋糕仪式!
– 我们将播放生日快乐歌!您也可以提前向我们申请换成其他您喜欢的歌曲!
– 我们会给您提供打火机!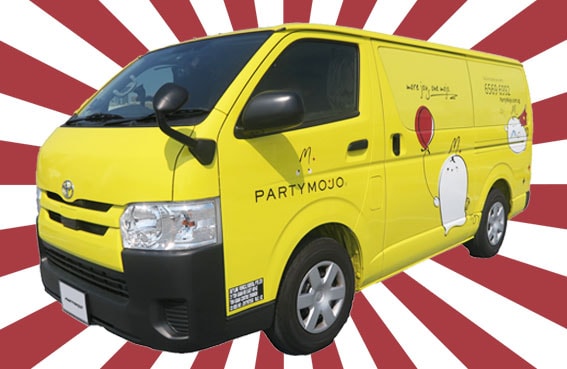 10. 所有布置和运输全包!
– 请让我们为您分忧解难!
– 派对盟主团队将提前一个半小时进入会场为派对进行装扮!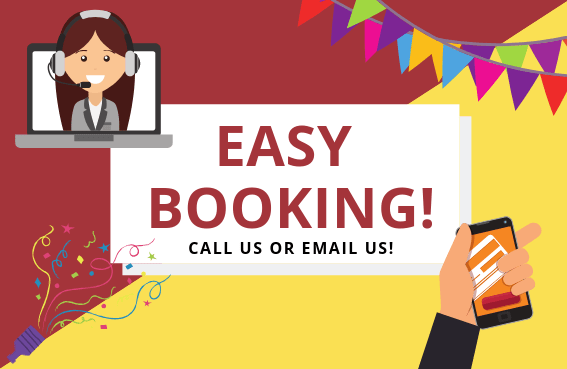 Bubblin' Because…
Everybody wants a piece of the blue sea sometimes. PartyMojo's Underwater Theme Kids Party is every reason you should have this exclusive bluish party for your little one. Compiling all your favourite underwater wonders and entertainment, PartyMojo proudly brings the exclusive Underwater Theme Kids Party to your doorstep! Have little sailors running around your ship, sing songs of the sea, and have a smooth sailing party!
Whozits and Whatsits Galore
PartyMojo's Underwater Theme Kids Party is all-inclusive! Over a 2-hour party session, we promise you a package bursting with only the best deals for your nautical themed party! PartyMojo's Underwater Theme Kids Party comprises of decorations, fringe activities, engaging games, party mascot and even Nautical themed goodie boxes for all guests! For indoor parties, or anywhere in the comfort of your sail-home, in function rooms, cafes, to even restaurants, the Nautical Theme Party Package will accommodate! Even if you chose an outdoor setting such as the backyard, we'll be good to set sail! PartyMojo actualizes your ideal party as long as the venue offers us a wall to put our Nautical themed backdrop on. For a reasonable price of $850 nett, and with 4 Mojo Marine Crew to run the party, all you have to do is sit back, relax, and enjoy the sail!
Unearthing the Treasure
All aboard!
Before we set sail, our Mojo Marine crew will set your ship up in only the best decors in the ocean! PartyMojo provides a complete nautical decoration comprising of a 2 by 3 metres 'Sail Away' scene setter, with 50 blue and white air filled balloons to fill your ship! But that's not all, we dress your cake cutting table in our special Mojo table cloth! In addition to that, we build you a pair of Nautical themed Blue and White balloon columns that stand up to approx. 1.6 metres tall! Tell ius how you'd l;ike your party because your wish is our command!
The Earworms
Specially for our Nautical themed Kids Party Package, PartyMojo leaves no dancefloor empty! For a full 2-hour party time, we melodiously paint your party with the songs of the sea! There is music from a Bluetooth music player suitable for normal-sized function rooms or home usage. However, if your party is out in the sea in a larger area, inform our operational staff, so that they can connect PartyMojo's exclusive music to the sound system, with proper authorization. Fancy a nauty deejay at the party? Speak to our Mojo Marine crew for arrangements today!
Captain Little
As soon as you come on board, every little captain will be given a Sailor hat as a little door gift that they will eventually get to take home! These hats are unrivalled and unique, specially produced by PartyMojo's in-house designers, exclusively for the Nautical Theme Kids Birthday Party Package! Get one, and get your little guests one of these hats each!
Snappin' Jaws!
The hats are not all, when you get your hands on PartyMojo's Nautical Kids Theme Party Package, you're in for a snappin' time with none other than PartyMojo's one and only Cute Shark Mascot! For one full hour, have a fun, snapping time (if you know what we mean) with our all-time favourite, Cute Shark Mascot, specially assigned to our Nautical Theme Kids Birthday Party Package! This is your chance to snap adorable pictures of your children! Not only that, PartyMojo's Cute Shark Mascot will be hosting the games session alongside our Mojo Marine Games Host! How exciting is that?! Before this Cute Shark runs out for your party date, call PartyMojo now, because, better be safe than sorry!
Nauty Balloons?
To add on more awesomeness to the Nautical Theme Kids Birthday Party Package, PartyMojo provides our best-favourite party activity, the Balloon Sculpting! For one full hour, PartyMojo's expert Balloon Sculptor will entertain you by making Balloon Sculptures of your choice! Ask for a little fish, a big fish, a star fish, and aks for themed or non-themed balloons and you'll get them all! Needless to say, these balloons come in multi-colours to amplify joy in your event! If you wish to have a different activity such as hair braiding or glitter tattoo, please feel free to contact our Mojo Sales today.
You Sharkface!
…or what you wish! Get your faces (and/or arms) painted by PartyMojo's professional face painters when you get the Nautical Theme Kids birthday Party today! Our artists are extremely talented, they will paint any requested design on you for not one, but TWO full hours! And wait! This activity is not only for kids but for the adults too (for when you spot Mr Krabs)! PartyMojo only uses toxic-free body paint directly flown from the UK, and is safe on the skin. This is too good a deal to miss! Face Painting will be in apace with other activities while the party lasts.
If Nautical Nonsense be Something You Wish…
Alas what is a Kids Birthday Party without your fun and games? For 45 wondrous minutes, indulge yourselves in the most exciting fun and awesome time, the Nautical Games Time! You get to choose 5 games from PartyMojo's wondrous list of exhilarating games, such as the Potato Sack, the Parachute, the Limbo, Tag Game and many, many more! Music as well as game props would be your last worry, because we have them all! Call PartyMojo now, and if you have your own designated games for the party, let us know!
Big and Small, Prizes, Prizes, Prizes for ALL!
And for participating in PartyMojo's awesome games, all you little sailors and crew will receive little goodie prizes! Isn't that amazing? You would not want to miss the games time during this party! But the best is yet to come! Specially for 3 Mojo winners, we reward 3 big prizes for being Games champions! Everyone is a winner at the end of the day, so let's all have fun!
Cakes and Corals
And the best treasure found at a party is none other than the cutting of the cake! Our Mojo Marine Crew will gather all your guests around the littlr Birthday Captain for cake cutting. We will provide the Happy Birthday Song over our sound system, unless you have your own, then let us know! After all the fun and merry, the Nautical Theme Kids Birthday Party is definitely one never to be forgotten!
Think you want more?
Do you love PartyMojo offers in the Nautical Theme Kids Birthday Party Package? Or maybe you want something more? You may customize our package as you wish! Ay Ay, Captain! We will grant it! More fun activities to have in the Nautical Theme Party await you! If your little one is the artsy-fartsy fancy type, you may choose from a series of activities like arts and crafts, and many more! Other available custom-made items include Nautical themed dessert table, banners, invitations, backdrops, and everything you can think of! You name it, and we'll have it!
How do I get this?
Simply write in to us or give us a call to discuss. Provide us with your event date, time, and place so we can tentatively save a slot for you. Tell us the name of your Little Captains, so we can put a note for our event staff to pay special attention to him or her! Let us know your budget, so we can better suggest to you the activities you can add on for the Nautical Theme Party Package. Can't visualise the party through phone conversation and emails? Simply call in to book an appointment with us for a free consultation at our office!
Why PartyMojo?
PartyMojo ensures the best quality of services for every aspect of the party. Our friendly sales staffs are well trained and experienced in Party planning and would give you professional ideas and advices to plan your party. Our operational team consists of a group of innovative, motivated and vibrant people to ensure that your party runs smoothly, at the same time explodes with heaps of fun! We have a unique training system for each and single one of our on-site event staffs to ensure that you and your guests would only receive the best of the best services. Not convinced? Check out our positive reviews on our homepage and Facebook page.
选择PartyMojo的5大理由!
在PartyMojo,我们确保客人始终以正确的价格支付优质的服务。 以下是我们公司客户和生日客户选择PartyMojo作为其选择的5大原因: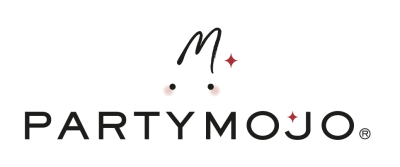 喜悦的策划师
除了组织个人聚会以及公司活动之外,我们同样致力于提供欢乐的体验。 在每个过程中提取快乐。

MOJO 配方
通过遵循以下公式,我们通过全面的活动策划和管理来为客户创造最大的喜悦。
Mojo 公式 = 概念 + 详情 + 执行

专业精神
我们所信任的专业体系促使我们变得迅速,负责以及始终可靠。

MOJO 团队
所有Mojo人力都经过严格的筛选以及实践培训,分配到合适的工作岗位,以使他们具备产品知识和优质的服务。

品质与口味
我们只选用优质的食材,并保证能激发您的味蕾!
附带条款与条件
付款和延期条款
所有报价均为新元(

SGD

),并含

7

%的消费税。
对于非企业/私人:支付给

PartyMojo Pte Ltd

的

100

%付款,作为确认活动的押金。
对于企业:发票上带有组织印章的背书以确认事件。
任何设备的破损和损坏将由客户全部承担。
以下场地需加收

$ 30

的交通运输附加费:樟宜,大士,圣淘沙,草坪城市。

所有支票均应支付给

PARTYMOJO PTE LTD

。

可以通过银行转账付款到:

DBS current Acc 003-932293-3

分行代码:

7171-003

。

PartyMojo现在接受

PayNow

!可以在已开具发票的底部找到

QR

码。
在付款到期日之后,每月将产生

2

%的滞纳金。
推迟和取消
活动推迟只能在活动开始前

5

个工作日完成。
推迟活动将收取

100

至

150

新元(

SGD

)的附加费,视情况而定。
否则,客户可以选择取消活动,并没收已付的定金。
如果在活动时间之前

5

个工作日以上取消预订,则活动费用的

50

%。
如果在活动时间前

5

个工作日取消,则活动费用为

100

%。
其他派对条款
PartyMojo

员工将不会在布置时间内负责布置客户自己的装饰。

PartyMojo

工作人员将不会对任何包装气球装饰的拆除所承担任何责任。

PartyMojo

对清理活动

/

聚会客人造成的任何垃圾与损坏不承担任何责任。
如果客户口头上辱骂我们的任何员工,

PartyMojo

保留立即停止聚会的权利。 如果客户的客人口头辱骂

PartyMojo

员工,

PartyMojo

员工会立即通知客户。 如果辱骂没有停止,

PartyMojo

保留立即退出活动的权利。