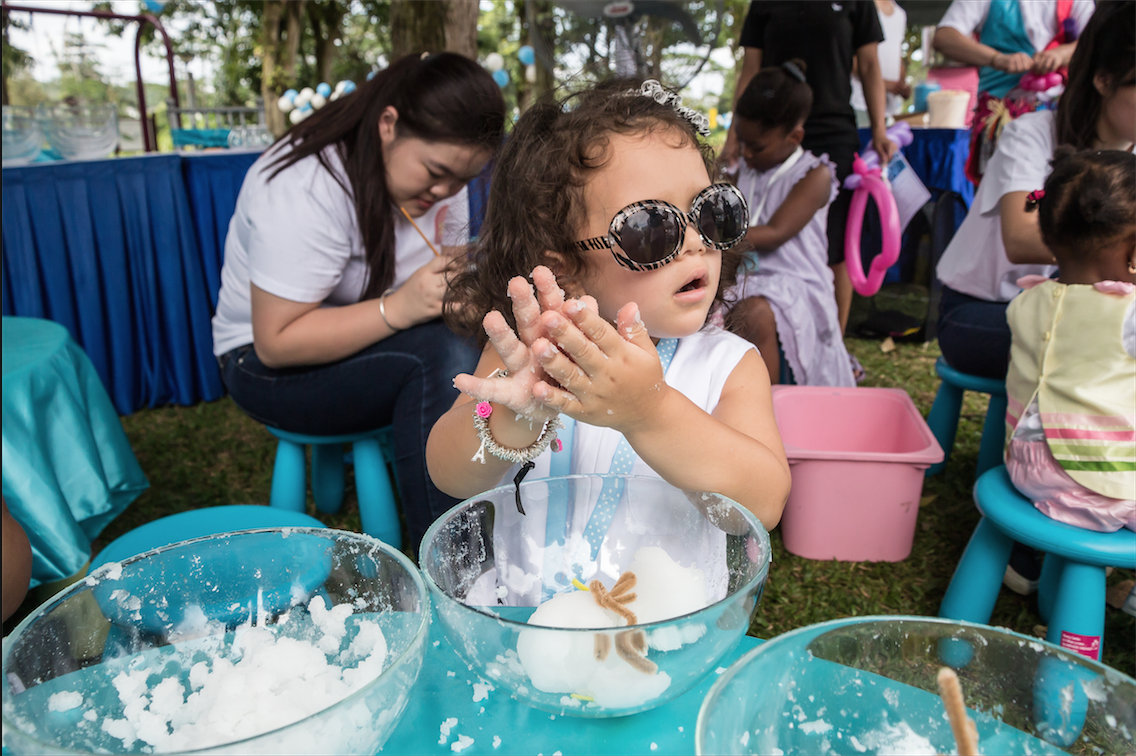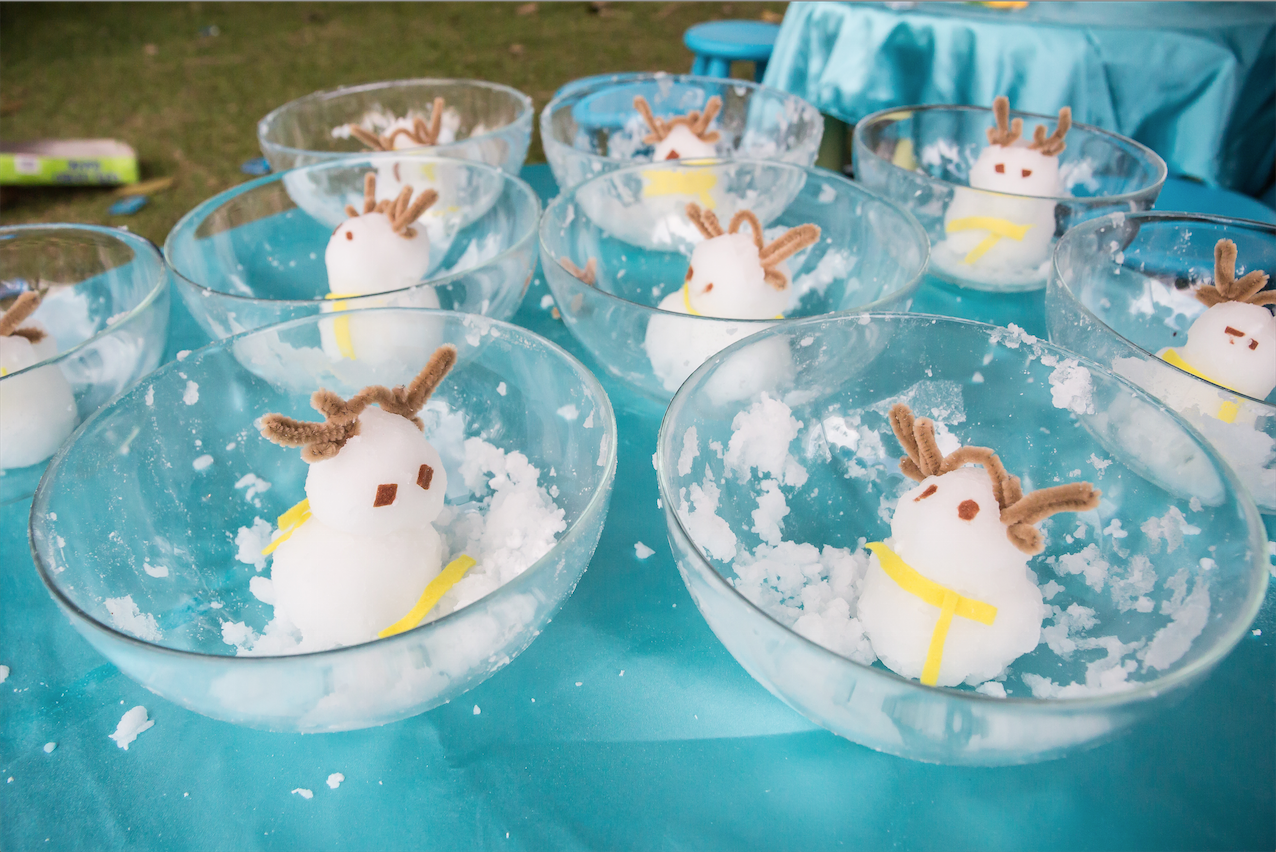 Build-a-Snowman Party Package
Duration: 2 hrs
– 60 Mins of Snowman building sessions
– Instant snow, bowls to bring home for 20 pax
– 45 Mins of fun and games with prizes for all kids
– Complimentary 20 goodie bags (whilst stock last*)
– Hosting of cake cutting
Price: $550 
Please read on to find out more about the package!
Art and Craft Activity
PartyMojo Team will be setting up the snowman building materials, which includes laying out of bowls and instant snow on the designated table for art and craft session. Don't have a table? Don't worry! Tables and chairs are available for hire for only a $250 top up for 20 kids (4 round Ikea tables and 20 Ikea kiddy chairs).
The party will usually start with Snowman building while the kids flow in.
Fun and Games
Fun and games will usually be played at the second segment of the party after art and craft. We do not want to miss out any late kids! We play different games suited for different age groups. Please talk to us to see the list of games!
PartyMojo Team will be providing prizes for the games, consisting of mojo goodies packed in small goodie bags. If you are unsure of which games are suitable for the age group of kids attending, please do not hesitate to give us a call or email to enquire!
Cake Cutting Ceremony
Games will be followed promptly by the Cake Cutting Ceremony where our team will gather everyone for the singing of birthday song.
Additional Kids
This package caters to 20 kids only. For additional kids, please top up $15 / kid. This will entitle the additional kid to:
– Instant snow, bowls, snowman materials
– Fun and games
– Game prize
If you do not wish to top up for additional kid, he/she will still be entitled to join in for fun and games, but not for other activities.
Instant snow facts
Mixing proportion
Kids can mix every pack of instant snow with a cup of water (cup provided by us!) Our staffs will assist the kids with mixing the snow!
How long does the hydrated snow last?
The instant will start to dehydrate after a few days due to evaporation. To keep it looking fresh and fluffy Just spray the top of the snow with water and fluff it with your fingers.
Does Instant snow melt?
Instant snow will not melt since it is not really frozen water.
Can Instant snow be thrown away in the trash?
Yes! It is easy to clean up and can be disposed of in the trash. Just brush the surface clean or use a vacuum to pick up the snow, while it is hydrated or dry. Do not dispose of wet or dry instant snow down the drain, as it will soak up lots of water and potentially clog your pipes. Instant snow powder is a non-hazardous, non-toxic, environmentally safe polymer.
My guests are below the age of 4, is the art and craft package suitable?
Yes definitely! However, parental guidance are required for aged 4 and below for the art and craft session! For younger kids, we would recommend if games are changed to other fringe activities such as face painting, glitter tattoo and so on!
Is a top up required to change fun and games to other activities?
This is dependant on which activities you would like to change it to. Simply enquire with us to find out more! We will be able to give you more suggestions based on the crowd and age group!
Can I have a mixture of different art and craft activities within the 20 pax? E.g. 10 Snowman and 10 scratch art?
Yes no problem! Simply check with us if any additional charge is applicable, this will be dependent on the activity you choose!
Can we have the art and craft session and games concurrently?
We do not recommend this as 2 manpower will be provided for this package. Thus, it would be better if the activities are hold consecutively  so that our staffs are able to have a better control of the kids and a better organisation of the party!
Furthermore, it would be better if the party starts with the art and craft session where the early birds can start the craft activity while waiting for their friends to arrive!
We do not have 20 kids attending our party, will you be able to provide us with a discounted price?
The package is up to 20 kids, if you have a few lesser kids coming, the price will remain but we will definitely give you the unused art and craft materials! It is also good to prepare a few extras in case the little ones bring their siblings along!
However, if you have a very small group of less than 10 kids, we will be able to give a little discount on the package. Simply call / email us to enquire!
I have more than 20 kids attending the party, can you cater to that?
Yes we do! Simply top up $15 for every additional kid attending so everyone can enjoy the activities!
I have more than 20 children attending but I do not wish to top up for additional kids. Is it possible?
No problem at all! You can still order the package for 20 pax, however, we can only provide art and craft materials and game prizes for 20 pax. All the kids are still welcomed to join in for the games!
I have 20 kids attending but I'm not sure if more will turn up! Can PartyMojo bring extra art and craft sets so that we can top up on the event itself if more kids turn up?
Unfortunately, we are unable to do that as it will be hard for us to monitor the number of kids turning up on the event day. Thus, clients are required to order the extra sets in advance.
My venue doesn't have kids tables and chairs, can I rent them for the art and craft session from PartyMojo?
Yes! Simply top up $190 for 4 tables and 20 chairs!
I would like a customised package
No problem at all! Our sales team are all well trained and experienced event planners! Simply enquire with us today and we will work with you to organise an awesome event!
I want to book! How do I go about?
Simply click here to see our booking procedures!
Top 5 reasons why choose PartyMojo!
At PartyMojo, we ensure our customers are always paying the right price for the right quality. Here are the Top 5 Reasons why our corporate clients and birthday guests chose PartyMojo as their choice: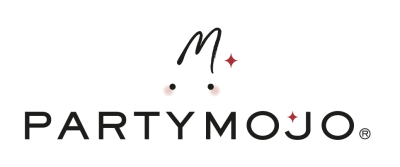 Architect of Joy
Beyond organising personal parties and corporate events, we compose happy experiences. Drawing out the Fun in every Function.

Mojo Formula
We compose joy through full-scale event planning and management following the formula.
Mojo Formula = Ideation + Detailing + Execution

Professionalism
About all, we are guided by our belief system to be prompt, responsible and always reliable.

Team Mojo
All Mojo manpower undergo strict screenings and practical training before they are assigned to a job post to equip them with product knowledge and good service.

Quality & Taste
We select nothing but the top ingredients and guarantee to excite your tastebuds!
The mojo behind Mojo Team
Quality & Affordable Services
Professionally Trained Staff

More Than 70 Live Food Stations

Fun Filled Themed Packages
Cash / Cheque / Credit Card Payments
Terms & Conditions
Payment Terms
All prices quoted are in Singapore Dollars (SGD) and are subjected to 8% GST.

For Non-Corporate: 100% payment payable to PartyMojo Pte Ltd as deposit to confirm the event.

For Corporate: Endorsement on invoice with organisation stamp to confirm the event.

Breakage and damages to any equipments will be charged to client accordingly.
A additional transport surcharge of $30 is applicable for the following venues: Changi, Tuas, Sentosa, Turf city.
All cheques are made payable to PARTYMOJO PTE LTD.
Payment can be made via bank transfer to: DBS current Acc 003-932293-3 Branch code: 7171-003.
PartyMojo now accepts PayNow! The QR Code can be found at the bottom of the invoice issued.
Late payment interest charge of 2% per month will be incurred after payment due date.
Extension Terms
For extension of total event duration, not including extension charges of services, it is charged at $40 for 30 mins for extensions told to us 5 working days in advance. For last minute extension, it is charged at $50 for 30 mins, subjected to availability.  For last minute extension of total event time, it should be told to us at least 1 hour prior to the event end time.
Extension of Games: $100 for 30 mins
Extension of Mojo Staffs: $30 – $50 for 30 mins
Extensions are solely subjected to PartyMojo's availability and are strictly not negotiable.
Postponing of event can only be done 5 working days prior to the event.
Postponing of the event is subjected to a $100 – $150 surcharge, subjected to availability.
Otherwise, the client can choose to cancel the event and deposit paid will be forfeited.
50% of invoice charges if cancellation is made more than 5 working days before event time.
100% of invoice charges if cancellation is made 5 working days before event time.
Other Party Terms
Duration of the party is a maximum of 2 hours, excluding 1 hour for set up before the event.
In the event that the client need PartyMojo team to arrive earlier, it will be chargeable at $30 per 30 mins.
PartyMojo staffs will not be responsible for putting up the client's own decoration during set up time.
PartyMojo staffs will not be responsible for the teardown of balloon decorations for any packages.
PartyMojo will not be liable for cleaning up of any mess created by the activities/party guests.
PartyMojo reserves the right to cease the party immediately if the client verbally abuses any of our staffs. In the event that the client's guest verbally abuses a PartyMojo staff, PartyMojo staff will inform the client immediately. If the abuse does not cease, PartyMojo reserves the right to leave the event immediately.