Contact our PartyMojo office at 65696992 or Sales 81606655 / Yolanda 

81606622

 

to enquire now! Drop us a quick email at

[email protected]

today for your very own Princess Themed Party!
What better way to show your little girl that you love and treasure her than making her Princess for a day with PartyMojo! Every little girl has grandiose dreams of being like her favorite Princess. Let her reign over the party on her birthday! We have beautiful props and lovely backdrops, all designed to make her feel as special as she really is!
From now till 30th June 2019, get an exclusive $20 Umeko Shopping Voucher that can be used storewide! More details below!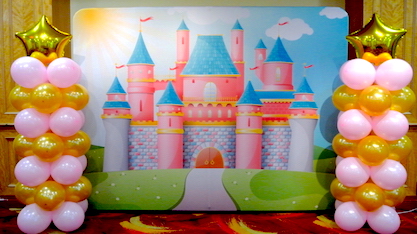 1. PRINCESS THEMED DECORATION
– 2 Hours rental of 3M (width) x 2M (height) Princess scene setter for photo taking!
– 50 decorative Pink and Gold air-filled balloons around the room!
– Pair of Pink and Gold princess 1.6M tall Balloon column! (Talk to us to change the colours of the balloon colours)
*PartyMojo Team will require the venue for 2 hours for set up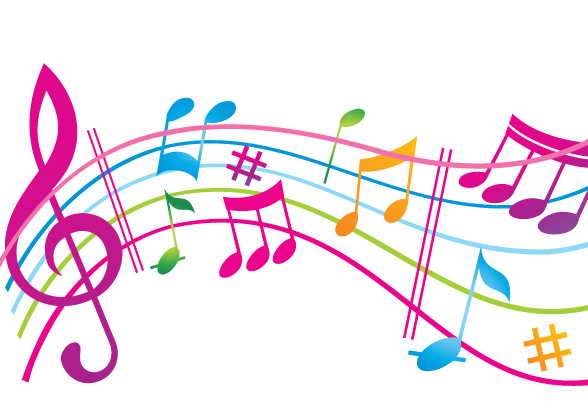 2. PARTY MUSIC
– Rental of Mini Bluetooth Speaker for 2 Hrs! (Do note that the bluetooth speaker is suitable for normal sized function rooms / home usage. For lager area like hotel function rooms / restaurants, please use their existing sound system. Otherwise, talk to us to hire our professional sound system for outdoor areas / large function venues!)
– Huge selection of songs from our party playlist!
– Brings out the party atmosphere!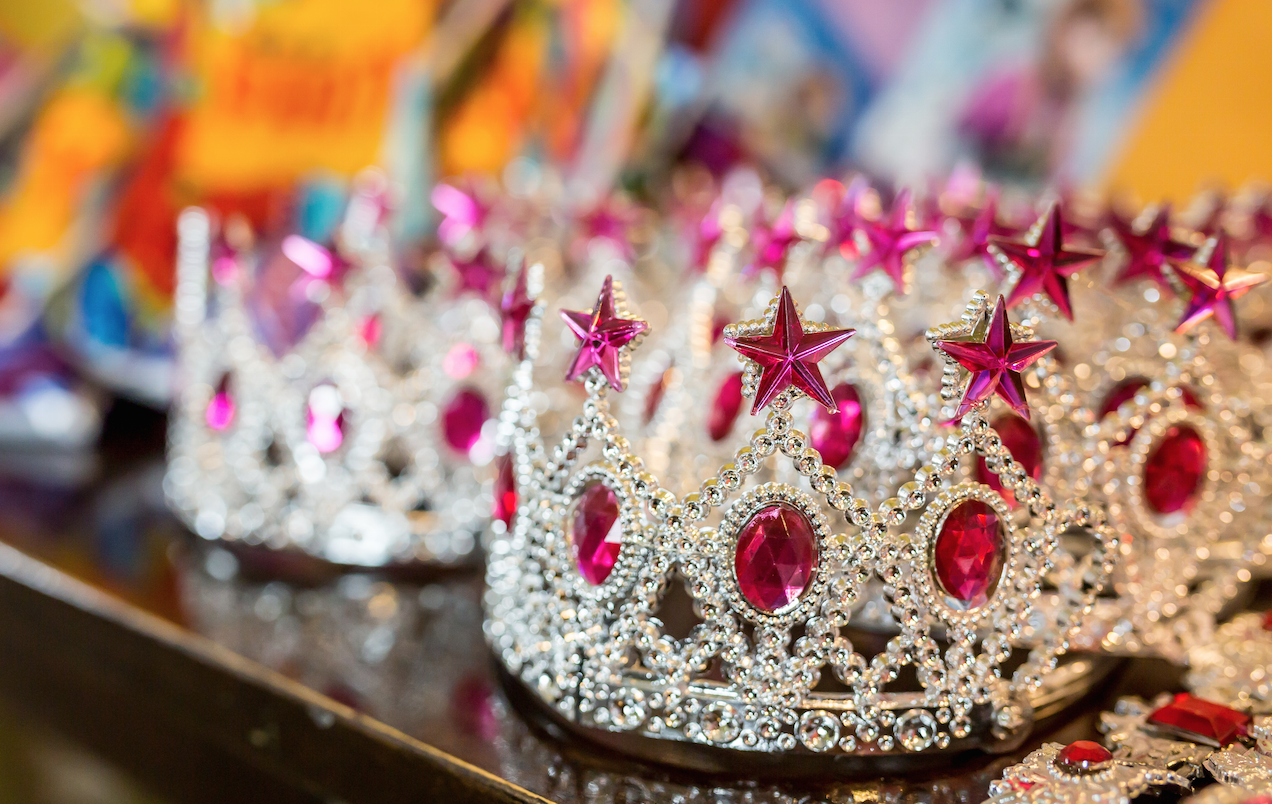 3. TIARA AND CROWNS FOR ALL KIDS
– 20 x Princess tiaras and prince crowns given out to all kids!
– Kids get to bring 'em home! How exciting!
– Do let us know the exact number of tiaras and crowns to bring to the event. Otherwise, we will be bringing 10 Tiaras and 10 Crowns by default! 🙂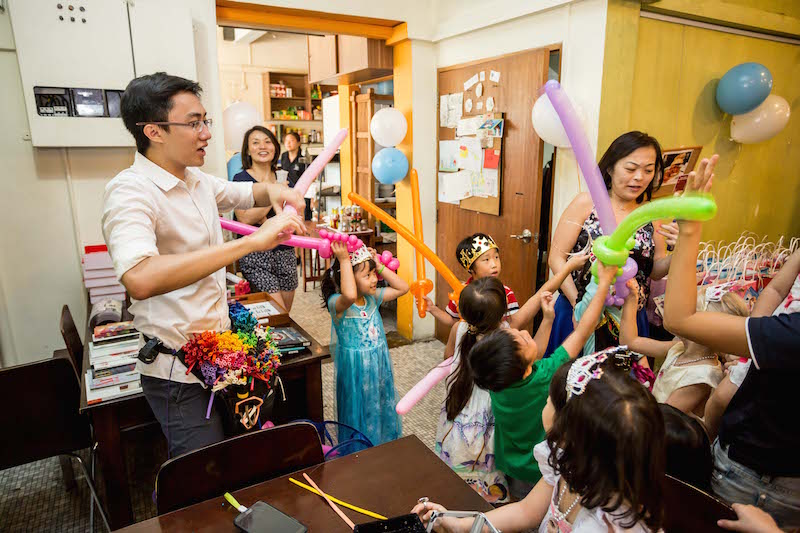 5. BALLOON SCULPTING
– 1 Hr of Free flow of Fun Balloon sculpting!
– Ask our professional balloon sculptors for anything!
– Adults can request for them too!
– Talk to us to change this to other activity! (Hair braiding / glitter tattoo)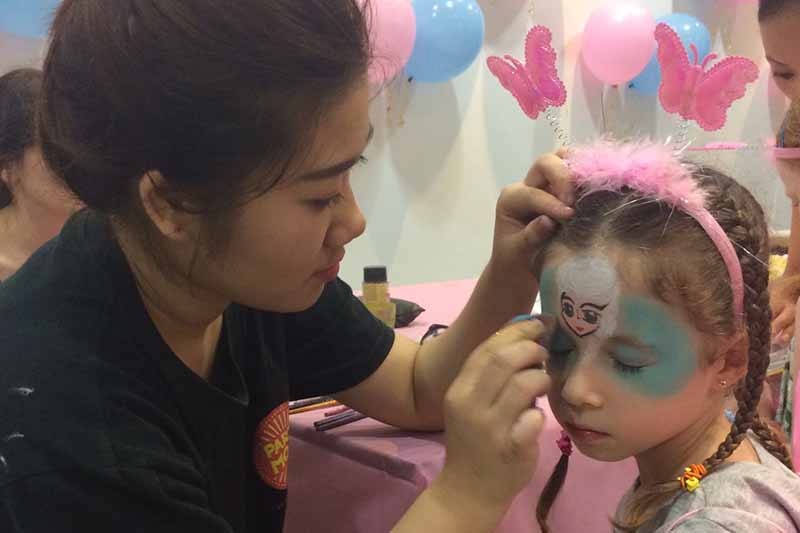 6. PREMIUM FACE PAINTING FOR ALL KIDS
– 2 hour of premium face OR arms painting for everyone to liven up the event!
– Adults can request to get 'em too!
– We use only toxic free facepaint from UK!
– Talk to us to change this to other activity! (Glitter tattoo / Hair braiding)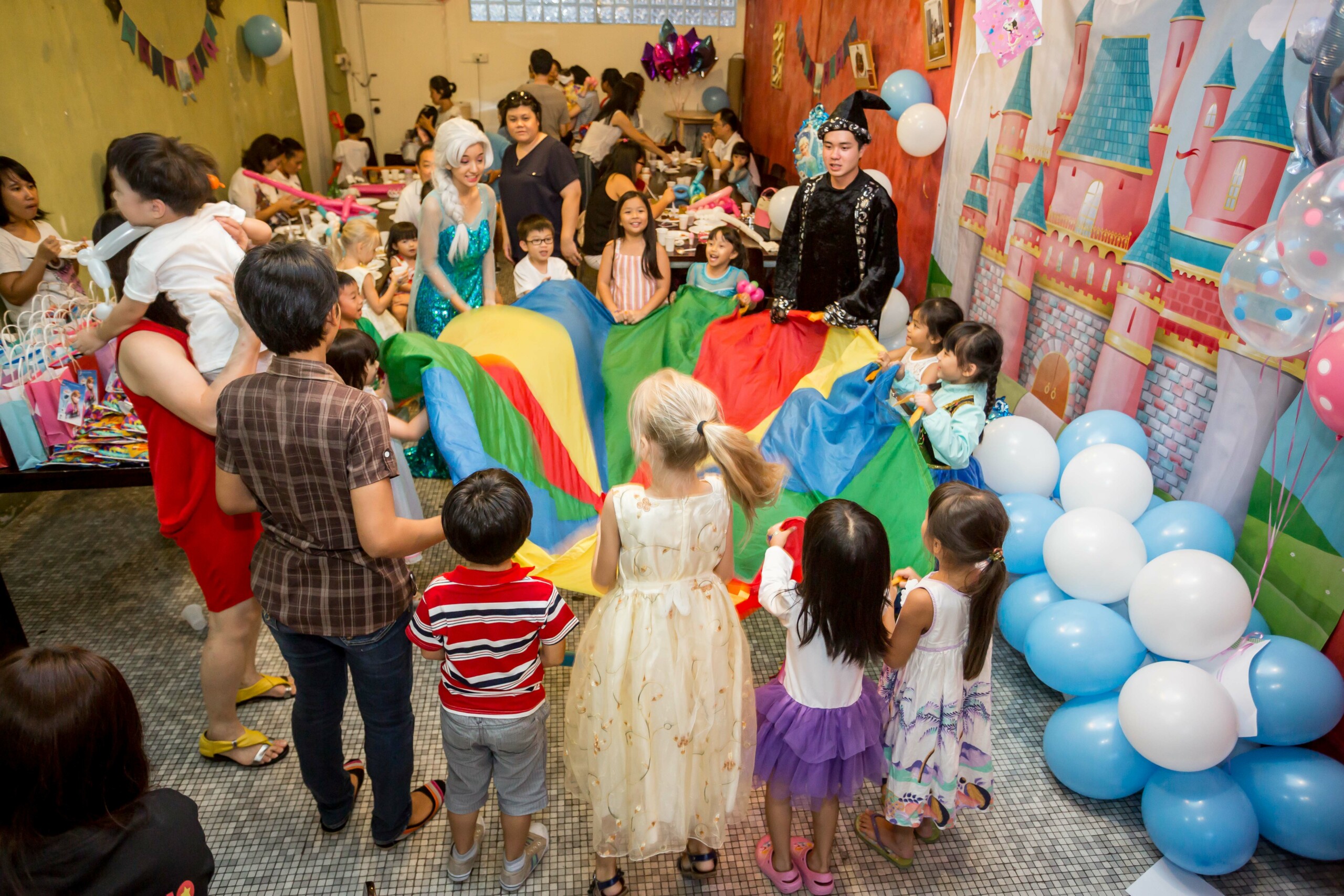 7. FUN AND AWESOME GAMES
– 45 mins of fun and AWESOME games with our Party Hosts!
– Choice of 5 games to be played! (Potato Sack, parachute game, limbo, tag game and MANY MORE!!)
– All game props and music provided!
– 3 game prizes will be given to winners!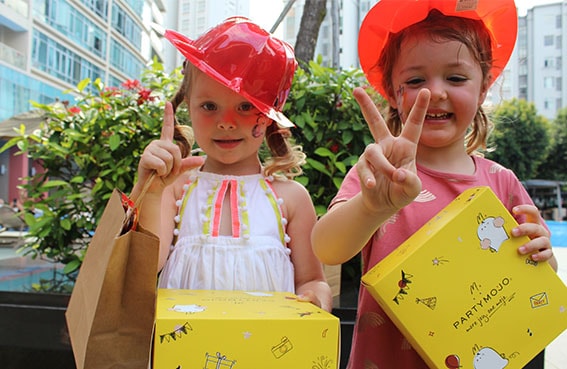 8. GOODIE BOXES FOR ALL
– How can a party missed out goodie boxes? Delight the kids with Mojo Goodie Boxes for all the kids!
– Each goodie box includes a Mini Mojo Pouch, Facial Towel and an adorable Mojo Plushie!
– If you wish to add some of your own goodies in the boxes, simply pass the gifts to our staffs before the party.
– Goodie bags may change without prior notice. Please check with our party planners for more info!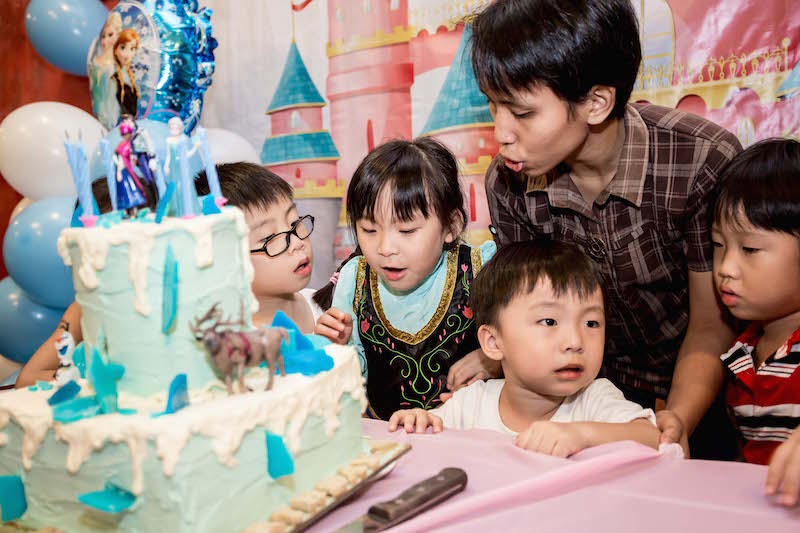 9. CAKE CUTTING CEREMONY
– We will gather all the guests and host the cake cutting ceremony for you!
– We will play the Happy Birthday Song! Talk to us if you have special birthday song to be played at the party!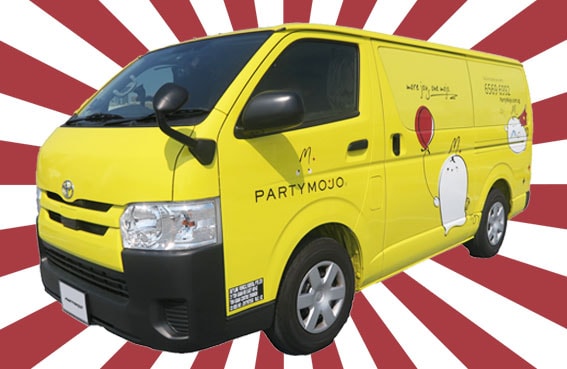 10. ALL SET UP AND DELIVERY INCLUDED
– Leave the hassle and stress to us!
– PartyMojo crew will arrive 2 Hrs in advance to set up the decorations for this party!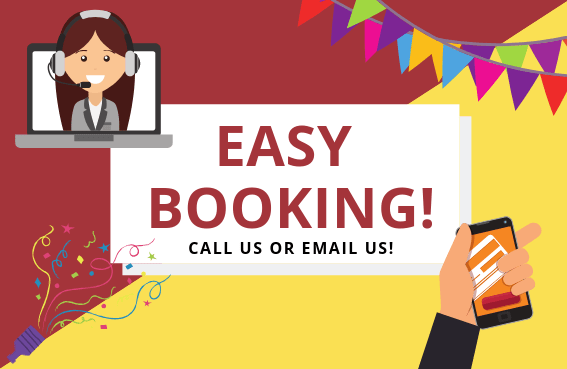 11. EASY BOOKING!!
– CALL: 81606622 / 65696992
– EMAIL: [email protected] / [email protected]
OR SIMPLY CLICK ON THE ENQUIRE / BOOKING BUTTON BELOW AND WE WILL GET BACK TO YOU WITHIN 24 HOURS!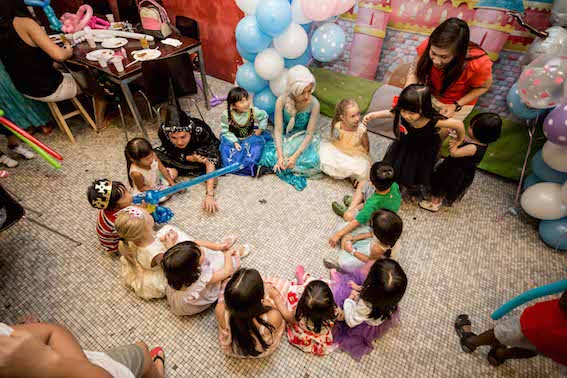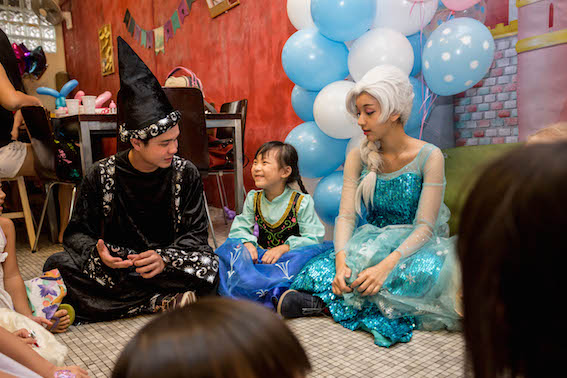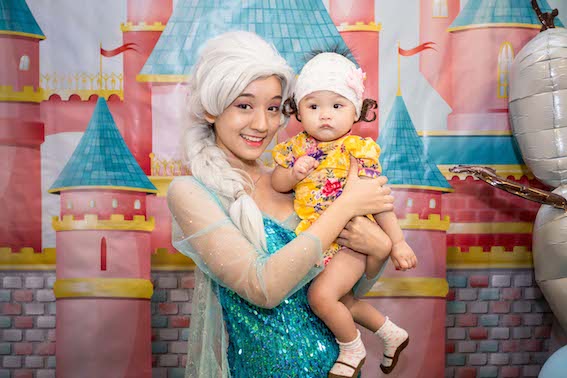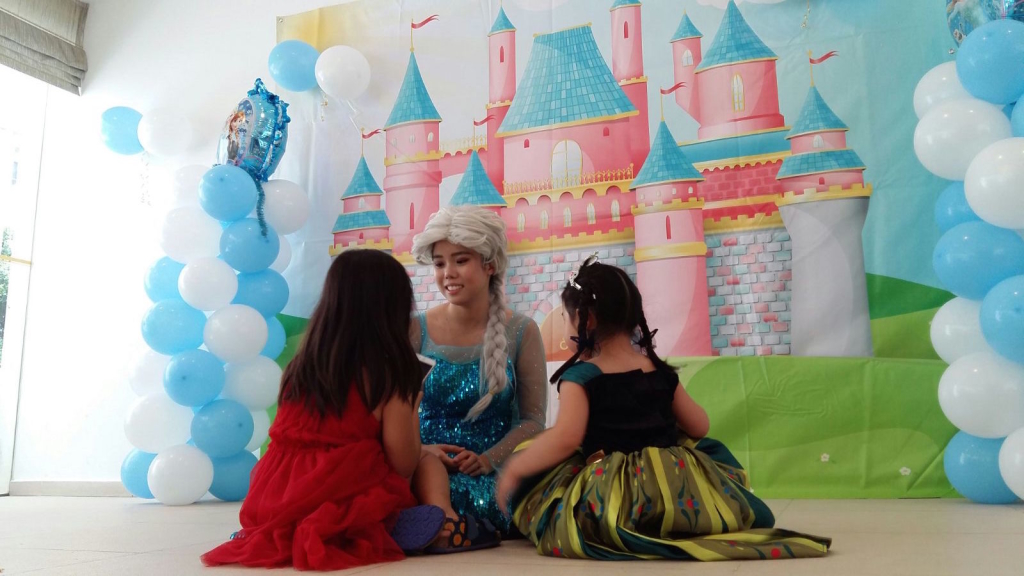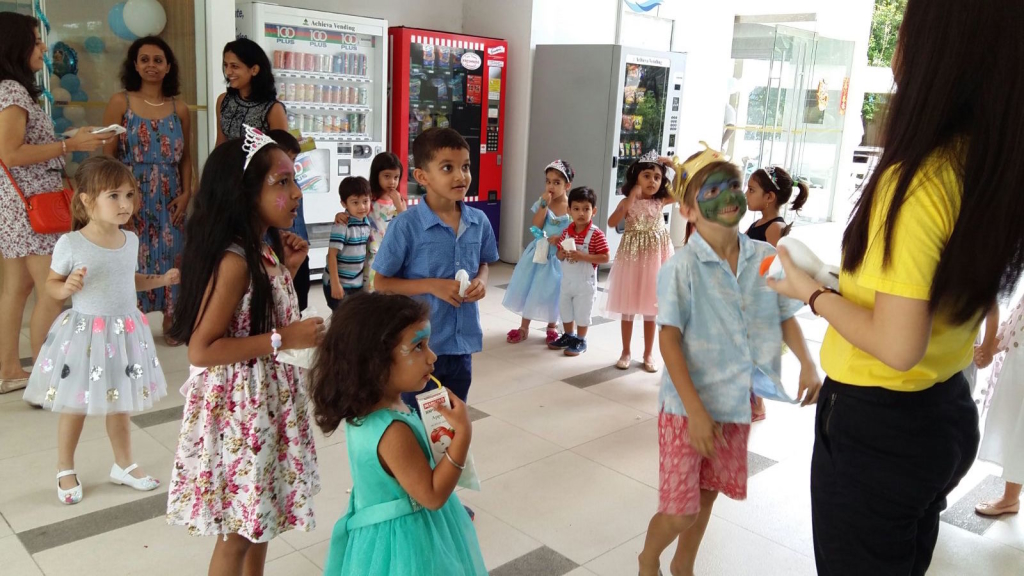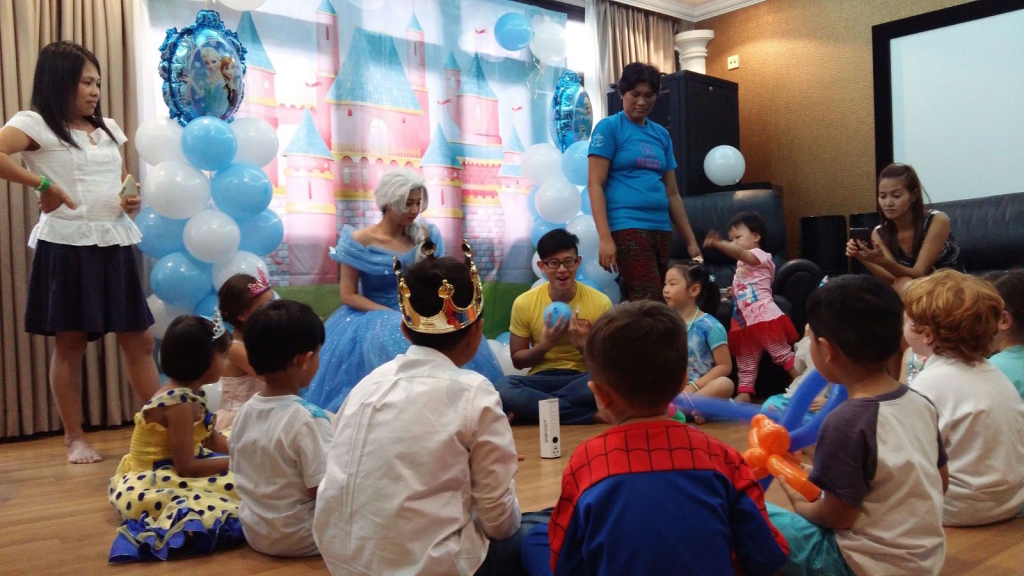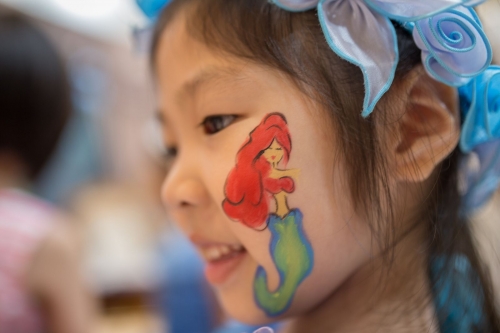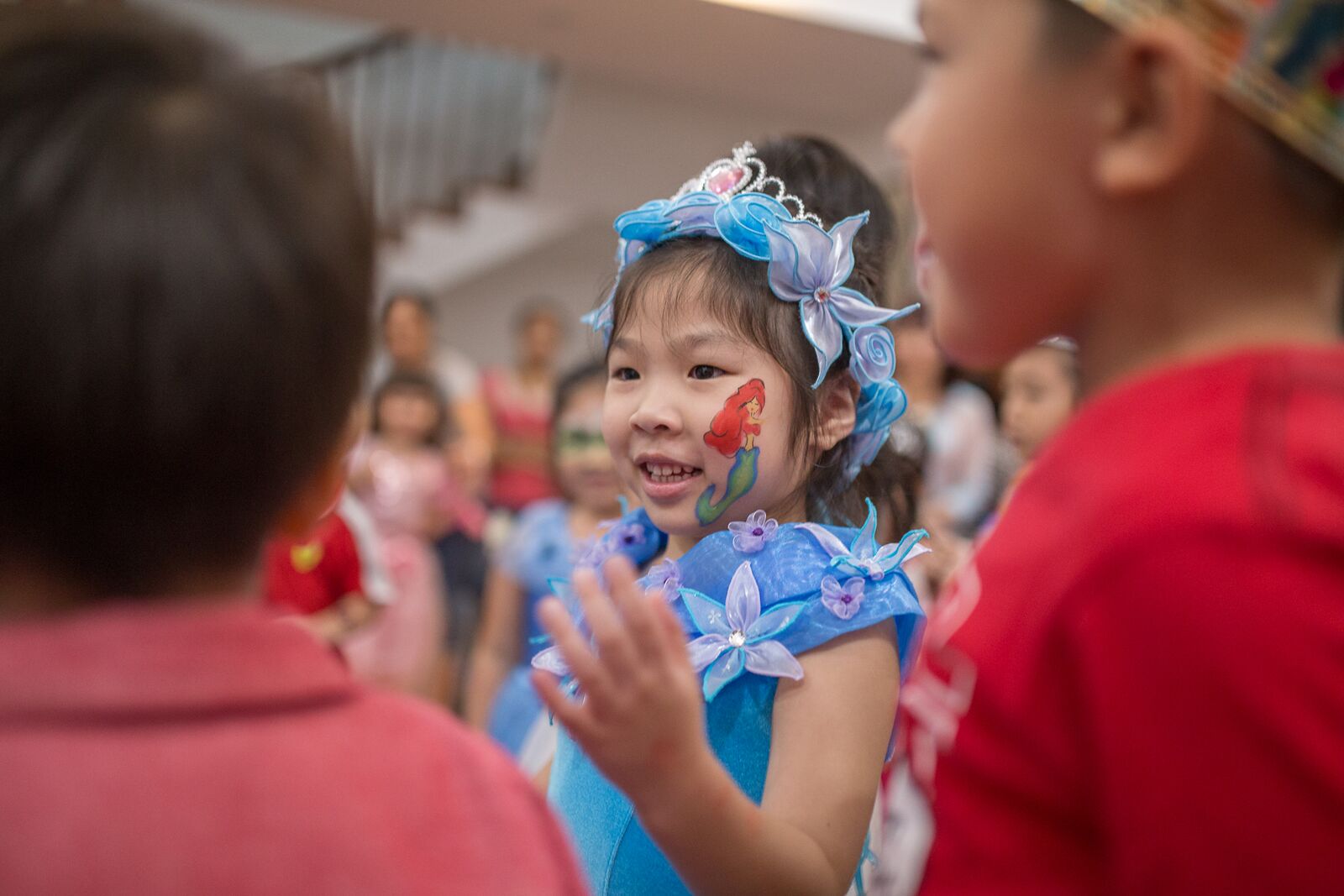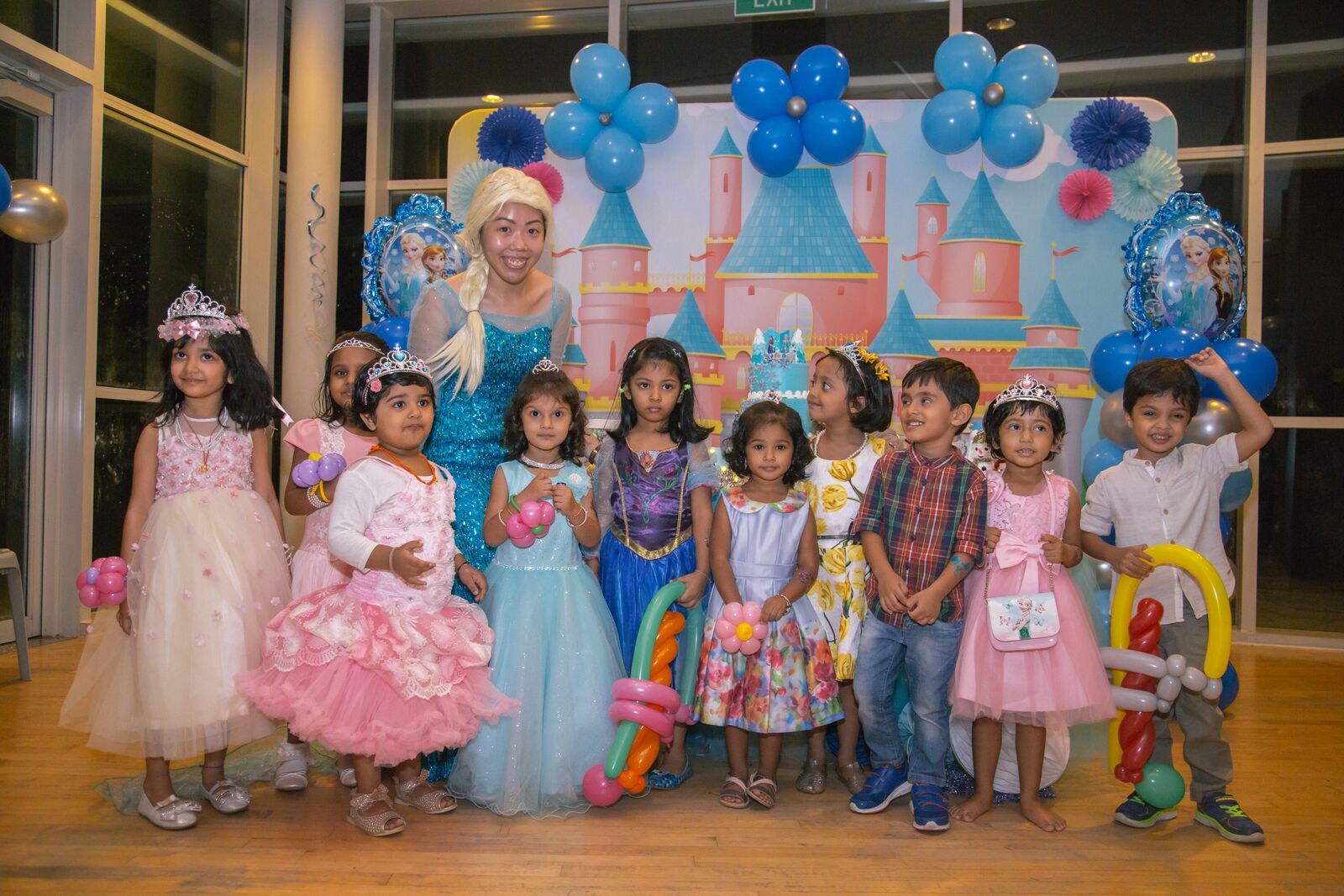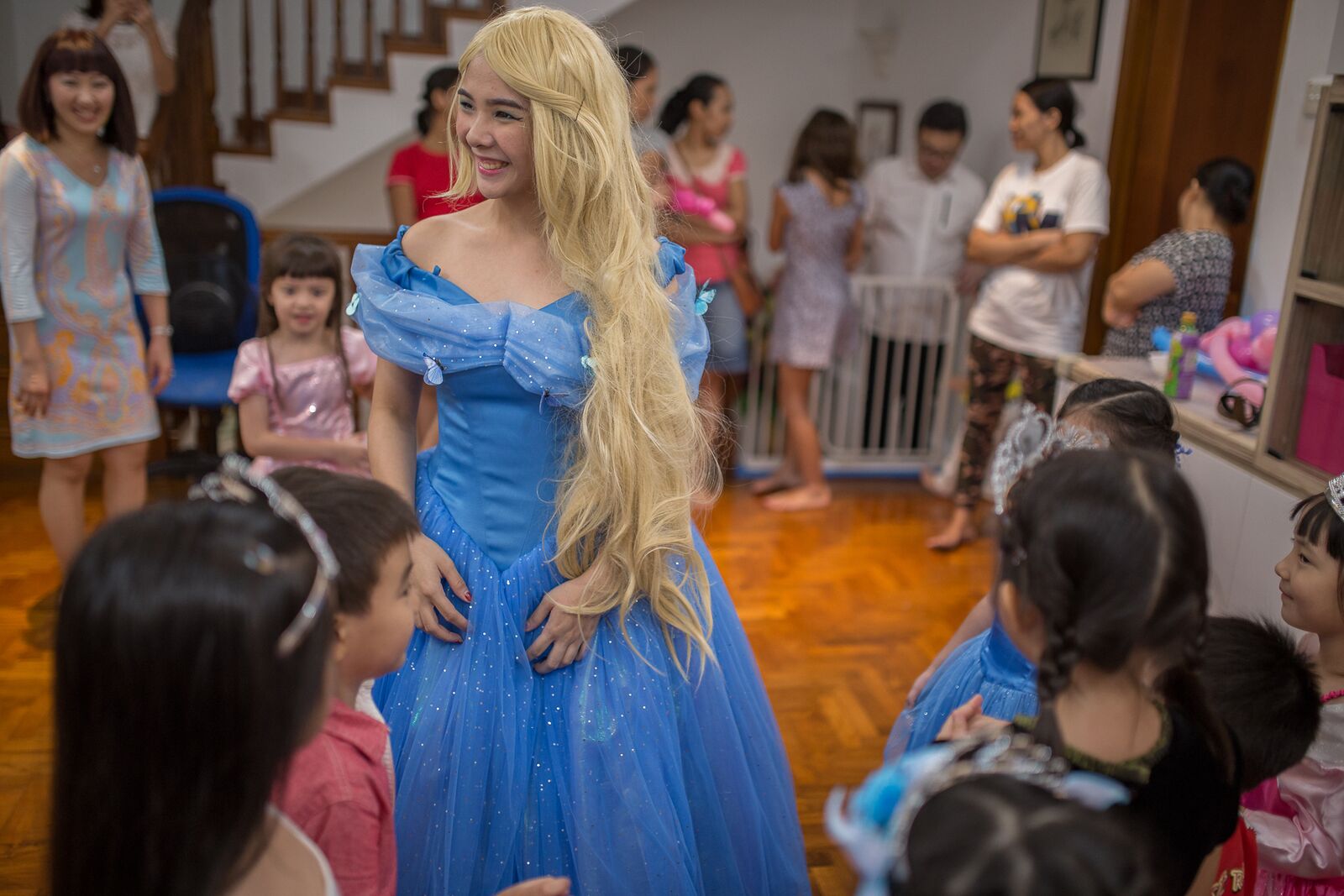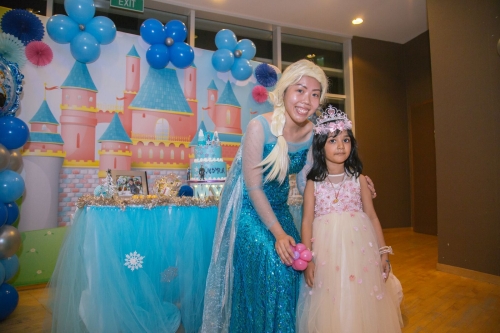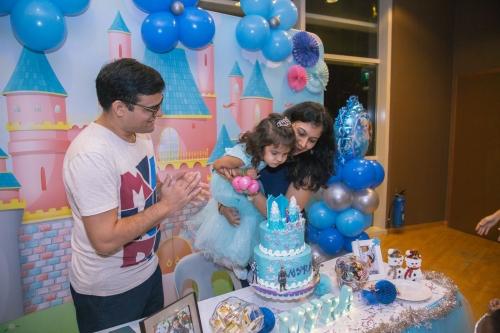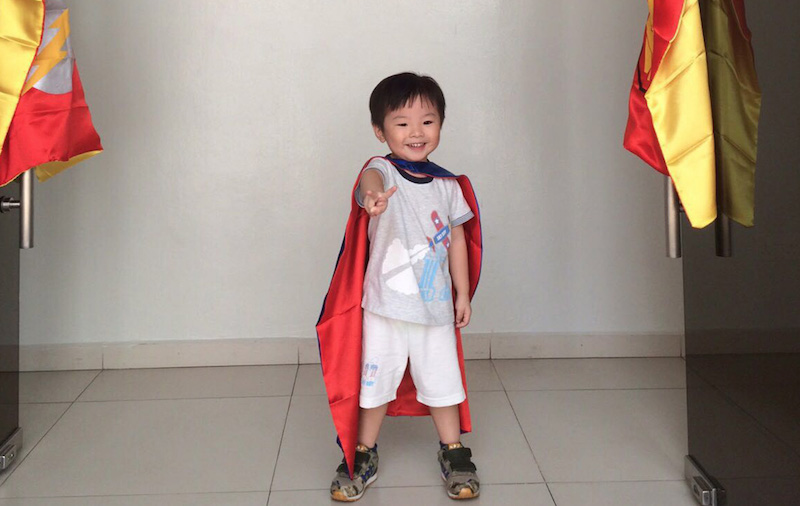 Additional Pax: $15 / Pax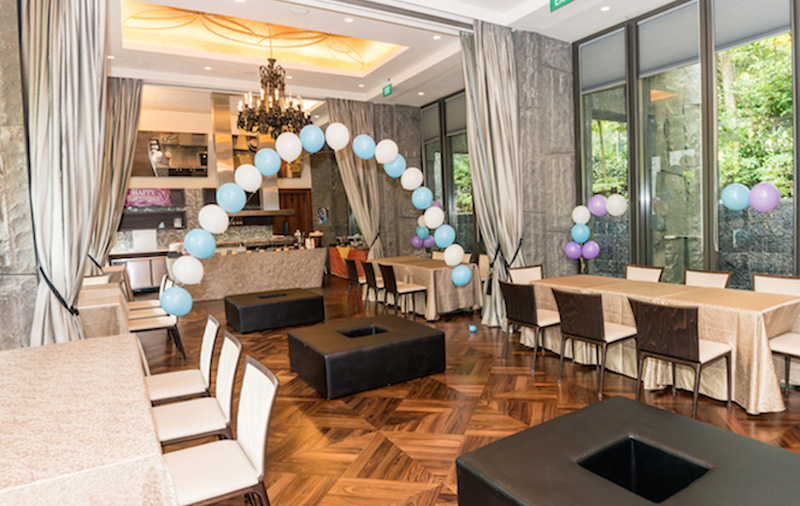 Helium Arch: $120 / Arch (U.P:$150)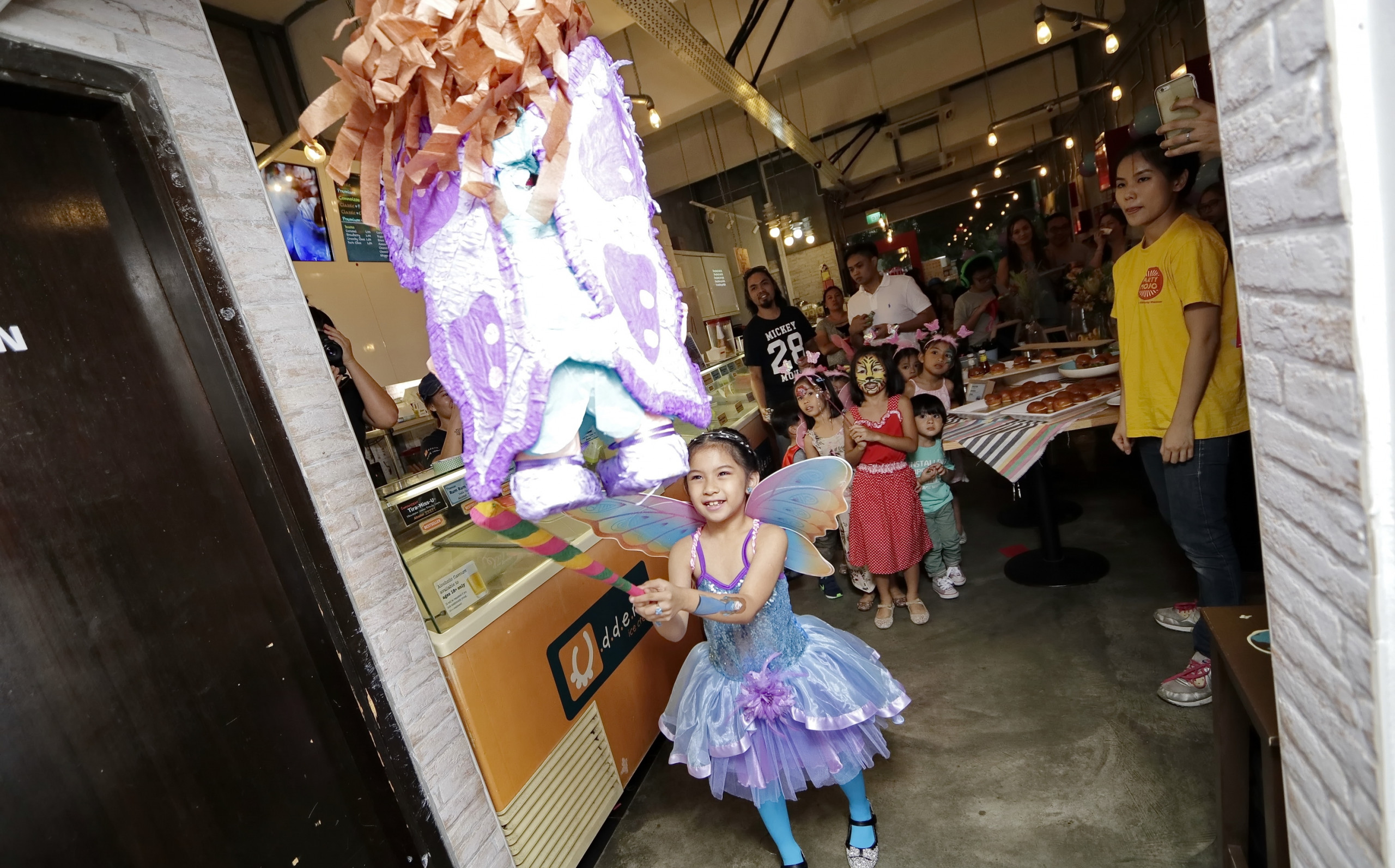 Top up $100 for a themed piñata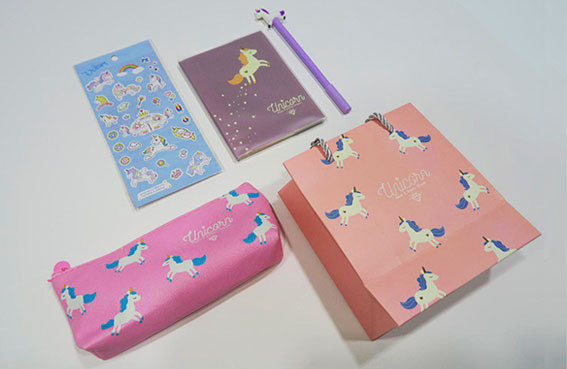 Customized goodie bags are priced at $15
Want to know more?
All about the Princess party Package 
The princess themed party package by PartyMojo is an all inclusive package, consisting of princess themed decoration, fringe activities, engaging games, party mascot and even princess themed party goodie boxes for all! It's suitable for parties in the house, function rooms, cafes, restaurants or anywhere you can think of as long as the venue offers us a wall for us to stick our Princess themed backdrop! Our team will arrive 2 hours in advance to decoration your event venue with our special PartyMojo Princess Party Backdrop, a pair of balloon columns and 50 air filled decorative balloons around your function room! The total duration of the party is 2 hours with non-stop fun filled programmes! During the first hour, there will awesome fringe activities going on which would be the face painting and balloon sculpting as the party guests arrives. Tiaras and crowns are provided for all the kids the moment they step into the party venue, and they get to bring them home after the party! At the second hour of the party, our game host will gather the children to welcome the princess mascot of your choice! The game host and the princess mascot will then be playing 45 mins of fun and exciting princess themed games with the children, while face painting carries on in the background for the late comers and younger toddlers or even adults who doesn't want to join in for the games. There's even princess themed goodie boxes specially designed by PartyMojo's in-house designer to be given out to all the kids during the games so everyone would walk away with a prize! After the games, PartyMojo crew will gather everyone for cake cutting and photo taking session with the Princess Mascot. If you still can't visualise the princess themed package, refer to our blog post here for a princess themed party by PartyMojo caught on camera! Or simply scroll down to the bottom of the page for some pictures of some of our princess themed parties! 🙂
Why Princess Party?
Though the most common theme, every little girl dreams of having a princess themed party, playing with her favourite princess. PartyMojo can make your little girl's dream come true so wait no more and book with us today!
Fun activities to add on for princess party
If you think that our basic princess themed package is not enough for your awesome grand party, not to worry! We can customise any packages according to your needs. Some fun to have activities in a Princess themed party would glitter tattoo or art and craft activities! An example would be building a snowman at a Frozen Party. Do refer here for a blog post on a customised Princess Themed Party! Other customisable items includes princess themed dessert table, banners, invitations, backdrops, and everything you can think of! Be it snowing in the hot singapore or bringing a pony to your event, you name it, we have it. 
How to book the princess themed package with PartyMojo?
Simply write in to us or give us a call to discuss. Provide us with your event date, time, venue so we can tentatively pre-block a slot for you. Tell us your little princess's name so we can put a note for our event staff to pay special attention to her! Let us know your budget so we can better suggest you the activities you can add on for the princess themed package. Tell us your girl's idea of a dream princess themed party so we can make her dream come true. Can't visualise the party through phone conversation and emails? Simply call in to book an appointment with us for a free consultation at our office! 🙂
How do I know that PartyMojo is the right choice for my Princess Themed Party?
PartyMojo ensures the best quality of services for every aspect of the party. Our friendly sales staffs are well trained and experienced in Party planning and would give you professional ideas to craft your party. Our operational team consists of a group of innovative, motivated people to ensure that your party runs smoothly. We have a unique training system for each and single one of our on-site event staffs to ensure that you and your guests would only receive the best of the best service. Not convinced? Check out our positive reviews on our homepage and Facebook page.
Terms & Conditions
Payment & Extension Terms
All prices quoted are in Singapore Dollars (SGD) and are subjected to 8% GST.
A 100% full payment is required to confirm the booking.
Breakage and damages to any equipments will be charged to client accordingly.
A transport surcharge of $30 is applicable for the following venues: Changi, Tuas, Sentosa, Turf city.
All cheques are made payable to PARTYMOJO PTE LTD.
Payment can be made via bank transfer to: DBS current Acc 003-932293-3 Branch code: 7171-003.
PartyMojo now accepts PayNow! The QR Code can be found at the bottom of the invoice issued.
Extension of Games: $100 for 30 mins
Extension of Face Painting: $80 for 30 mins, $100 for 60 mins
Extension of Balloon Sculpting: $80 for 30 mins, $120 for 60 mins
Extension of Backdrop Rental: $30 for 30 mins
Extension of Mojo Staffs: $30 – $50 for 30 mins
Extensions are solely subjected to PartyMojo's availability and are strictly not negotiable.
Postponing of event can only be done 5 working days prior to the event.
Postponing of event is subjected to a $100 – $150 surcharge, subjected to availability.
50% of invoice charges if cancellation is made more than 5 working days before event time.
100% of invoice charges if cancellation is made 5 working days before event time.
Other Party Terms
Duration of the party is a maximum of 2 hours, excluding 2 hours for set up before the event.
PartyMojo staffs will not be responsible for putting up the client's own decoration during set up time.
PartyMojo staffs will not be responsible for the teardown of balloon decorations for any packages.
PartyMojo will not be liable for cleaning up of any mess created by the activities/party guests.
PartyMojo reserves the right to cease the party immediately if the client verbally abuses any of our staffs. In the event that the client's guest verbally abuses a PartyMojo staff, PartyMojo staff will inform the client immediately. If the abuse does not cease, PartyMojo reserves the right to leave the event immediately.