Contact our PartyMojo office at 65696992 or Sales 81606655 / Yolanda 

81606622

 

to enquire now! Drop us a quick email at

[email protected]

today for your very own Traditional Kopi and Teh Station!

Traditional Kopi and Teh Live Station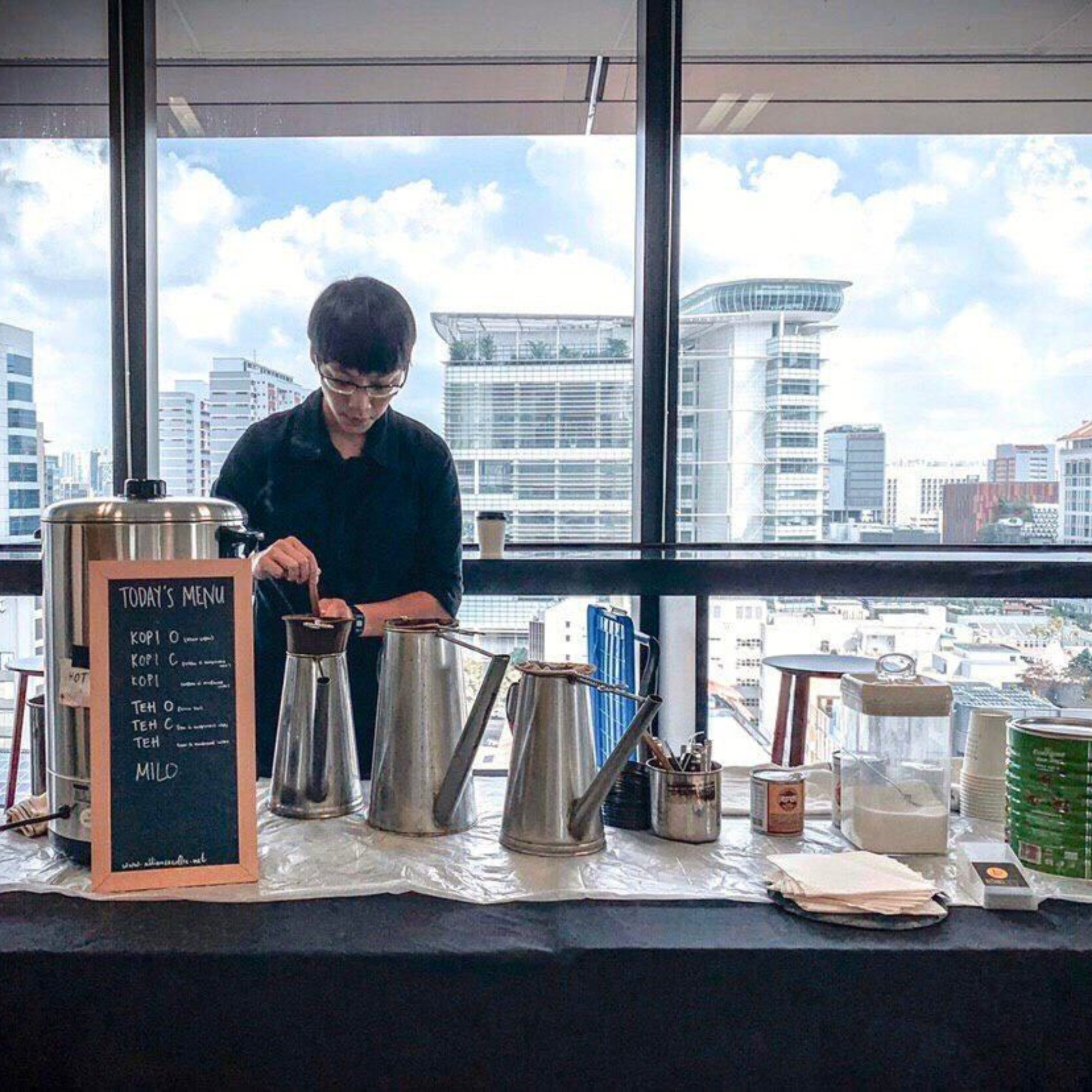 1 Professional Barista
A variety of Kopi O, Kopi, Kopi C, Teh O, Teh, Teh C, Milo
Paper cups with complimentary branding stamped in black (1 design)
Delivery, setup and teardown
| Hours | Traditional Kopi and Teh Live Station |
| --- | --- |
| 2 Hours | $750 |
| 3 Hours | $1350 |
| 4 Hours | $1600 |
| Subsequent | $225 |
*Delivery surcharge of $55 is applicable for Changi, Tuas, Jurong Island and Sentosa
What's included in PartyMojo's Traditional Kopi and Teh Live Station?
1 professional barista, cups with branding, delivery and setup!
What's on the menu?
Kopi O, Kopi, Kopi C, Teh O, Teh, Teh C, Milo
I want Iced Coffee and/or Iced Tea, can I add on?
Yes! Enquire with us to find out more!
My event is longer than 4 hours. Can I book for longer hours?
Yes! For subsequent hours after 4 hours, it will be $225 per hour.
What's required from me if I hire PartyMojo's Traditional Kopi and Teh Live Station with Barista?
Simply provide us with 3-pin power points and we're good to go!
What goes well with PartyMojo's Traditional Kopi and Teh Live Station with Barista?
Glad that you asked! Our premium coffee goes well with Premium Donut Wall Station, Rainbow Cheese Toast Station, Churros Station and Retro Biscuits Station. 
How many servings can you make?
We can make around 50 servings in an hour.
I need to cater to more people in 2 hours, can you do it?
No problem! We can cater to as many people as you want in the hour. This can be done so by adding more stations and manpower! Simply call or email to enquire with your event details and you will get a quotation within a day!
The mojo behind Mojo Team
Quality & Affordable Services
Professionally Trained Staff

More Than 70 Live Food Stations

Fun Filled Themed Packages
Cash / Cheque / Credit Card Payments
🌟 The Art of the Brew 🌟
👨‍🍳 Our skilled baristas are artisans in their own right. They meticulously select premium coffee beans and tea leaves, ensuring each cup is a masterpiece. Witness the alchemy as they brew your beverage with precision and passion.
How is each drink served?
The beverages will be prepared on the spot to achieve that excellent experience in every cup! In addition, you get to stamp on your company logo or any design of your choice on the paper cups to make your event even more unforgettable! Please note that the logo is only available in black.
☕ Kopi
Delight in the robust, earthy notes of Kopi O, or savor the creamy indulgence. Each sip tells a story of time-honored brewing techniques and the perfect balance of flavors.
🍵 Teh
Let the aroma of freshly pulled Teh Tarik enchant you. Feel the warmth of Teh C as it soothes your soul. These teas transport you to a world where tea is more than a drink; it's an experience.
🌿 Essence of Tradition 🌿
🍶 Our traditional Kopi and Teh are steeped in heritage. We honor the customs, using age-old recipes and authentic ingredients to create flavors that pay homage to the past while delighting the present.
What selections do you offer?
We offer the traditional favourite, heartwarming, variety of Kopi O, Kopi, Kopi C, Teh O, Teh, Teh C, Milo!
🎉 Elevate Your Event 🎉
🌟 Planning an event? Our Kopi & Teh Live Station adds a touch of nostalgia and sophistication. Watch as your guests are captivated by the aroma and flavor, creating lasting memories.
🎊 Whether it's a wedding, corporate gathering, or a simple get-together, our live station brings the charm of tradition to your celebration.
☕🍵 Immerse in Tradition, One Sip at a Time 🍵☕
At our Kopi & Teh Live Station, we don't just serve beverages; we serve stories. Each cup carries the heritage of generations, waiting for you to take a sip and savor the taste of tradition. Allow us to brew up a memorable experience at your next event.
Terms & Conditions
Payment Terms
All prices quoted are in Singapore Dollars (SGD) and are subjected to 8% GST.
A 100% full payment is required to confirm the booking.
Breakage and damages to any equipments will be charged to client accordingly.
A transport surcharge of $30 is applicable for the following venues: Changi, Tuas, Sentosa, Turf city.
All cheques are made payable to PARTYMOJO PTE LTD.
Payment can be made via bank transfer to: DBS current Acc 003-932293-3 Branch code: 7171-003.
PartyMojo now accepts PayNow! The QR Code can be found at the bottom of the invoice issued.
Postponing of event can only be done 5 working days prior to the event.
Postponing of event is subjected to a $100 – $150 surcharge, subjected to availability.
50% of invoice charges if cancellation is made more than 5 working days before event time.
100% of invoice charges if cancellation is made 5 working days before event time.
Other Terms
PartyMojo will not be liable for cleaning up of any mess created by the activities/party guests.
PartyMojo reserves the right to cease the party immediately if the client verbally abuses any of our staffs. In the event that the client's guest verbally abuses a PartyMojo staff, PartyMojo staff will inform the client immediately. If the abuse does not cease, PartyMojo reserves the right to leave the event immediately.