Contact our PartyMojo office at 65696992 / Sales 

81606655

  / Yolanda 

81606622

 

to enquire now! Drop us a quick email at

[email protected]

today for your very own Raclette Cheese Live Station!

Raclette Cheese Live Food Station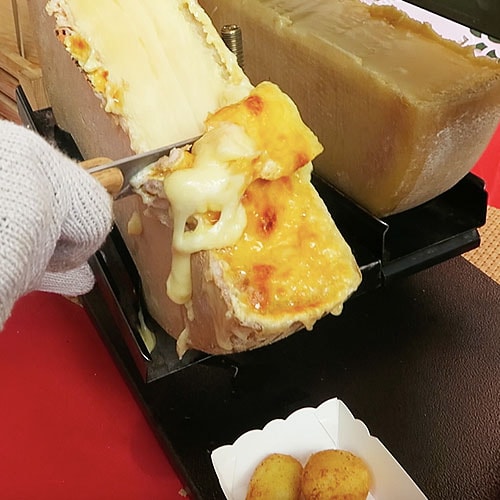 Our selection of cheese originated from Switzerland and is kept fresh and frozen before your event! You may select either to have the warm cheese to be served on Baby Potatoes or Potato Wedges. Half a wheel of cheese serves about 100 servings.
|  Pax | Raclette Cheese Station |
| --- | --- |
|  100 | $1200 |
|  150 | $1650 |
|  200 | $2000 |
|  Subsequent |  $10/pax |
*Delivery surcharge of $55 is applicable for Changi, Tuas, Jurong Island and Sentosa
If you're holding a large-scale event unsure of how many machines to rent, PartyMojo is here to your rescue! With over 30 in-house Machine Stations and a huge team of Mojo SuperStaffs, no more stress! PartyMojo offers a huge discount for long hours Machine Station rentals! 
What's required from me if I hire PartyMojo's Raclette cheese station?
Simply provide us a table and 2 powerpoints!
What's included in the live food station?
2 young and lively manpower, professional live food station set up, all ingredients, serving plates and fork.
Is the station halal?
All ingredient we use in the station is halal, including the raclette cheese wheel.
I ordered 100 pax, how long would the station be at my event?
We can stay up to 2 hours if you ordered 100 pax.
How many servings can you serve in 1 hour?
We can serve up to 150 pax in 1 hr at maximum speed.
I need to cater to 500 people in an hour, can you do it?
No problem! We can cater to as many people as you want in the hour. This can be done so by adding more stations and manpower! Simply call or email to enquire with your event details and you will get a quotation within a day!
Video Gallery
"How will the Live Food Station turn out during my event?" Check out our video and see it for yourself!
The Live Food Station will include the following:
Delivery
Set up
All ingredients provided
Manpower to serve
Please note that tables are not included. If you do not have an extra table, let our friendly event advisors know! We provide table rental at $20 each.
PartyMojo's Carnival Food Stalls
Raclette Cheese Live Station is Most Suitable For
Our Corporate Clients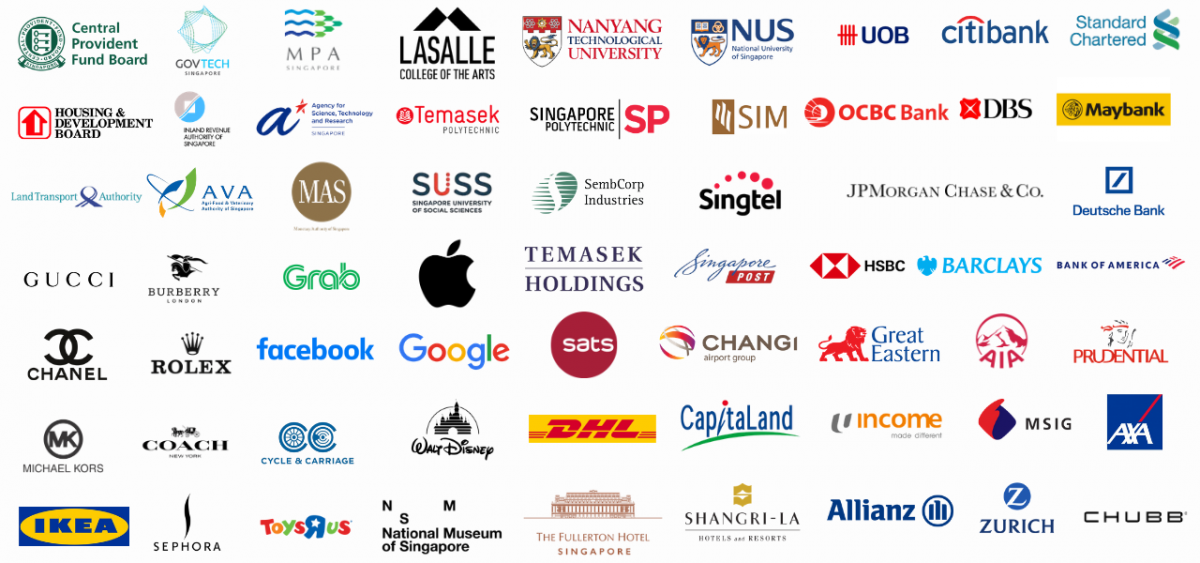 Send us your enquiry below
Raclette Cheese Live Station at your events!
Warm and gooey Raclette Cheese, melted and placed deliciously on top of baby potatoes or wedges! Raclette Cheese originated from Switzerland, and is sure to blow your guests away with not only its appearance, but also its taste. A popular addition to the list of insta-worthy food, this live station will definitely attract the attention of your guests! Watch as the gooey cheese melt right in front of you and placed on top of your potatoes. Why not get them at your next event with PartyMojo today?
How are our Raclette Cheese served?
They are melted right in front of you and placed on top of your baby potatoes or wedges, prepared carefully by our efficient Mojo SuperStaffs. Enjoy them hot and watch as the cheese melts and coats your potatoes to give an enhanced texture and taste! Get the Raclette Cheese Live Station for your next event with PartyMojo today!
Why have our Raclette Cheese Live Station at your events?
They definitely attract your attention at any events. Not only are they tasty, they are special and less commonly seen at many events! Furthermore, this dish is definitely insta-worthy! Wow your guests with these special Raclette Cheese Live Food station and be amazed at the taste this dish offer. Contact PartyMojo today to have this station at your next event!
Fun fact about Raclette Cheese!
The name of Raclette Cheese came from the French term "racler", which means "to scrape". This originated from the act of serving Raclette Cheese by scrapping off the top layer of melted cheese onto boiled potatoes. With PartyMojo's Raclette Cheese Live Station, you can now get to enjoy this exquisite dish at your next event! Enquire with PartyMojo today at 6569 6992 or 6569 6998 to know more!
Terms & Conditions
Payment Terms
All prices quoted are in Singapore Dollars (SGD) and are subjected to 8% GST.
A 100% full payment is required to confirm the booking.
Breakage and damages to any equipments will be charged to client accordingly.
A transport surcharge of $30 is applicable for the following venues: Changi, Tuas, Sentosa, Turf city.
All cheques are made payable to PARTYMOJO PTE LTD.
Payment can be made via bank transfer to: DBS current Acc 003-932293-3 Branch code: 7171-003.
PartyMojo now accepts PayNow! The QR Code can be found at the bottom of the invoice issued.
Postponing of event can only be done 5 working days prior to the event.
Postponing of event is subjected to a $100 – $150 surcharge, subjected to availability.
50% of invoice charges if cancellation is made more than 5 working days before event time.
100% of invoice charges if cancellation is made 5 working days before event time.
Other Terms
PartyMojo will not be liable for cleaning up of any mess created by the activities/party guests.
PartyMojo reserves the right to cease the party immediately if the client verbally abuses any of our staffs. In the event that the client's guest verbally abuses a PartyMojo staff, PartyMojo staff will inform the client immediately. If the abuse does not cease, PartyMojo reserves the right to leave the event immediately.