Contact our PartyMojo office at 65696992 / Sales 81606655 / Yolanda 

81606622

 

to enquire now! Drop us a quick email at

[email protected]

today for your very own fishball live station!
Did you smell something fishy…? Yup, it's us, gill-ty as charged! PartyMojo is bubblin' and ballin' up your favourite seafood this season, we couldn't wait to surface! Introducing PartyMojo's Live Fishball Station! You've waited too long for this, we know. Fishball is undoubtedly everyone's favourite picnic snack, not only in Singapore, but everywhere else that know fishball! It is round, fried, fun, and it most importantly, it bounces! Couldn't ask for more! We at PartyMojo are deep-fried in excitement to bring our Live Fishball Station to your very party! Kids love it, and you must have it! Let's put aside tea-time sweet snacks for a moment. Get greasy and have a ball of a time! Bring PartyMojo's Live Fishball Station to your party today!
Fishball Live Food Station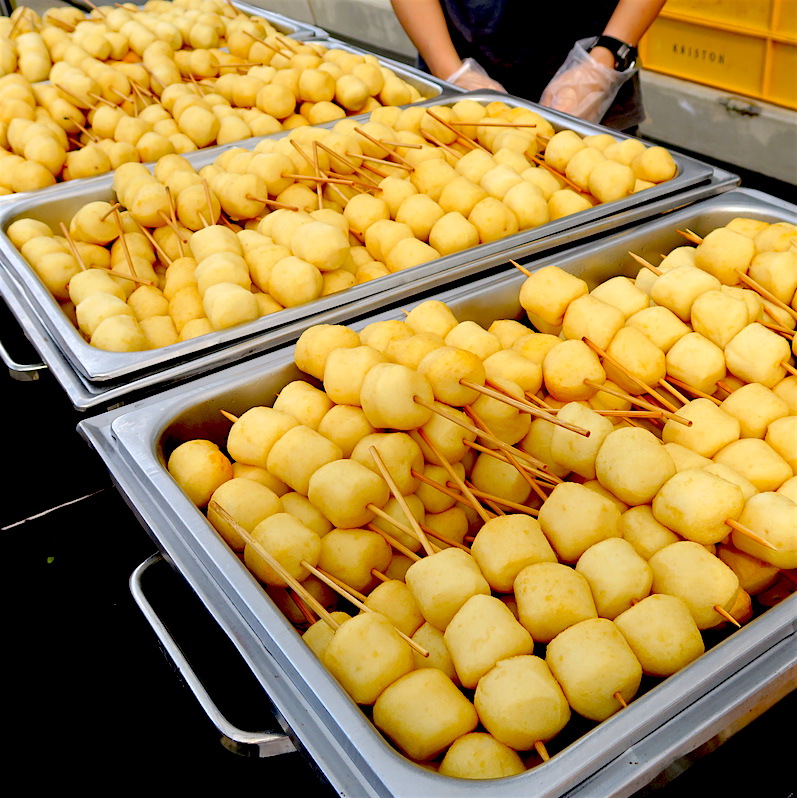 Our fishball are served in skewers that prevent your hands from getting oily while enjoying them!
|   | 100 Servings | 200 Servings | 300 Servings |
| --- | --- | --- | --- |
| 1 Hour | $300 | – | – |
| 2 Hours | – | $450 | – |
| 3 Hours | – | – | $600 |
| Sub | $150 | – | – |
*Delivery surcharge of $30 is applicable for Changi, Tuas, Jurong Island and Sentosa
What is included in the fishball live station?
The package is inclusive of 1 manpower, delivery & fish ball skewers live frying station at the event!

What's required from me if I hire PartyMojo's fishball live station?
Simply provide us a table and we're good to go! Do not worry if you don't have table as it available for rent at $20.
I need to cater to 500 people in an hour, can you do it?
No problem! We can cater to as many people as you want in the hour, after all, the more the merrier! Simply call or email to enquire with your event details and you will get a quotation within a day!
Do you serve lesser than 300 servings?
Unfortunately no, our minimum is at 300 servings. Your guests can always come back for more fishballs!
Are the ingredients Halah certified?
Yes, all ingredients used are halal certified!
Our Team
PartyMojo hires only young, lively and presentable manpower!

Our Reliability
PartyMojo's arrives punctually half an hour before event for set up. Please refer to our FAQs for PartyMojo's service and delivery protocol.

Our Scalability
With over 30 machines in store, we cater to big or last minute bookings.

Our Quality & Taste
Leave it to us to excite your tastebuds!

Your Needs are Ours
We cater what is best for your party, choices, wants and must haves. We got you!
The Mojo behind Mojo Team
Quality & Affordable Services
Professional Trained Staff

All Inclusive Themed Packages
Cash/Cheque/Credit Card Payment
Fishball station at your event!
Savour each and every bite of hot, juicy, scrumptious, fresh fishballs, momentously immersing yourself in the joy of your very own party! That's right! PatyMojo is bringing our Live Fishball Station especially to you, on your very special day! What better way to feel at home than this? PartyMojo's Live Fishball stations fits right in whether your party is an intimate fete for friends or a large-scale function with a buffet spread. If you are craving for the comfort of a familiar food, something nice and warm to have at your party, PartyMojo's Live Fishball Station is that perfect dip to the fishballs! Share the yum-yum in your tum-tum because one man's fish is another man's poisson!  😉
How are our fishballs served
What did one fishball say to the other? Skew's me, coming through! Hot, fresh and tender fishballs coming your way~ boing boing! And well, you guessed it! The fried fishballs come in threes on a skewer, per serving. Easy peasy hardly messy! The skewers keep your hands grease-free while you enjoy every bite of those tender bouncy fishballs! PartyMojo's Live Fishball Station conveniently comes in 2 options, namely the pushcart station for party snacking, and a catering station. The pushcart station is recommended for personal or private parties such as birthday parties, baby showers, and such. Now the catering station would be perfect for higher accommodative events, accompanying a spread of buffet. Drooling already? What are you waiting for!?
Why fishball at private event / family day?
PartyMojo's Live Fishball Station will steal the limelight over all the other party snacks and here's why: These little appetizers are the perfect grab-and-go munchies, have it seated, standing up, and even when the little ones are busy playing games! And what's a fun food without a mess? Yup, fishballs! We hear you, moms! No messy cream, no grains and crumbs snowing all over your floor, just perfect little fillers before the big meal!
Fun fact about fishballs!
Fishballs always gave us the impression of an Asian delicacy that are usually served with soup or noodles. Many of us would probably not expect it to be an authentic Nordic cuisine as well. Fishballs are called Fiskbullar in Sweden and Fiskeboller in Norway, usually packed in cans. What's more? They are commonly served with potatoes, pasta, boiled green peas or even caviar. Never expected fishballs to have a western twist, did you? Well, now you can have them served the way you fancy! Enquire with PartyMojo today at 6569 6992 or 6569 6998 about catering our fishball live station for your next event!
Terms and conditions
– All prices quoted are in Singapore Dollars (SGD).
– All prices are subjected to 7% GST.
– A 50% non-refundable deposit is required to confirm the event.
– Breakage and damages to any equipments will be charged to customer accordingly.
– All cheques are made payable to PARTYMOJO PTE LTD.
– Deposit can be made via bank transfer to DBS current Acc 003-932293-3 Branch code: 7171-003
– The balance 50% payment is to be made in cash strictly on event day before the start of event.
– In the event that cash payment cannot be prepared before the start of event, 100% full payment should be made to PartyMojo 3 working days prior to the event.
– 50% Deposit will be forfeited upon cancellation of event, 100% full payment will be required if the event was cancelled within 2 working days to the event.
– Postponing of event is subjected to a $100 – $150 surcharge, subjected to availability, otherwise, client can choose to cancel the event and deposit paid will be forfeited.
– Postponing of event can only be done 2 working days prior to the party.
– PartyMojo reserves the right to cease the party immediately if any of our staffs are verbally abused by the client. In the event that a PartyMojo staff is verbally abused by the client's guest, PartyMojo staff will inform the client immediately. If the abuse does not cease, PartyMojo reserves the right to leave the event immediately.