Contact our PartyMojo office at 65696992 / Sales 81606655 / Yolanda 

81606622

 

to enquire now! Drop us a quick email at

[email protected]

today for your very own rainbow cheese toast station!
Rainbow Cheese Toast Live Food Station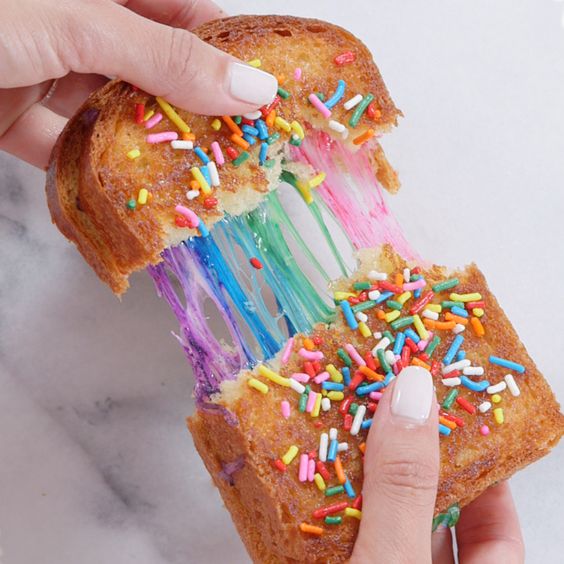 Amaze your guests with the trendy and gorgeous rainbow cheese toast at your events now! Crispy and crunchy on the outside, soft and flavourful on the inside. Hurry! Bite into this beautiful toast and pull to see the strands of rainbow surprise while it's hot. You wouldn't want to miss out the insta-worthy rainbow cheese toast at your events!
| Pax | Rainbow Cheese Toast Station |
| --- | --- |
| 100 | $450 |
| 200 | $650 |
| Subsequent | $200 |
*Delivery surcharge of $55 is applicable for Changi, Tuas, Jurong Island and Sentosa
If you're holding a large-scale event unsure of how many machines to rent, PartyMojo is here to your rescue! With over 30 in-house Machine Stations and a huge team of Mojo SuperStaffs, no more stress! PartyMojo offers a huge discount for long hours Machine Station rentals! 
What's required from me if I hire PartyMojo's Rainbow Cheese Toast Station?
Simply provide us a table and a powerpoint and we're good to go! Don't worry, tables are available for rental at only $20!
I need to cater to 500 people in an hour, can you do it?
No problem! We can cater to as many people as you want in the hour. This can be done so by adding more stations and manpower! Simply call or email to enquire with your event details and you will get a quotation within a day!
Video Gallery
"How will the Live Food Station turn out during my event?" Check out our video and see it for yourself!
The Live Food Station will include the following:
Delivery
Set up
All ingredients provided
Manpower to serve
Please note that tables are not included. If you do not have an extra table, let our friendly event advisors know! We provide table rental at $20 each.
PartyMojo's Carnival Food Stalls
Rainbow Cheese Toast Live Station is Most Suitable For
Our Corporate Clients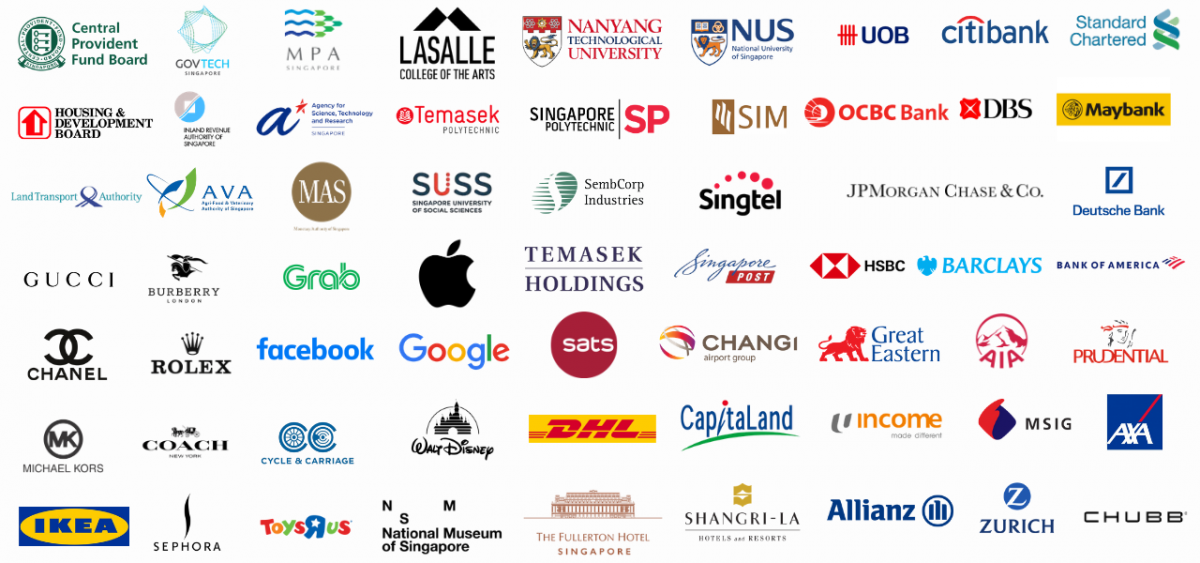 Send us your enquiry below
🌈🧀 Rainbow Cheese Toast Extravaganza: Melt Your Taste Buds in Colourful Bliss!
Step into a world where vibrant hues meet gooey cheese, creating a spectacle of taste and aesthetics. Welcome to Rainbow Melt Haven, where our live station is not just a snack stop – it's a culinary kaleidoscope, a celebration of cheesy goodness, and a journey into the heart of vibrant indulgence.
🌟 Crafting Rainbow Magic: Artistry in Every Slice
Watch as our culinary wizards transform simple slices of bread into a canvas of color. Each slice is meticulously adorned with a spectrum of natural ingredients, turning your traditional cheese toast into a masterpiece that's as delightful to the eyes as it is to the taste buds.
Cheese Symphony
Experience the melody of cheese as it melts into a gooey, decadent blanket over your rainbow-infused bread. Our blend of premium cheeses ensures a perfect balance of creaminess that harmonizes with the burst of colours.
🌐 Global Fusion, Local Charm
Experience the fusion of traditional cheese toast with innovative twists. From classic cheese delights to exotic international inspirations, our live station is a culinary passport to a world of gooey indulgence.
🔥 Live Melting Spectacle
Step up to our live station and witness the magic as cheese meets bread in a live melting performance. The aroma of melting cheese fills the air, creating an immersive experience that turns the simple act of toasting into a culinary spectacle.
🎉 Rainbow Cheese Toast Fiesta for Every Occasion 🌈
From casual gatherings to grand celebrations, our live station adds a touch of colour and cheesy elegance to any event. Create memorable moments and let your guests savor the joy of crafting their own Rainbow Cheese Toast delights.
🚀 Elevate Your Cheesy Adventure 🧀
At Rainbow Melt Haven, we believe in turning every bite into a moment of delight. Elevate your Rainbow Cheese Toast adventure with our live station – where every slice is a stroke, and every toast is a celebration of vibrant cheesy indulgence.
Join us at Rainbow Melt Haven and let the cheesy fiesta begin!
Terms & Conditions
Payment Terms
All prices quoted are in Singapore Dollars (SGD) and are subjected to 8% GST.
A 100% full payment is required to confirm the booking.
Breakage and damages to any equipments will be charged to client accordingly.
A transport surcharge of $30 is applicable for the following venues: Changi, Tuas, Sentosa, Turf city.
All cheques are made payable to PARTYMOJO PTE LTD.
Payment can be made via bank transfer to: DBS current Acc 003-932293-3 Branch code: 7171-003.
PartyMojo now accepts PayNow! The QR Code can be found at the bottom of the invoice issued.
Postponing of event can only be done 5 working days prior to the event.
Postponing of event is subjected to a $100 – $150 surcharge, subjected to availability.
50% of invoice charges if cancellation is made more than 5 working days before event time.
100% of invoice charges if cancellation is made 5 working days before event time.
Other Terms
PartyMojo will not be liable for cleaning up of any mess created by the activities/party guests.
PartyMojo reserves the right to cease the party immediately if the client verbally abuses any of our staffs. In the event that the client's guest verbally abuses a PartyMojo staff, PartyMojo staff will inform the client immediately. If the abuse does not cease, PartyMojo reserves the right to leave the event immediately.