All things big are better! Get ready as PartyMojo brings you crazy amount of fun and joy! Introducing our highly anticipated Giant Game Booths! We bring your favourite games to you, but now upsized to double the amount of fun you enjoy! Bring this giant-sized game booth to your very own carnival and party to wow your guests and blow them away with the scale of your games!
Contact our PartyMojo office at 65696992 or Sales 81606655 / Yolanda 

81606622

 

to enquire now! Drop us a quick email at sales@partymojo.com.sg today!
Fun Giant Game Booths for Rental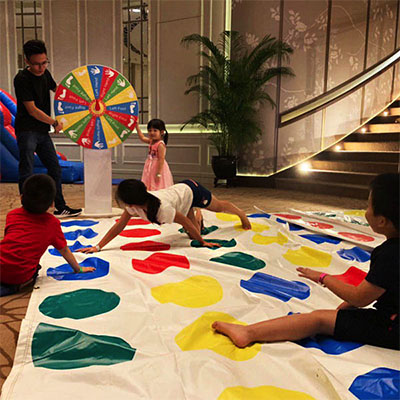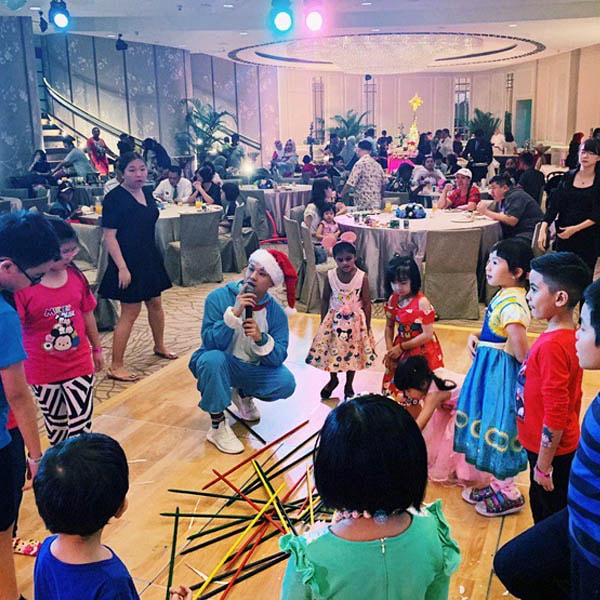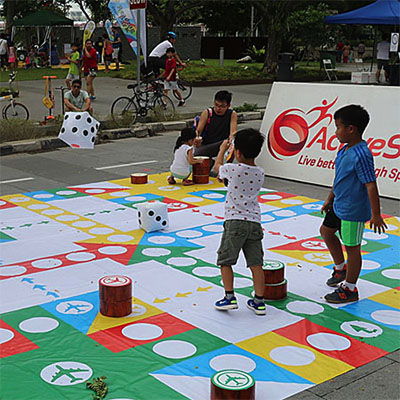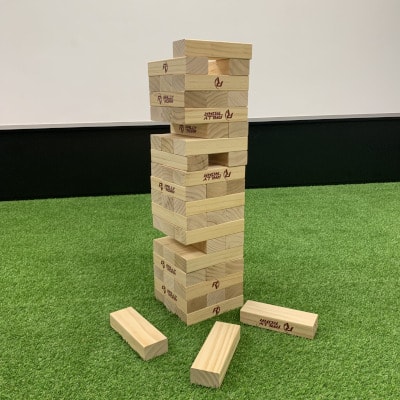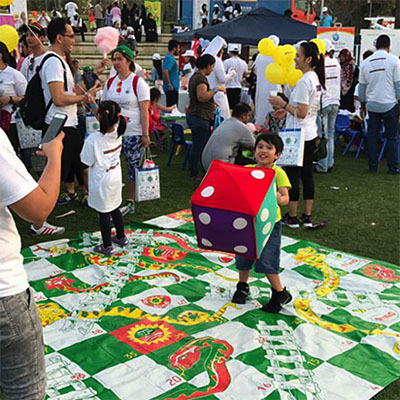 Our Giant Game Booths consist of Stand-alone Games. Each booth requires a designated area of ground space. Scroll down to find out more about each game!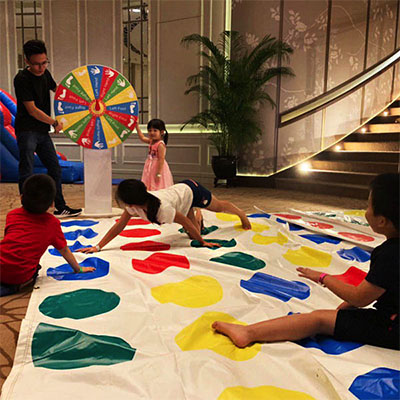 Enjoy playing twister? Bet you will enjoy it more when it is giant-sized! This game of giant twister requires a great amount of flexibility and tact to successfully win the game! Think you are up for the challenge? All we require is a 3M x 3.5M space and we are ready to go! Call your friends too, because this game is best played with 6 players!
Ready to get your body moving?
A referee will begin by spinning the colour wheel and calling out hand or foot and the colour that the spinner points to. Each player then attempts to place their body part onto that colour. The last one standing will be the winner! Ready for the game? This game includes one table-top sized spin the wheel. For the human sized spin the wheel as shown in the picture, simply top up $80!
Logistics Required: 3M x 3.5M space
No. of players: Recommended 6 players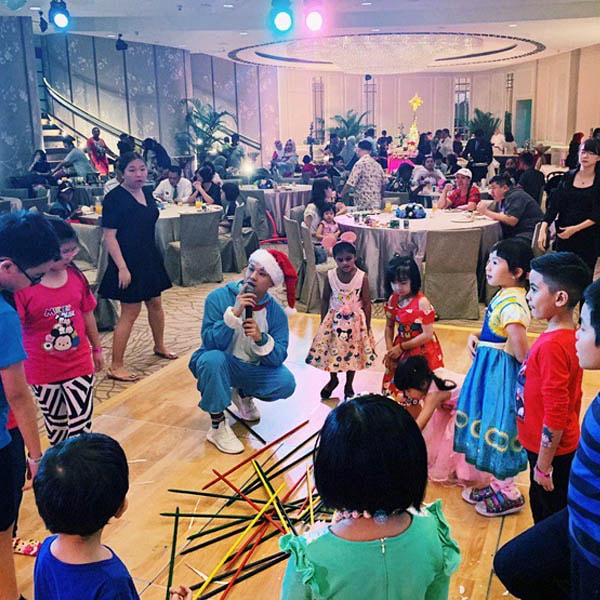 Most of us have played a game of pick up sticks when we were young! Now the difficulty is increased with PartyMojo's giant pick up sticks!  Put your skills to the test now that the sticks are magnified! The play area All we required is a space of 2M x 2M and we are ready for the game to start! Grab your friends with you and get ready for an exciting game of giant pick-up sticks!
Get your hands busy!
Participants take turns to choose 1 giant stick to pick up without moving or touching other sticks. If the participant's stick touches other sticks, his or her turn will be over. The player with the most sticks wins! Think you are good at pick-up sticks? Try the giant one now!
Logistics Required: 2M x 2M space
No. of players: Recommended 4 players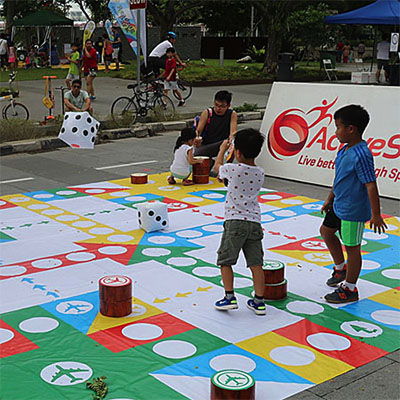 A battle of skills, wits and luck! This game of giant aeroplane requires all of that and more! Think you are skilled in the game of aeroplane? All we require is a 3 by 3 meter space on the ground and you are all set for PartyMojo's Giant Aeroplane! Bring a few of your friends along with you and see who is the winner!
Fly your planes now!
Each participants will get their own plane pieces located at the corners of the board. Participants will then try to get this plane pieces into the base of their own colour in the center of the board. Each player takes a turn by rolling the dice. The first player to reach the center wins! Ready to fly your planes and win the game?
Logistics Required: 3M x 3M space
No. of players: Recommended 4 players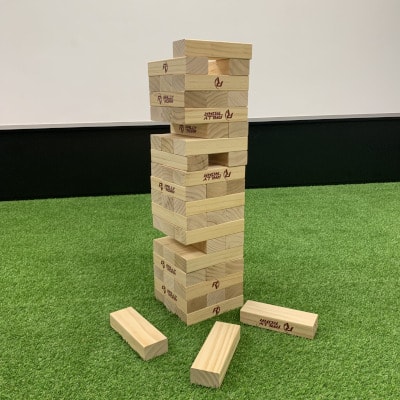 Many of us have played normal sized Jenga and know how nerve-racking it is! Can you imagine playing the same game, but with giant-sized block stacked into a giant tower? Well, you no longer have to imagine with PartyMojo's Giant Sized Jenga! Play this game with your friends, as it is the most thrilling when played with 4 players! This Giant Jenga blocks are 70 cm high and can even reach up to 1.5m!
How to play Giant Jenga?
Participants take turns to remove a block from the tower and place their block at the top of the tower without causing the tower to topple. The game gets harder as more pieces are removed from the bottom. If the tower topples, the player with the most block wins! Can you balance the blocks and ensure that the tower do not topple?
Logistics Required: 2M x 2M space
No. of players: Recommended 4 players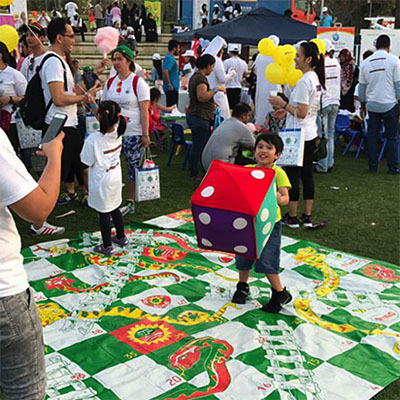 The good ol' game of Snakes and Ladders, but now giant-sized! Are you ready for a larger, more exciting and thrilling game of Snakes and Ladder? Unleash your skills as you battle your friends to this game of Giant Snakes and Ladders! This game is best played with 4 players. All we require is a 3 by 3 meter space on the ground for setup.
Hiss…Hiss… are you ready?
All participants start at 1 and take turns to throw the dice. If the counter lands on a ladder, player can move up. If the counter lands on a snake, players must slide down. The first player to reach the end of the number wins. Up for this game breath-taking game of giant snakes and ladder? The game is on!
Logistics Required: 3M x 3M space
No. of players: Recommended 4 players
Top 5 reasons why choose PartyMojo!
At PartyMojo, we ensure our customers are always paying the right price for the right quality. Here are the Top 5 Reasons why our corporate clients and birthday guests chose PartyMojo as their choice: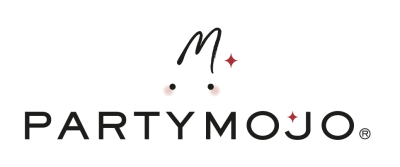 Architect of Joy
Beyond organising personal parties and corporate events, we compose happy experiences. Drawing out the Fun in every Function.

Mojo Formula
We compose joy through full-scale event planning and management following the formula.
Mojo Formula = Ideation + Detailing + Execution

Professionalism
About all, we are guided by our belief system to be prompt, responsible, responsible and always reliable.

Team Mojo
All Mojo manpower undergo strict screenings and practical training before they are assigned to a job post to equip them with product knowledge and good service.

Quality & Taste
We select nothing but the top ingredients and guarantee to excite your tastebuds!
The mojo behind Mojo Team
Quality & Affordable Services
Professionally Trained Staff

More Than 70 Live Food Stations

Fun Filled Themed Packages
Cash / Cheque / Credit Card Payments
Terms & Conditions
Payment Terms
All prices quoted are in Singapore Dollars (SGD) and are subjected to 7% GST.
A 100% full payment is required to confirm the booking.
Breakage and damages to any equipments will be charged to client accordingly.
A transport surcharge of $30 is applicable for the following venues: Changi, Tuas, Sentosa, Turf city.
All cheques are made payable to PARTYMOJO PTE LTD.
Payment can be made via bank transfer to: DBS current Acc 003-932293-3 Branch code: 7171-003.
PartyMojo now accepts PayNow! The QR Code can be found at the bottom of the invoice issued.
Postponing of event can only be done 5 working days prior to the event.
Postponing of event is subjected to a $100 – $150 surcharge, subjected to availability.
50% of invoice charges if cancellation is made more than 5 working days before event time.
100% of invoice charges if cancellation is made 5 working days before event time.