Contact our PartyMojo sales representative at 65696992 / 

81606655

  / 

81606622

 

to enquire now! Drop us a quick email at

[email protected]

today for your very own snow cone station!
The lights are turned way down low, let it snow, let it snow, let it snow! – or not – because no matter the season, right here in sunny Singapore, any day is a perfect day to have a chilly, teeth numbing, brain-freezing joy of the Snow Cone! Delight in the wonders of colourful, thirst-quenching and simply amazing sweetness of the Snow Cone no matter where you are, because PartyMojo's Snow Cone Live Station is a mobile, all-in compact stand that is perfect to have at any type of carousel, be it a personal birthday or occasional party, or large scale corporate or community parties housing hundreds – maybe even thousands – of guests! Tough choice to pick between PartyMojo's Original Snow Cone, Fruity Snow Cone, or Snow Cone with Ice Cream… hack it, have all of them! In or outdoors, rain or shine, we could all use a little sweet treat on ice today! You would not want to miss having PartyMojo's Snow Cone Live Station at your event now, would you?
Snow Cone Live Food Station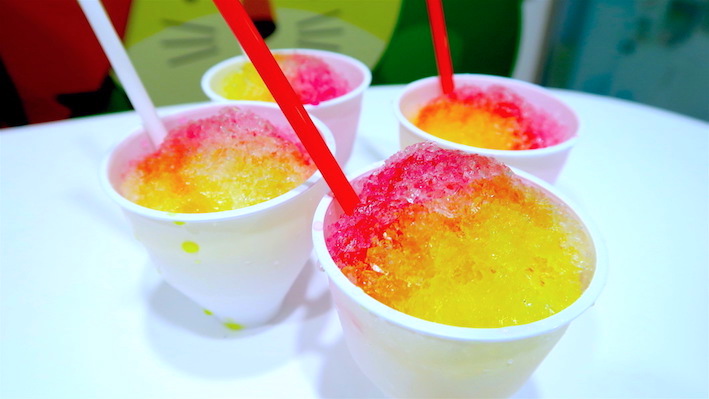 "The sweetness from our Original Snow Cone is best consumed with a touch of excitement and just a handful of glee!."
The Original Snow Cone is coated with your best favourite flavoured syrup toppings – choose not one, not two, but THREE of them to spruce up your already yummy Snow Cone! Excite yourself with the colours and flavours dancing in your mouth and let your eyes gleam with all the icy love. You know you want it!
|  Hours | Snow Cone Station |
| --- | --- |
|  2 | $500 |
|  3 | $550 |
|  4 | $700 |
|  Subsequent |  $150 |
*Delivery surcharge of $30 is applicable for Changi, Tuas, Jurong Island and Sentosa
If you're holding a large-scale event unsure of how many machines to rent, PartyMojo is here to your rescue! With over 30 in-house Machine Stations and a huge team of Mojo SuperStaffs, no more stress! PartyMojo offers a huge discount for long hours Machine Station rentals! 
Is the Snow Cone Station Free flow? How many servings can you serve in an hour?
We can cater to 50 – 65 servings in an hour. For free flow requests, do contact our sales representatives for more information.

What's required from me if I hire PartyMojo's Snow cone live station?
Simply provide us a table and a powerpoint and we're good to go!
I need to cater to 500 people in an hour, can you do it?
No problem! We can cater to as many people as you want in the hour. This can be done so by adding more stations and manpower! Simply call or email to enquire with your event details and you will get a quotation within a day!
Are the snow cones Halal?
Yes, all ingredients used are halal certified!
Our Team
PartyMojo hires only young, lively and presentable manpower!

Our Reliability
PartyMojo's arrives punctually half an hour before event for set up. Please refer to our FAQs for PartyMojo's service and delivery protocol.

Our Scalability
With over 30 machines in store, we cater to big or last minute bookings.

Our Quality & Taste
Leave it to us to excite your tastebuds!

Your Needs are Ours
We cater what is best for your party, choices, wants and must haves. We got you!
Snow Cone station at your events!
We're not talking meat, we're not talking veges, we're not talking snacks… We're all about sweet confections! PartyMojo's (literally) coolest indulgence is here to grace your event with bright and bold beauty! Our Snow Cone comes in wacky colours, flavours and styles, and believe us when we say, this is the dessert you would want to serve your guests with! It's exhilarating; everyone wants a piece of the cold! PartyMojo's Snow Cone Live Station fits right in, whether it is a little birthday party or a private friends-and-family feast, or a large-scale, blockbuster event such as corporate anniversaries, or RC and CC get-togethers! You may even hold a roadshow and the Snow Cone Live Station would be a favourite stop for all young and old! Better yet, PartyMojo provides masking of machines, as well as packaging services to create brand awareness! Now your guests will never forget where that splendid Snow Cone came from! Drop the ice cream on stick, out with the popsicles, get PartyMojo's Snow Cone Live Station for your event today!
How is our Snow Cones served
PartyMojo promises only the best quality of service and products for you and your beloved guests! Our Snow Cone Live Station machine is flown directly from the USA, superb for high speed churning to produce only the finest ice shavings, to spoil you in the heavenly indulgence of our Snow Cone desserts! Like that's not enough, you get to choose various toppings on the Original Snow Cone, the Fruity Snow Cone or the Snow Cone with Ice Cream! You wouldn't ask for more! Each order of PartyMojo's Snow Cone Live Station comes with one (1) manpower to man the station. If you wish to have more manpower to cool your crowd down, let our sales team know, we are one call away!
Why snow cone live station at your private event / family day?
We can almost promise you that all of your guests, toddler, teenager, adult, mommy, daddy, grandma and grandpa would love PartyMojo's Snow Cone; there's no reason not to love it! It's captivating, refreshing, and is more than perfect to serve at your next private event! Amaze your guests, friends, families and buddies, with the Snow Cone Live Station at your party, because the only thing better than great food, having it with your loved ones.
Why Snow Cone station at road shows / public event?
Highly unlikely, but even if it snowed in Singapore, PartyMojo's Snow Cone Live Station would still be the best dessert to serve at your large-scale party! Here's why: it's crowded and everyone is stuffed from the buffet, and while walking around, all they need is a good, cooling dessert to settle down. Needless to mention a perfect sunny weather for the outdoor roadshow; the Snow Cone would pop right in! When it's all warm and balmy, hit your guests with the some frozen sweetness, and they'll never let it go!
Fun Fact about Snow Cones!
During the Great Depression, Baltimore was covered in heaps of snow! The unemployed people invented the "Snowball Sunday" requiring little overhead, yet earning a living out of the delightful, inexpensive treat loved by one and all! Through time, it modified and is now the Snow Cone covered in wondrous, colourful syrup flavours for great enjoyment!
The Mojo behind Mojo Team
Quality, Affordable Service

Fast Response Quote (FRQ)
Passionate, Kids-friendly Staff

Professional Trained Staffs

All-inclusive Themed Packages
Cash/Cheque/Credit Card Payment
Terms and conditions
– All prices quoted are in Singapore Dollars (SGD).
– All prices are subjected to 7% GST.
– A 50% non-refundable deposit is required to confirm the event.
– Breakage and damages to any equipments will be charged to customer accordingly.
– All cheques are made payable to PARTYMOJO PTE LTD.
– Deposit can be made via bank transfer to DBS current Acc 003-932293-3 Branch code: 7171-003
– The balance 50% payment is to be made in cash strictly on event day before the start of event.
– In the event that cash payment cannot be prepared before the start of event, 100% full payment should be made to PartyMojo 3 working days prior to the event.
– 50% Deposit will be forfeited upon cancellation of event, 100% full payment will be required if the event was cancelled within 2 working days to the event.
– Postponing of event is subjected to a $100 – $150 surcharge, subjected to availability, otherwise, client can choose to cancel the event and deposit paid will be forfeited.
– Postponing of event can only be done 2 working days prior to the party.
– PartyMojo reserves the right to cease the party immediately if any of our staffs are verbally abused by the client. In the event that a PartyMojo staff is verbally abused by the client's guest, PartyMojo staff will inform the client immediately. If the abuse does not cease, PartyMojo reserves the right to leave the event immediately.