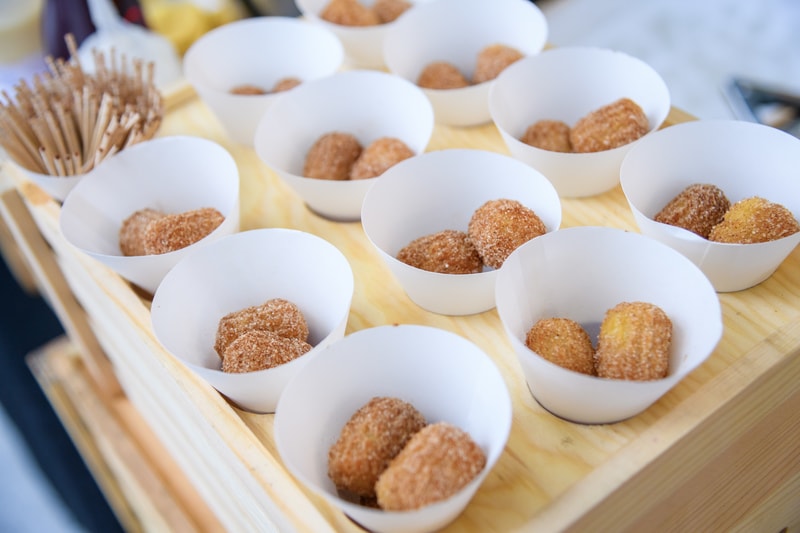 From Spain to Singapore, PartyMojo brings you, your very own Churros Live Station Rental! Your children will go crazy for our soft fluffy dough and homemade sauces! Churros dunked with good ole' cinnamon sugar and topped off with everyone's favourite Hershey's chocolate sauce, condensed milk and white chocolate sauce! On top of that, we cater a professional Churro chef to get them served fresh and hot! Definitely a must-have for your event!
Pricing table:
200 Servings
300 Servings
400 Servings
2 Hours
$450 (U.P: $500)
–
–
 3 Hours
 

$500

(U.P: $540)
 $560

(U.P: $630)

 –
 4 Hours
 

$550

(U.P: $580)
 $600 (U.P: ($670)
 

$700

(U.P: $760)
Subsequent Hours: $130 / hour / 100 servings
*Please note that a delivery surcharge of $55 is applicable for Changi, Tuas, Jurong Island and Sentosa
Holding a large scale event and not sure how many machines or how long a duration you need? Fret not because PartyMojo is here for you! With over 30 in house machines and a big team of Mojo staffs, let us share your burden. Discount will be provided for long hours, so why not enquire with us today!
What is the maximum servings you can serve in an hour?
At usual speed, we can cater up to 100 servings in an hour. If you require more servings please let our sales team know with additional manpower/fryer.
I need to cater to 500 people in an hour, can you do it?
No problem! We can cater to as many people as you want in the hour. This can be done by adding more manpower/ extra fryer. Simply call or email to enquire with your event details and you will get a quotation within a day!
Do you serve less than 100 servings?
Unfortunately no, our minimum is at 100 servings. Your guests can always come back for more cup corn!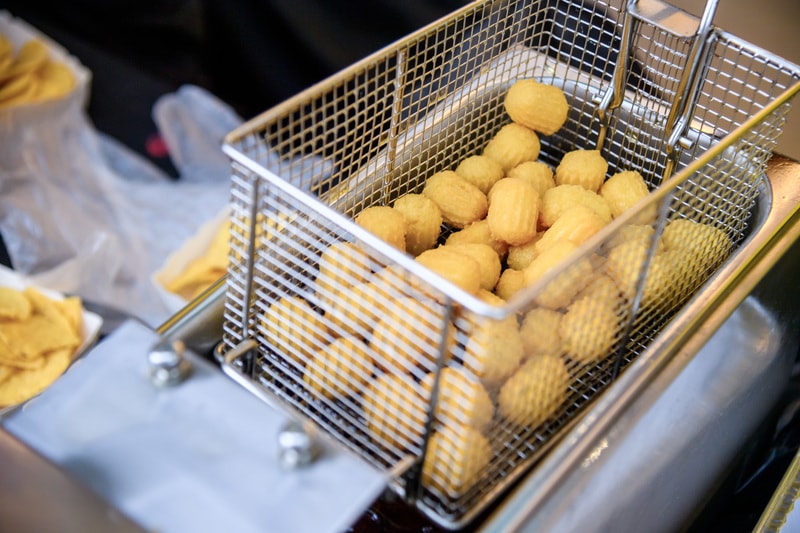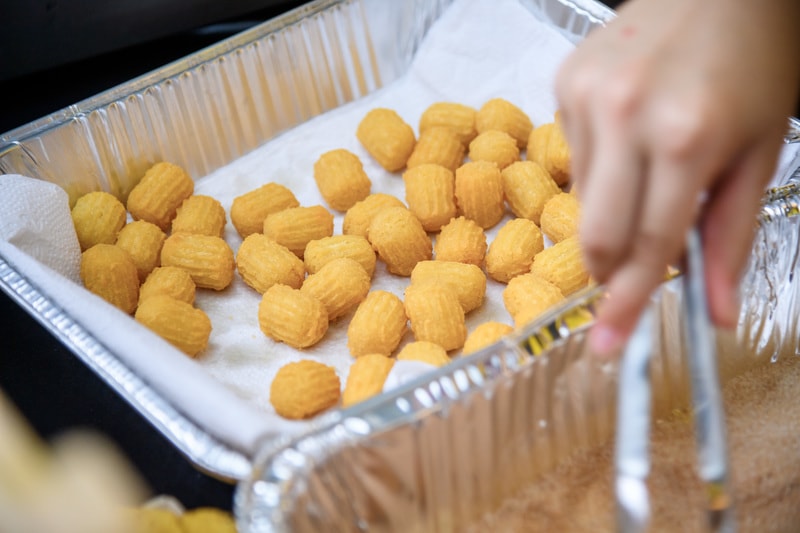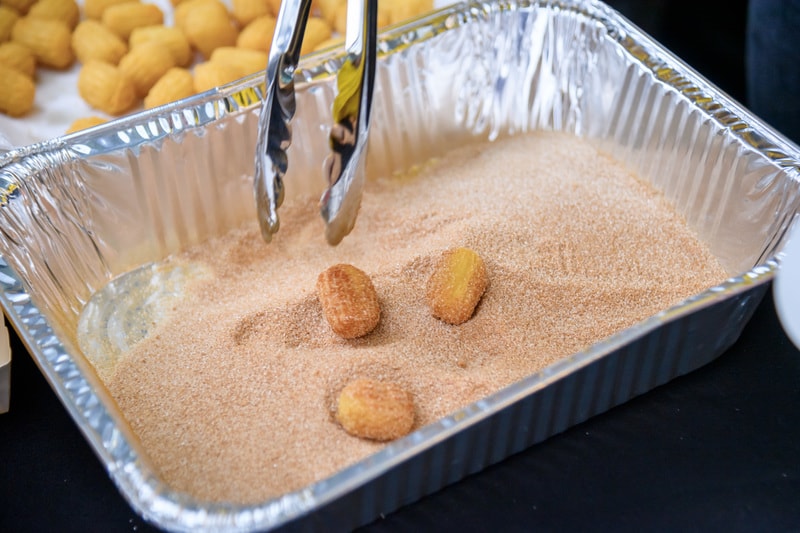 PartyMojo's Carnival Food Stalls
Churros Live Station is Most Suitable For
Our Corporate Clients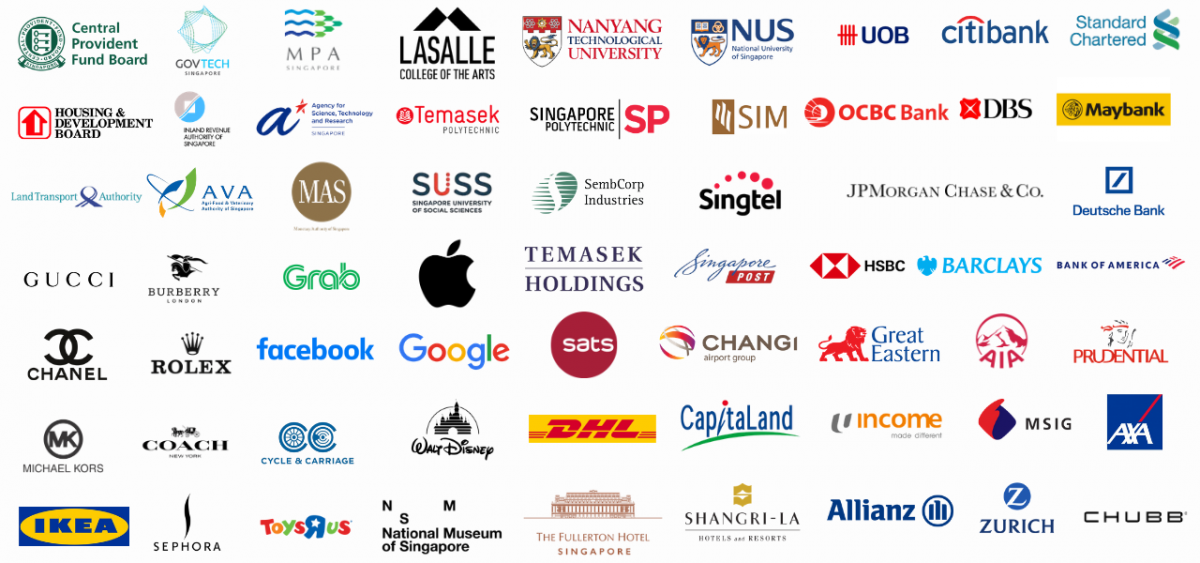 Send us your enquiry below
Churros at your events!
Fresh dough fried into bite-sized golden donuts, generously sprinkled with sugar and dipped in silky luscious Hershey's chocolate sauce, condensed milk  or white chocolate sauce. Savour the sweet embrace of warm chocolate on sugar bits and feel the crunch of the skin with every bite as it gets tender and fluffy on the inside. Sounds like a true indulgence, doesn't it? This Spanish creation sure is a work of art! Don't miss having Churros at your next event with PartyMojo's Churros Live Station Rental!
How are churros served?
We want your every bite of churro to crunch and dance! That is why we pledge to make the freshest churros for you and your guests! Churro doughs are sealed and frozen before transported to your event where our professional churro chefs will make them sizzle right before you at the Churro Live Stations. Our live stations are highly efficient and your churros will be ready in a blink of an eye! Contact PartyMojo today to use our Churros live Station rental for your next event!
Why have churros at your event?
Churros definitely aren't the most common snack or sweet treat you would expect to find in Singapore compared to common desserts like cakes and donuts but as a cultural melting pot, churros were introduced in Singapore to further enrich the well-assorted gourmet landscape. As we ride the wave of Latin American pop fever fuelled by the recent hit song- 'Despacito', there was no doubt a surge in popularity for churros in recent times. Why not have churros at your next event? Your guests will appreciate how up to date you are in pop culture for sure! Contact PartyMojo to enquire about our Churros Live Station rental today!
Fun fact on churros!
Does the shape of the churro remind you any bit of the Chinese oil stick otherwise called You Char Kueh? Well, it isn't a coincidence! Lo and behold, the churro was actually made with a recipe brought into Europe by the Portuguese who drew inspiration from the recipe for You Char Kueh. Isn't it just fascinating to witness such developments in culinary techniques? Two pastries from the same bloodline but exhibiting strikingly different flavours and textures. History and heritage definitely help us appreciate our food more. With the tale of the churro being told, are you finally caught by its appeal? Bet you really want churros at your next event! Enquire with PartyMojo today at 6569 6992 or 6569 6998 about our Churros Live Station rental!
Terms & Conditions
Payment Terms
All prices quoted are in Singapore Dollars (SGD) and are subjected to 8% GST.
A 100% full payment is required to confirm the booking.
Breakage and damages to any equipments will be charged to client accordingly.
A transport surcharge of $30 is applicable for the following venues: Changi, Tuas, Sentosa, Turf city.
All cheques are made payable to PARTYMOJO PTE LTD.
Payment can be made via bank transfer to: DBS current Acc 003-932293-3 Branch code: 7171-003.
PartyMojo now accepts PayNow! The QR Code can be found at the bottom of the invoice issued.
Postponing of event can only be done 5 working days prior to the event.
Postponing of event is subjected to a $100 – $150 surcharge, subjected to availability.
50% of invoice charges if cancellation is made more than 5 working days before event time.
100% of invoice charges if cancellation is made 5 working days before event time.
Other Terms
PartyMojo will not be liable for cleaning up of any mess created by the activities/party guests.
PartyMojo reserves the right to cease the party immediately if the client verbally abuses any of our staffs. In the event that the client's guest verbally abuses a PartyMojo staff, PartyMojo staff will inform the client immediately. If the abuse does not cease, PartyMojo reserves the right to leave the event immediately.