Contact our PartyMojo office at 65696992 / Sales 

81606655

  / Yolanda 

81606622

 

to enquire now! Drop us a quick email at

[email protected]

today for your very own waffles live station! Click here for the complete list of stations.
Green Tea Waffle Tree Station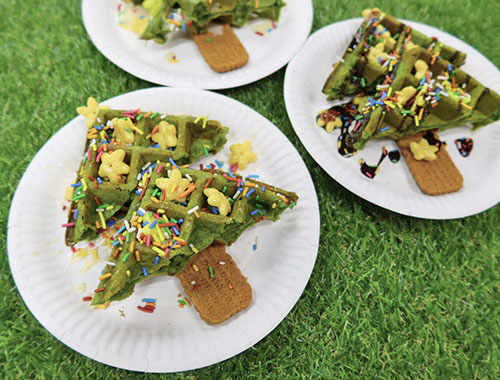 We know you love all sorts of waffle spread and we love it too! Introducing PartyMojo Green Tea Waffle Tree Station to top your dessert fancy. We have a variety of toppings including maple syrup, chocolate and strawberry sauce, and not forgetting, SPRINKLES! Indeed, we wouldn't dream of missing the chance to serve you with that rich, red berry on jam, now, would we?
|  Hours | Green Tea Waffle Tree Station |
| --- | --- |
|  1  | $390 |
| 2  | $690 |
| 3  | $940 |
|  Subsequent |  $250 |
*Delivery surcharge of $55 is applicable for Changi, Tuas, Jurong Island and Sentosa
If you're holding a large-scale event unsure of how many machines to rent, PartyMojo is here to your rescue! With over 50 in-house Machine Stations and a huge team of Mojo SuperStaffs, no more stress! PartyMojo offers a huge discount for long hours Machine Station rentals! 
Is the Green Tea Waffle Tree Station Freeflow? How many servings can you serve in an hour?
We can cater to 50 – 65 servings in an hour. For free flow requests, do contact our sales representatives for more information.
What's required from me if I hire PartyMojo's Waffle live station?
Simply provide us with a table and a powerpoint and we're good to go!
I need to cater to 500 people in an hour, can you do it?
No problem! We can cater to as many people as you want in the hour. This can be done so by adding more stations and manpower! Simply call or email to enquire with your event details and you will get a quotation within a day!
Are the waffles Halal?
Yes, all the ingredients used are halal certified!
PartyMojo's Carnival Food Stalls
Green Tea Waffle Tree Station is Most Suitable For
Our Corporate Clients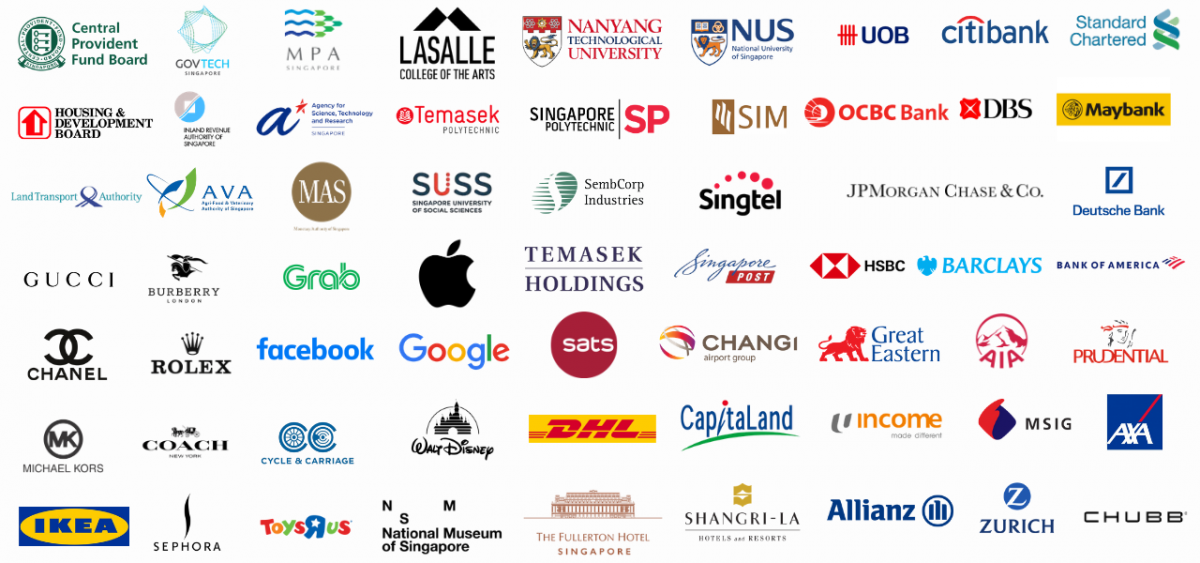 Send us your enquiry below
Green Tea Waffle Tree Station this Christmas!
PartyMojo's Waffles Live Station is the ultimate snack bar you've always wished for! Yes, we know your mind! It's mobile and compact, accessible and ready for you, at any time! If your party is a little private affair, your guests would be delighted about the waffles! Its warmth would send your sincere thanks and love to them right to the heart! On the other hand, if you are holding a large-scale party like a corporate event, or a Residents' party for RCs and CCs, why not have waffles too? Serving soft, mushy snacks with a variety of only the best sidekick spreads and ice cream to tens or hundreds of people is gonna get your party goin' ! Top that with great hosting and entertainment, and be the talk of the town! To top a notch, PartyMojo offers machine-masking services for corporates' branding and brand awareness. Now people can have your waffles and know your good brand, it doesn't get any better than this!
How are our Waffles served 👩‍🍳
Our Waffles Live Station is user and serve-friendly. The only thing left for you to do is indulge in all the perfectness of the waffles with spreads, served hot! Our Waffles Live Station comes with one (1) manpower to man the station and serve you waffles with smiles! You can choose the topping that most tickles your fancy, and we're good to go! Extra manpower can be requested, for crowd controlling purposes. This would be very helpful, especially for big events!
Why Green Tea Waffle Tree Station at your party this Christmas? 💕
Food finds its way to the heart. When it comes to spending good times with friends and family, you only want to have the best of what it takes! PartyMojo's Live Waffles Station is great to have at your little fete because of the warm and comforting nature of the food itself! Enjoy the waffles with the many different spreads that we serve, not forgetting the ice cream, because life is perfect like that!
Why Green Tea Waffle Tree Station for bigger events this Christmas?
If you've been tasked with planning or managing a roadshow, a corporate party, RC or CC events for residents, or any large-scale event for that matter, we know it's a huge responsibility, but fret not, PartyMojo is here to help! We highly recommend our Waffles Live Station to be at your event. Our waffles are served fresh, served in an easy take away, and are made in a short time, so your tens and hundreds of guests will not wait too long! It is simply the perfect serve for your big event! What bester comfort food could your guests ask for, when there's waffles? The warm, fluffy waffles will only turn smiles upside down! Have a great event when you have PartyMojo's Waffles Live Station today!
Fun Fact about Waffles! 🍬
Some say waffles are pancakes with syrup traps, others think waffles are the gym-goer pancakes with abs! Whichever the case, waffles are as delightful as rainbows and butterflies! The highest consumption of waffles is in Belguim. There, they have dozens of waffle varieties, served sweet and savoury (manybe even tangy) and in different shapes and sizes! Typically, waffles are served as breakfast food, but since the love for waffles breaks the roof, people came out with "all-day breakfast". We'll be hoping for world peace next!
Terms & Conditions
Payment Terms
All prices quoted are in Singapore Dollars (SGD) and are subjected to 8% GST.
A 100% full payment is required to confirm the booking.
Breakage and damages to any equipments will be charged to client accordingly.
A transport surcharge of $30 is applicable for the following venues: Changi, Tuas, Sentosa, Turf city.
All cheques are made payable to PARTYMOJO PTE LTD.
Payment can be made via bank transfer to: DBS current Acc 003-932293-3 Branch code: 7171-003.
PartyMojo now accepts PayNow! The QR Code can be found at the bottom of the invoice issued.
Postponing of event can only be done 5 working days prior to the event.
Postponing of event is subjected to a $100 – $150 surcharge, subjected to availability.
50% of invoice charges if cancellation is made more than 5 working days before event time.
100% of invoice charges if cancellation is made 5 working days before event time.
Other Terms
PartyMojo will not be liable for cleaning up of any mess created by the activities/party guests.
PartyMojo reserves the right to cease the party immediately if the client verbally abuses any of our staffs. In the event that the client's guest verbally abuses a PartyMojo staff, PartyMojo staff will inform the client immediately. If the abuse does not cease, PartyMojo reserves the right to leave the event immediately.