Congratulations on getting engaged! Following up to the wedding, there sure will be tons of errands, preparation work and liaising with multiple vendors. We know all that too well.. But don't panic and let PartyMojo share your burden! Here, we offer a line of food stations that are the top picks by brides and grooms, fancy decorations and wedding photobooth! Isn't it awesome?! Get what you need all from 1 vendor and save the hassle! Check out our wedding offerings below!
Live Food Stations for Weddings
Looking for an appetizer or snacks for the guest to munch on before the wedding while your guest wait? Why not check out PartyMojo's Top 5 wedding Live Food Station picks from our clients and make your wedding even more memorable with us! Here are the Top 5 Live Food Stations that are perfect for all ages!
Wedding Ice Cream Cart Rental – Scooped Ice Cream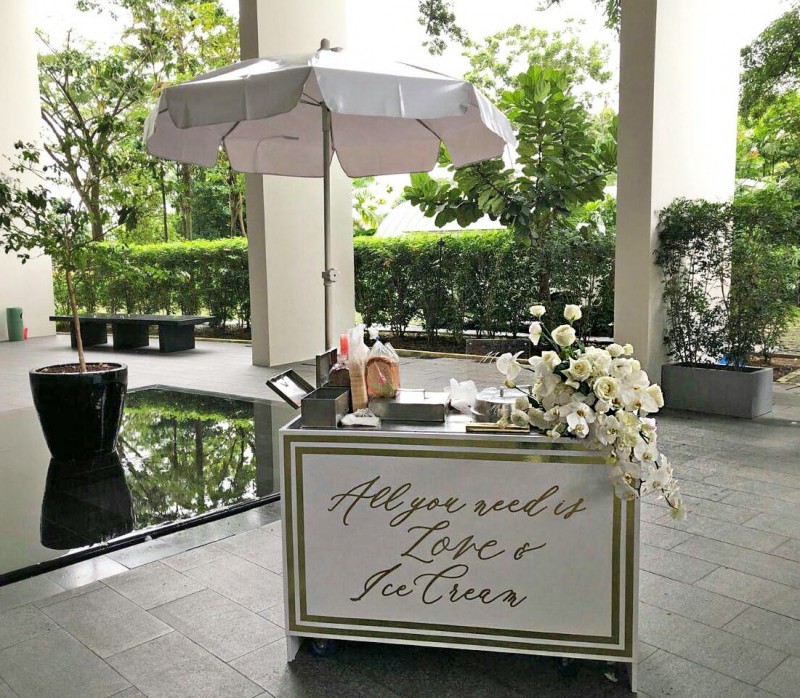 Hire our Wedding Ice Cream Cart with traditional flavoured ice cream! All packages include delivery, manpower to serve and delicious ice cream at your wedding! Please contact us for more details on Sliced Ice Cream!
What's included:
1) Delivery of wedding ice cream cart to your venue
2) 1 manpower to serve
3) 4 traditional flavours scoop ice cream 
4) Choice of cone, rainbow bread and cup for your guests
| | 100 Servings | 200 Servings | 300 Servings |
| --- | --- | --- | --- |
| 1 Hours | $250 | – |  – |
| 2 Hours | – | $300 | $450 |
| 3 Hours | – | $380 | $450 |
| Sub Hour | $150 | | |
* Delivery surcharge of $55 is applicable for Changi, Tuas, Jurong Island and Sentosa.
[/fusion_text]
If you want a special Wedding Ice Cream Cart setup, we got it! Top up only $200 to receive this awesome deal! We can also customise the ice cream cart to your requirements! Contact us for more information!
Wedding Cart setup includes:
1) Customised wedding ice cream cart
2) Fake florals decorations 
3) White umbrella
Add on: $200
[/fusion_text]
What are the maximum servings you can serve in an hour?
At usual speed, we can cater up to 100 servings in an hour. However, upon special request, we can serve at a lightning speed at 150 servings in an hour! More servings can be done also by adding more servers and ice cream carts!
What are the flavours?
Let us surprise you with 4 traditional flavours of the day! (Vanilla Chip, Chocolate, Sweet Corn, Coconut, Attap Seed etc)
Can I get the sliced ice cream?
Yes! For the Traditional sliced ice cream, simply scroll down the page for more information!  Flavours available:
Yam, chocolate, sweetcorn, mint choc chip, honeydew, mango, tutti fruit, Chocolate chip, durian, ripple, natal de coco, red bean, vanilla, mocha-Chip, blueberry, Strawberry. There's a minimum order of 200 servings for sliced ice cream
Do you serve lesser than 100 servings?
Unfortunately no, our minimum is at 100 servings. Your guests can always come back for more ice cream!
Wedding Donut Wall
*Drumroll* Introducing… PartyMojo's NEW Donut Wall!! We are proud to be one of the first in Singapore to introduce this all-new Donut Wall that is PERFECT for weddings, birthdays and other celebrations! Not only is it an irresistible feast to the tummy but also satisfying to the eye! That's right! Because nothing is sweeter than an entire wall decked out with a variety of donuts for you to choose from!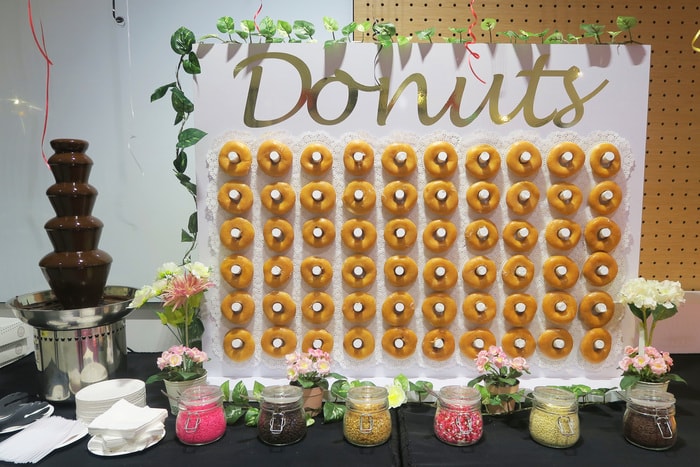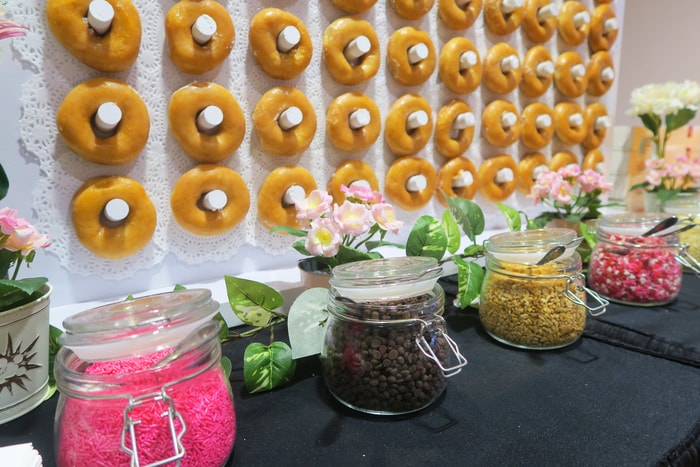 Feast on this delicious rows of premium donuts lining up to be dipped into warm chocolate and sprinkled with goodness. Donut Wall comes with our luxury 5-tier chocolate fondue and 6 fabulous toppings to make every donut special in their own way!
Donut Wall
What's included:
Set Up
White Donut Wall
Floral Decorative Set up
Luxuary 5-Tier Chocolate Fondue
6 Toppings
Chocolate Chips
Peanut Bits
Almond Bits
Pink Sprinkles
Rainbow Sprinkles
Chocolate Sprinkles
Price
From S$650
*Please note that a delivery surcharge of $55 is applicable for Changi, Tuas, Jurong Island and Sentosa
Holding a large scale event and not sure how many machines or how long a duration you need? Fret not because PartyMojo is here for you! With over 30 in house machines and a big team of Mojo staffs, let us share your burden. We provide a huge discount for long hours, so why not enquire with us today!
What is required from me if I get the donut wall from PartyMojo?
Simply provide us with a 3-pin power plug and a long table! No table? No worries! We provide rental of table at only $20!
How are the donuts served?
Your guests can help themselves with the donuts on display and customise the donut with toppings to their liking! Manpower not provided.
I would like to have fresh flower decorations? Are you able to provide?
Yes! Please talk to us about your decoration preference and we will make it happen!
Does it include delivery and set up?
Yes! Price includes delivery and set up.
Are the ingredients Halal certified?
Yes absolutely! All our ingredients are Halal certified!
My event is outdoors, can I still hire?
Yes! PartyMojo Donut Bar is suitable even for outdoor events! We do advise for the stations to be under the shade to prevent the chocolate and toppings from melting! For outdoor events, do make sure that a powerpoint is also available.
 We have a company event and we need more than 500 pax, what are the charges?
For large scale events, please enquire with us for a quotation and we will be sure to reply you within a day!
Wedding Photobooth Package
Let your guests bring back a memento from your wedding! Our fun wedding props ensure that those smiles are genuine, and our lighting makes you look fabulous! We make sure that our props, the frames, and the background are suitable for your theme. Add on this wedding photobooth and let your guests bring a picture-perfect memory back with them!
Looking for something else? PartyMojo provides a full range of photography services such as Live Instagram printing, Instagram Live feed, Instant Photobooth and Roving Photography with Instant Print!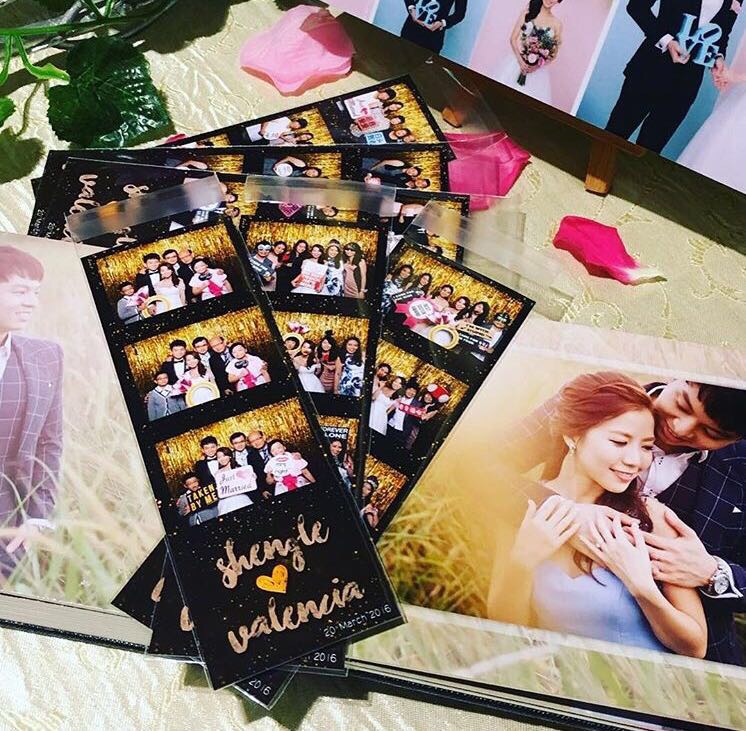 About Photo Booth
The concept of a photo booth is not something novel and shouldn't require much elaboration to understand. Our photo booth service provides a huge range of photo booth props for your guests to use when posing. After which, comes the snapping part, where our high-quality DSLR will capture the photo. The photo will then be sent instantly and automatically to our instant photo printer whereby a customised design template will be embedded to the photo before the whole photo is being printed out. The whole process takes less than 10 seconds!
How it works
Pose – Strike a pose in front of our backdrop using any props from our large collection ranging from masks, wigs, hairbands and geeky specs!
Snap – Our DSLR camera will capture the moment and…
Print – Done and collect your photo instantly!
Features
All photos taken via our high quality DSLR camera
Fully customised printout border design with PartyMojo Branding
High quality printouts from our dye-sublimation printer
Choose from 6 different print sizes
| Size | Dimensions |
| --- | --- |
| Wallet (single sided) | 7.6cm x 5.1cm |
| Wallet (double sided) | 7.6cm x 5.1cm |
| Half 4R (single sided) | 10.2cm x 7.6cm |
| Half 4R (double sided) | 10.2cm x 7.6cm |
| 4R (single sided) | 15.2cm x 10.2cm |
| Bookmark (single sided) | 15.2cm x 5.1cm |
Option to include multiple photos on one single printout
Plastic sleeves included for all printouts
Soft copies of all photos will be provided to you after your event
Two printing mode available (automatic and selection)
Automatic: We will automatically print out a copy of the photo to all guests in a particular photo
Selection: Your guests will have to come to our printing portal to select the photos that they wish to print. They will also have the option to email soft copies of the photos to themselves
Professional set up with professional lighting
Live preview (Your guests can see and position themselves when taking photo)
Wide range of Wedding props provided
Add-Ons Available:
• Customised Props – $15 per piece (Max a3 size on foam material)
• Customised Backdrop – $195
• Removal of PartyMojo Branding – $100
How exactly do my guests get their photos printed?
For our Photo Booth service, both Automatic and Selection printing mode are supported.
Automatic: we will automatically print out a copy of the photo for every guests in a particular photo

Selection: all photos taken by our Photo Booth will appear and enter our printing gallery. Our printing gallery will be displayed on our printing portal which will be at present at your event.
To have their photos printed, your guests will have to do the following
Step 1: Come to our printing portal and choose the photos that he wishes to print by clicking on that particular photo.
Step 2: Choose the number of copies he wishes to print
Step 3: Collect printouts
Step 4 (Optional): If he wants a softcopy of the photo to be emailed to him, he can also click on that particular photo and then enter his email address.
Note that if you would like to include some marketing tools, there will be an additional step between Step 1 and Step 2. In this additional step, your guests will have to perform an action after clicking on the photo they want to print. Examples of such action include sharing the photo on Facebook, filling up a detailed form, answering a question etc. 
What are the dimensions of the printouts?
4R – 15.2cm (L) by 10.2cm (B)
Half 4R – 10.2cm (L) by 7.6cm (B)
Photo Strip – 15.2cm (L) by 5.1cm (B)
Note that double sided printing is required for Half-4R size
For our Photo Booth service, we would recommend you to choose the 4R printout size.
Top 5 reasons why choose PartyMojo!
At PartyMojo, we ensure our customers are always paying the right price for the right quality. Here are the Top 5 Reasons why our corporate clients and birthday guests chose PartyMojo as their choice: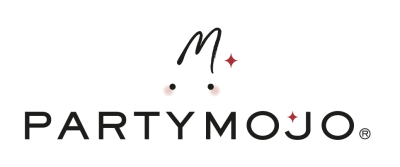 Architect of Joy
Beyond organising personal parties and corporate events, we compose happy experiences. Drawing out the Fun in every Function.

Mojo Formula
We compose joy through full-scale event planning and management following the formula.
Mojo Formula = Ideation + Detailing + Execution

Professionalism
About all, we are guided by our belief system to be prompt, responsible, responsible and always reliable.

Team Mojo
All Mojo manpower undergo strict screenings and practical training before they are assigned to a job post to equip them with product knowledge and good service.

Quality & Taste
We select nothing but the top ingredients and guarantee to excite your tastebuds!
The mojo behind Mojo Team
Quality & Affordable Services
Professionally Trained Staff

More Than 70 Live Food Stations

Fun Filled Themed Packages
Cash / Cheque / Credit Card Payments
Terms & Conditions
Payment Terms
All prices quoted are in Singapore Dollars (SGD) and are subjected to 8% GST.
A 100% full payment is required to confirm the booking.
Breakage and damages to any equipments will be charged to client accordingly.
A transport surcharge of $30 is applicable for the following venues: Changi, Tuas, Sentosa, Turf city.
All cheques are made payable to PARTYMOJO PTE LTD.
Payment can be made via bank transfer to: DBS current Acc 003-932293-3 Branch code: 7171-003.
PartyMojo now accepts PayNow! The QR Code can be found at the bottom of the invoice issued.
Postponing of event can only be done 5 working days prior to the event.
Postponing of event is subjected to a $100 – $150 surcharge, subjected to availability.
50% of invoice charges if cancellation is made more than 5 working days before event time.
100% of invoice charges if cancellation is made 5 working days before event time.
Other Terms
PartyMojo will not be liable for cleaning up of any mess created by the activities/party guests.
PartyMojo reserves the right to cease the party immediately if the client verbally abuses any of our staffs. In the event that the client's guest verbally abuses a PartyMojo staff, PartyMojo staff will inform the client immediately. If the abuse does not cease, PartyMojo reserves the right to leave the event immediately.