Contact our PartyMojo office at 65696992 / Sales 

81606655

  / Yolanda 

81606622

 

to enquire now! Drop us a quick email at

[email protected]

today for your very own satay station!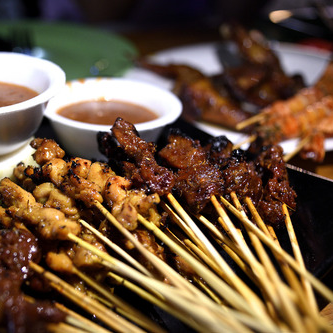 "PartyMojo has a wide range of meat choices for our satay! Don't miss out the chance to taste the mouth-watering satay!"
| | Price per pax |
| --- | --- |
| Chicken  | $4.50 |
| Mutton | $5 |
| Beef  | $5 |
| | |
| | |
Inclusive of:
Manpower
Live station grill
Inclusive of ketupat, onion, cucumber and gravy
*Do note that W.E.F 1 Jun 2022, all satay stations will be served from electric grills, charcoal grill will no longer be available.
*Delivery surcharge of $55 is applicable for Changi, Tuas, Jurong Island and Sentosa
If you're holding a large-scale event unsure of how many machines to rent, PartyMojo is here to your rescue! With over 50 in-house Machine Stations and a huge team of Mojo SuperStaffs, no more stress! PartyMojo offers a huge discount for long hours Machine Station rentals! 
What's satay meat choices do you have?
We have Chicken, Mutton and Beef! Let us know which flavour are you keen!
What's included in PartyMojo's Satay Station?
Set up, delivery and also 1 manpower to assist the station!
What's required from me if I hire PartyMojo's Satay live station?
Simply provide us a table and a powerpoint and we're good to go!
I need to cater to 500 people in an hour, can you do it?
No problem! We can cater to as many people as you want in the hour. This can be done so by adding more stations and manpower! Simply call or email to enquire with your event details and you will get a quotation within a day!
Video Gallery
"How will the Live Food Station turn out during my event?" Check out our video and see it for yourself!
The Live Food Station will include the following:
Delivery
Set up
All ingredients provided
Manpower to serve
Please note that tables are not included. If you do not have an extra table, let our friendly event advisors know! We provide table rental at $20 each.
PartyMojo's Carnival Food Stalls
Grilled Satay Live Station is Most Suitable For
Our Corporate Clients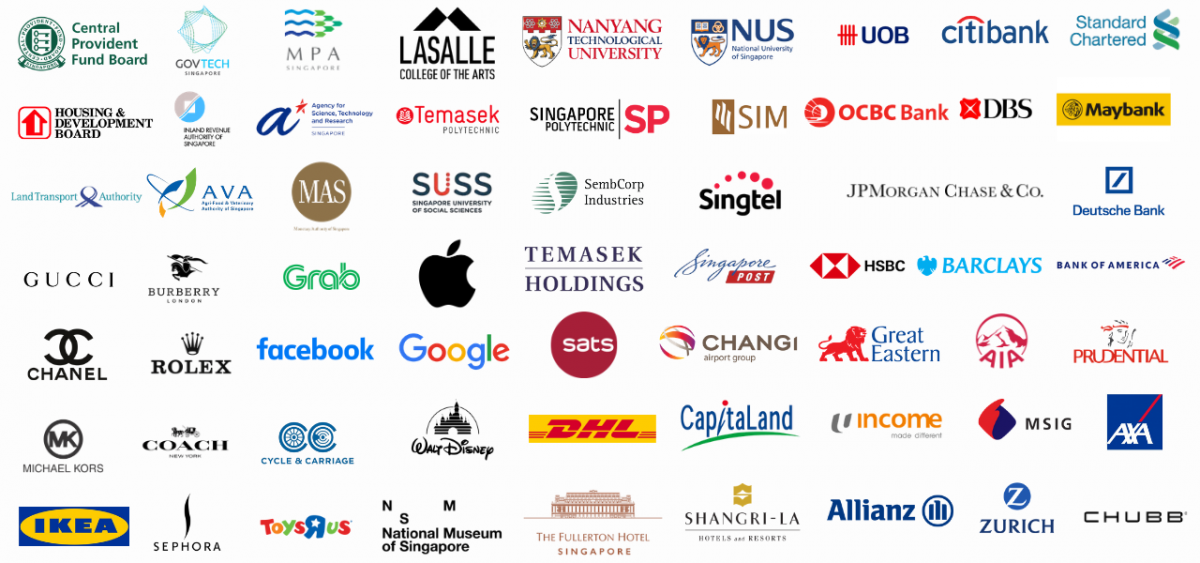 Send us your enquiry below
🔥🍢 Savor the Sizzle: Grilled Satay Live Station Extravaganza! 🍢🔥
Step into a world where the aroma of skewered perfection meets the thrill of live grilling. The Grilled Satay Live Station isn't just a culinary experience; it's a journey into the heart of flavour, where every skewer is a masterpiece waiting to be savoured.
🌿 The Alchemy of Grill Magic
Our live station is where the ancient art of satay grilling comes to life. Feel the warmth, hear the sizzle of marinated goodness, and watch as our skilled chefs turn skewers into works of culinary art. It's not just a meal; it's a symphony of flavours orchestrated by the dance of flames.
🥩 Quality Meats, Exquisite Marinades
At the Grilled Satay Live Station, we believe in the perfection of simplicity. Handpicked cuts of succulent meats, marinated to perfection in a symphony of spices, are threaded onto skewers that promise a journey of taste. From tender chicken to flavourful beef, each skewer is a passport to culinary bliss.
🌶️ Bold Flavours, Endless Choices 🔥
Customise your satay experience with a selection of mouthwatering marinades and dips. From the fiery embrace of chili to the sweetness of peanut sauce, our condiments elevate your satay indulgence to new heights. Mix, match, and discover your perfect flavor symphony.
🎉 Grilling, Gathering, Good Times 👯‍♀️
Bring people together around the irresistible aroma of grilled perfection. The Grilled Satay Live Station isn't just a feast for the palate; it's a catalyst for unforgettable moments. Perfect for weddings, corporate events, or any celebration that craves a touch of sizzle.
🍢 Why Choose Grilled Satay Live?
Sensational Sizzle: Watch as our chefs turn skewers into culinary poetry.
Freshly Grilled Delight: Experience the unmatched taste of grilled perfection.
Engaging Entertainment: Let live grilling be the centerpiece of your event, captivating guests with a visual and culinary spectacle.
👩‍🍳 Our Grillmasters, Your Culinary Guides
Behind every skewer is a grillmaster dedicated to bringing you the authentic taste of grilled satay. Meet the culinary guides who turn grilling into an art and experience their expertise live at your event.
💌 Book Your Grilled Satay Live Experience Today!
Elevate your event with the Grilled Satay Live Station. From the sizzle of skewers to the symphony of flavors, it's an experience that turns gatherings into culinary celebrations.
🍢🔥 #GrillAndThrill #SataySensation 🔥🍢
Terms & Conditions
Payment Terms
All prices quoted are in Singapore Dollars (SGD) and are subjected to 8% GST.
A 100% full payment is required to confirm the booking.
Breakage and damages to any equipments will be charged to client accordingly.
A transport surcharge of $30 is applicable for the following venues: Changi, Tuas, Sentosa, Turf city.
All cheques are made payable to PARTYMOJO PTE LTD.
Payment can be made via bank transfer to: DBS current Acc 003-932293-3 Branch code: 7171-003.
PartyMojo now accepts PayNow! The QR Code can be found at the bottom of the invoice issued.
Postponing of event can only be done 5 working days prior to the event.
Postponing of event is subjected to a $100 – $150 surcharge, subjected to availability.
50% of invoice charges if cancellation is made more than 5 working days before event time.
100% of invoice charges if cancellation is made 5 working days before event time.
Other Terms
PartyMojo will not be liable for cleaning up of any mess created by the activities/party guests.
PartyMojo reserves the right to cease the party immediately if the client verbally abuses any of our staffs. In the event that the client's guest verbally abuses a PartyMojo staff, PartyMojo staff will inform the client immediately. If the abuse does not cease, PartyMojo reserves the right to leave the event immediately.