Contact our PartyMojo office at 65696992 / Sales 

81606655

  / Yolanda 

81606622

 

to enquire now! Drop us a quick email at

[email protected]

today for your Authentic Christmas Tree!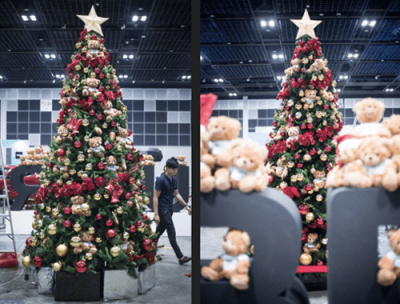 For pricing on our magical Authentic Christmas Tree, give us a call and let's turn your event into a festive wonderland! 🎈🎄📞
Are the Authentic Christmas Trees suitable for both indoor and outdoor settings?
Yes, indeed! Whether it's a cozy living room or an outdoor holiday celebration, our Authentic Christmas Trees can be placed in various settings to bring festive cheer.
Can I choose the size of the Authentic Christmas Tree to suit my space?
Absolutely! We offer a range of sizes to accommodate different spaces and preferences, allowing you to choose the perfect Authentic Christmas Tree for your celebration.
Are the ornaments and lights included with the Authentic Christmas Tree, or can I customize the decorations?
Our Authentic Christmas Trees come with a basic decoration package, but customization options are available for those who wish to add their personal touch or specific theme.
How long does the delivery and setup process take for the Authentic Christmas Tree?
Delivery and setup times depend on the size of the tree and your location, but our efficient team ensures a timely and hassle-free process, allowing you to enjoy the magic of your Authentic Christmas Tree without delay.
Can I schedule the delivery and setup of the Authentic Christmas Tree for a specific date and time?
Certainly! We work with you to schedule a convenient delivery and setup time, ensuring your Authentic Christmas Tree is ready to dazzle at the perfect moment.
The Mojo behind Mojo Team
Quality, Affordable Service

Fast Response Quote (FRQ)
Passionate, Kids-friendly Staff

Professional Trained Staffs

All-inclusive Themed Packages
Cash/Cheque/Credit Card Payment
Terms & Conditions
Payment Terms
All prices quoted are in Singapore Dollars (SGD) and are subjected to 8% GST.

For Non-Corporate: 100% payment payable to PartyMojo Pte Ltd as deposit to confirm the event.

For Corporate: Endorsement on invoice with organisation stamp to confirm the event.

Breakage and damages to any equipments will be charged to client accordingly.
A additional transport surcharge of $30 is applicable for the following venues: Changi, Tuas, Sentosa, Turf city.
All cheques are made payable to PARTYMOJO PTE LTD.
Payment can be made via bank transfer to: DBS current Acc 003-932293-3 Branch code: 7171-003.
PartyMojo now accepts PayNow! The QR Code can be found at the bottom of the invoice issued.
Late payment interest charge of 2% per month will be incurred after payment due date.
Postponing of event can only be done 5 working days prior to the event.
Postponing of the event is subjected to a $100 – $150 surcharge, subjected to availability.
Otherwise, the client can choose to cancel the event and deposit paid will be forfeited.
50% of invoice charges if cancellation is made more than 5 working days before event time.
100% of invoice charges if cancellation is made 5 working days before event time.
Other Party Terms
PartyMojo staffs will not be responsible for putting up the client's own decoration during set up time.
PartyMojo staffs will not be responsible for the teardown of balloon decorations for any packages.
PartyMojo will not be liable for cleaning up of any mess created by the activities/party guests.
PartyMojo reserves the right to cease the party immediately if the client verbally abuses any of our staffs. In the event that the client's guest verbally abuses a PartyMojo staff, PartyMojo staff will inform the client immediately. If the abuse does not cease, PartyMojo reserves the right to leave the event immediately.