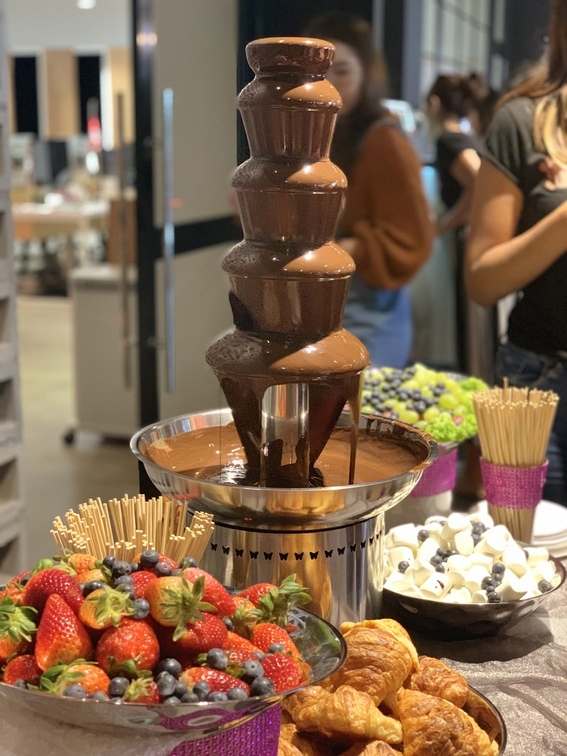 Chocolate indulgence, chocolate for any occasion! PartyMojo™ is your all-rounded party minister, and we have chocolate passion burning this amorous springtime! Pander your chocolate craving with PartyMojo™'s newest Premium Chocolate Fondue Rental Package today! Luxuriate in a FIVE-tier milk chocolate fondue fountain! We offer marvellous fruit mix of red grapes, strawberries, and mixed berries, but that's not all! Also, fluffy marshmallows, chewy croissants and bouncy donut balls!

 Duration
What's included
 3 – 4 hours (50 Pax)
Decorative Set up and Display
Table Cloth
5 tier Hotel Grade Chocolate Fondue
Mix of Fruits
Red Grapes
Berries
Mini Donuts
Croissants
Marshmellow
Promo: S$550 (For Limited Time Only!)
*Please note that a delivery surcharge of $55 is applicable for Chocolate Fondue Rental to Changi, Tuas, Jurong Island and
Sentosa
*
We do provide a huge discount for long hours, so why not enquire with us today! 
What is required from me if I hire the live stations from PartyMojo?
A 4ft by 2ft table for us to place the machine. In the event a rectangular table is not available, please let us know in advance so that we can prepare the set up accordingly to a round table.
Also, an electrical outlet is required!
Does it include delivery and manpower?
Yes! The price of S$550 includes delivery and set up, There is no manpower provided, and is available upon request.
Are the ingredients Halal certified?
Yes absolutely! All our ingredients are Halal certified!
My event is outdoors, can I still hire?
Yes! There is an acrylic board to hedge against the winds. However, for inaccessible locations like Sentosa, Tuas South and so on, a transport surcharge between $30 is applicable. For outdoor events, do make sure that a powerpoint is also available.
 We have a company event and we need more than 2 hours for 1000 pax, what are the charges?
For large scale events, please inquire with us for a quotation and we will be sure to reply to you within a day!
Are there any discounts for a longer period of rental or if we decide to add this into other packages?
Yes!!! The more you order, the more discount you get! We love discounts as much as you do.
Top 5 reasons why choose PartyMojo!
At PartyMojo, we ensure our customers are always paying the right price for the right quality. Here are the Top 5 Reasons why our corporate clients and birthday guests chose PartyMojo as their choice: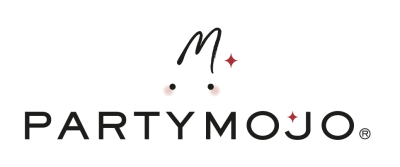 Architect of Joy
Beyond organising personal parties and corporate events, we compose happy experiences. Drawing out the Fun in every Function.

Mojo Formula
We compose joy through full-scale event planning and management following the formula.
Mojo Formula = Ideation + Detailing + Execution

Professionalism
About all, we are guided by our belief system to be prompt, responsible, responsible and always reliable.

Team Mojo
All Mojo manpower undergo strict screenings and practical training before they are assigned to a job post to equip them with product knowledge and good service.

Quality & Taste
We select nothing but the top ingredients and guarantee to excite your tastebuds!
Luxury 5-tier Chocolate Fondue at your events!
Fancy dipping delicious, gooey sweet treats and fruits into luscious, delectable chocolate fondue? Now you can with Partymojo's luxurious 5-tier hotel grade chocolate fondue rental! Picture fluffy marshmallows, chewy croissants and bouncy donut balls dipped into thick, rich and molten chocolate fountain. Fret not if you prefer other treats to dip into your chocolate, as we provide a wide variety of delicious red grapes, juicy strawberries and mixed berries. This will surely satisfy all your guests' chocolate cravings and sweet tooth – children and adults alike!
How are Chocolate Fondue served?
The fondue will be served hot off the fountain for you and your guests. Sit back and relax, as we prepare it along with our wide spread of marshmallows, donuts, croissants and mixed fruits for you! Watch your guests enjoy this delicious chocolate fondue with our luxury 5-tier chocolate fondue rental at your next event.
Why have Chocolate Fondue at your events?
Chocolate fondues are a staple at many hotel buffets, so why not bring them to your event as well? They are well-liked by both the young and old, where many enjoy dipping their favourite treats into the delicious, warm and gooey chocolate off the fondue fountain. Contact Partymojo to find out more about our luxury 5-tier chocolate fondue rental for your next event!
Fun fact on Chocolate Fondue!
The idea of a chocolate fondue stemmed from the original recipe of a cheese fondue way back in 1699. Unsurprisingly, chocolate fondue was later developed in New York City in the early 1960s by a Swiss, becoming a dessert version of the initial fondue. Are you now more intrigued to taste this exquisite dish that have evolved a long way from the past? Direct your enquiries to PartyMojo today at 6569 6992 or 6569 6998 to know more on our luxury 5-tier chocolate fondue rental!
Terms & Conditions
Payment Terms
All prices quoted are in Singapore Dollars (SGD) and are subjected to 8% GST.
A 100% full payment is required to confirm the booking.
Breakage and damages to any equipments will be charged to client accordingly.
A transport surcharge of $30 is applicable for the following venues: Changi, Tuas, Sentosa, Turf city.
All cheques are made payable to PARTYMOJO PTE LTD.
Payment can be made via bank transfer to: DBS current Acc 003-932293-3 Branch code: 7171-003.
PartyMojo now accepts PayNow! The QR Code can be found at the bottom of the invoice issued.
Postponing of event can only be done 5 working days prior to the event.
Postponing of event is subjected to a $100 – $150 surcharge, subjected to availability.
50% of invoice charges if cancellation is made more than 5 working days before event time.
100% of invoice charges if cancellation is made 5 working days before event time.
Other Terms
PartyMojo will not be liable for cleaning up of any mess created by the activities/party guests.
PartyMojo reserves the right to cease the party immediately if the client verbally abuses any of our staffs. In the event that the client's guest verbally abuses a PartyMojo staff, PartyMojo staff will inform the client immediately. If the abuse does not cease, PartyMojo reserves the right to leave the event immediately.