The sea is majestic and intriguing. Unless your child has a diving license, however it's quite hard for them to grasp the full beauty of it. Let your guest dive right into the mysterious depths of the sea with PartyMojo's Under the Sea themed package. Colourful decorations made to resemble underwater creatures will be placed around your home, and a huge backdrop of the sea will get your children feeling they are actually under the sea!
Call office 65696992 or Yolanda 83997127 to enquire now!

<<<<<<<<<<<<<<<<<<<<<<<<<<<<<<
Watch the Video to see how Under The Sea Themed Party will look like at your next party!
Scroll down

for more details on the inclusion of the package or enquire with us today at 65696992!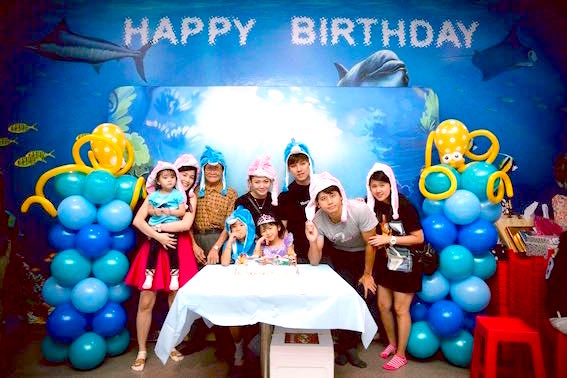 1. UNDER THE SEA THEMED DECORATION!
– 2 Hours rental of 3M (width) x 2M (height) Under the Sea stand alone scene setter for photo taking!
– Pair of under the sea themed balloon columns
– 50 decorative Blue and White Air filled balloons around the room!
*PartyMojo Team will require the venue for 2 hours for set up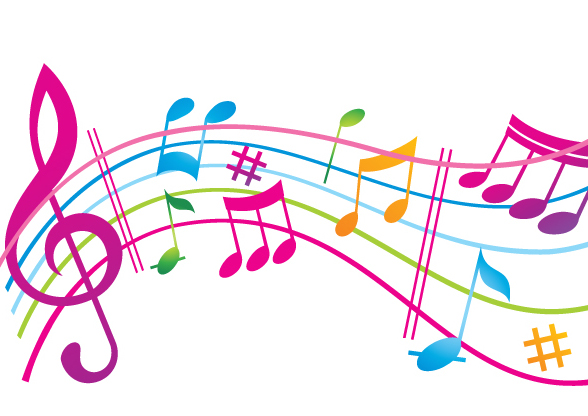 2. PARTY MUSIC
– Rental of our bluetooth music player for the whole party!
– Huge selection of songs from our party playlist!
– Brings out the party atmosphere!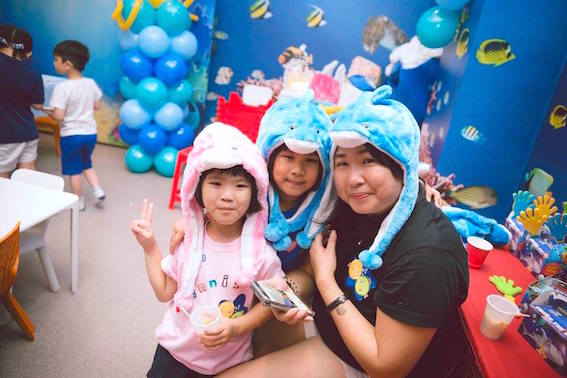 3. CUTE UNDERWATER THEMED HATS FOR ALL KIDS
– Sea creature plush hats for every kid!
– Kids get to bring 'em home! How exciting!
4. MASCOT
– 1 x Mermaid Mascot!
– 1 hr of mascot appearance! (ALL TIME FAVOURITE!)
– Meet and greet and photo taking with the guests!
– Play games with kids!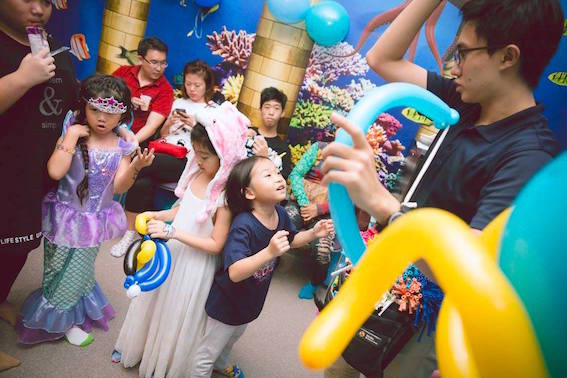 5. BALLOON SCULPTING
– 1 Hr of Free flow of Fun Balloon sculpting!
– Ask our professional balloon sculptors for anything!
– Adults can request for them too!
– Talk to us to change this to other activity! (Hair braiding / glitter tattoo)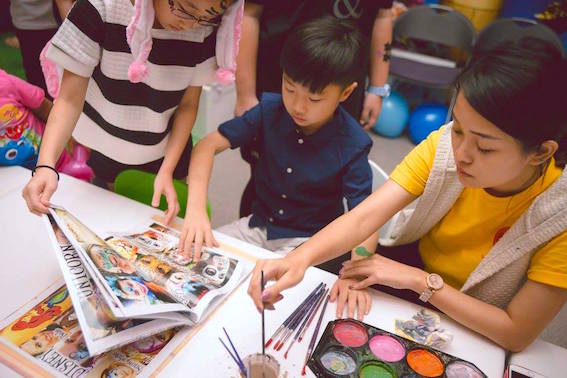 6. PREMIUM FACE PAINTING FOR ALL KIDS
– 2 hours of premium face OR arms painting for everyone to liven up the event!
– Adults can request to get 'em too!
– We use only toxic free facepaint from UK!
– Talk to us to change this to other activity! (Glitter tattoo / Hair braiding)
7. FUN AND AWESOME GAMES
– 45 mins of fun and AWESOME games with our Party Hosts!
– Choice of 5 games to be played! (Potato Sack, parachute game, limbo, tug of war and MANY MORE!!)
– All game props and music provided!
8. PRIZES FOR ALL
– Small goodie bags given to all kids who participate in games!
– 3 big prizes given to game winners!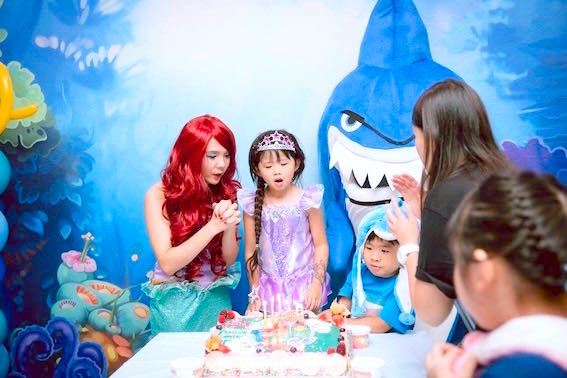 9. CAKE CUTTING CEREMONY
– We will gather all the guests and host the cake cutting ceremony for you!
– We will play the Happy Birthday Song! Talk to us if you have special birthday song to be played at the party!
– We will remember to bring a lighter for you!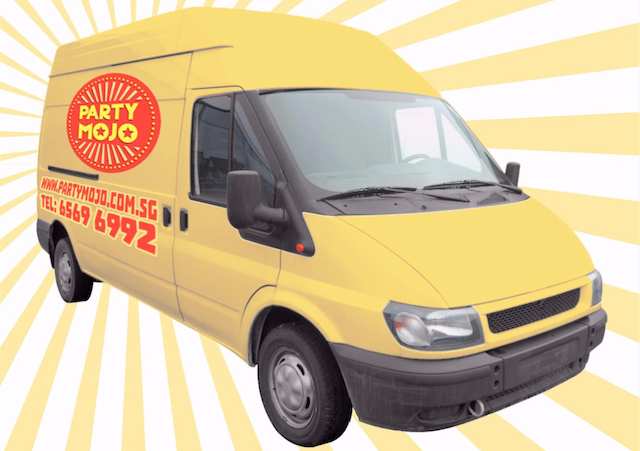 10. ALL SET UP AND DELIVERY INCLUDED
– Leave the hassle and stress to us!
– PartyMojo crew will arrive 2 Hrs in advance to set up the decorations for this party!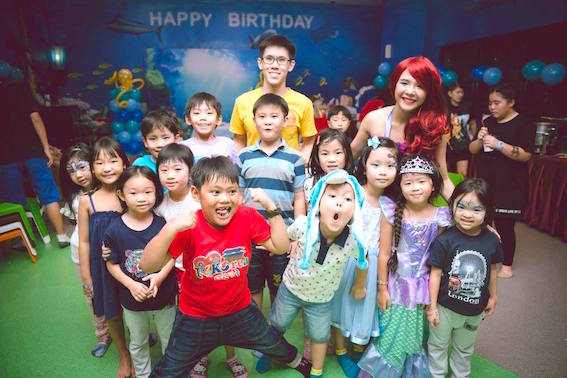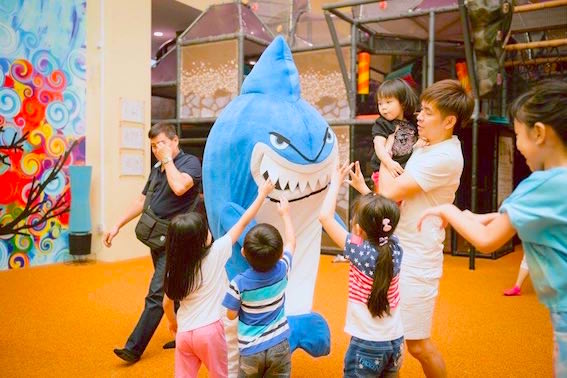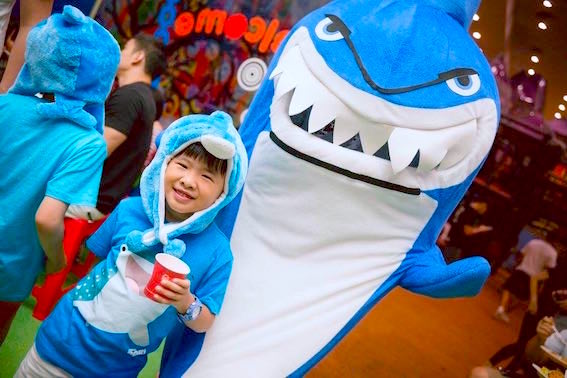 ADD-ONS:
a) Top up $120 for 2 Mermaid mascots

b) Top up $20 for every extra kid

c) Customized goodie bags are priced at $5 – $10 depending on the items. *Call 90021778 or 65696992 for more details

d) Premium balloon arch/ balloon column decorations available.  *Call 90021778 or 82824264 for more details

e) Top up $280 only for 2 hours and $400 for 3 hours of photography services. *Pictures will be touched up,  burnt in a CD and sent to you 1 week after the event.

f) Top up $80 for Pirate themed pinata filled with sweets and free hosting!
TERMS AND CONDITIONS:
All prices quoted are in Singapore Dollars (SGD).
A 50% non-refundable deposit is required to confirm the event
Breakage and damages to any equipments will be charged to customer accordingly.
All cheques are made payable to PARTYMOJO PTE LTD.
Deposit can be made via bank transfer to DBS current Acc 003-932293-3 Branch code: 7171-003
All prices are strictly fixed and non-negotiable.
A transport surcharge of $30 is applicable for inaccessible venues like Changi, Tuas, Sentosa, Turf city.
The balance 50% payment is to be made in cash strictly on event day before the start of event.
In the event that cash payment cannot be prepared before the start of event, 100% full payment should be made to PartyMojo 3 working days prior to the event.
50% Deposit will be forfeited upon cancellation of event, 100% full payment will be required if the event was cancelled within 2 working days to the event.
Postponing of event is subjected to a $100 surcharge, subjected to availability, otherwise, client can choose to cancel the event and deposit paid will be forfeited.
Postponing of event can only be done 2 working days prior to the party.
Party is for 20 kids only, for extra kids, please top up $15 / kid to receive the goodie bags and tiaras/crowns. Clients are advised to top up for additional kids to avoid disappointment.
Duration of party is maximum 2 hours, excluding set up time.
For extension of total event time which requires PartyMojo staffs to stay on the event, not including extension charges of services, it is charged at $30 – $50 / 30 mins for extensions told to us 5 working days in advance, subjected to availability.
Extension of games: $100 for 30 mins
Extension of face painting: $80 for 30 mins, $100 for 60 mins
Extension of balloon sculpting: $80 for 30 mins, $120 for 60 mins
Extension of backdrop rental: $30 for 30 mins
Extension of event time / activities are solely subjected to partymojo's availability.
Extension prices are strictly non-negotiable.
Total set up time for the packages will strictly be for 1 – 1.5 hrs only, in which PartyMojo staffs will be putting up the 50 non-helium balloon decoration, backdrop, balloon columns, tiaras and crowns, goodie bags. PartyMojo staffs will not be responsible for putting up client's own decoration during set up time.
In the case that PartyMojo has to add on an extra manpower due to special request, it is chargeable at $50/hr.
For extension of services, please check with PartyMojo sales team the extension charges applicable.
PartyMojo will not be responsible for teardown of balloon decorations for any packages.
PartyMojo will not be liable for cleaning up of any mess created by the activities / party guests.