Qin Ping's 21st Birthday Celebration

Say, you're legally fun! It's the age of fun and freedom! It's your first milestone in life, you're TWENTY-ONE! Whether you're planning a gigantic 21st birthday spree for yourself or throwing a surprise for a loved one, once again, it's PartyMojo to your rescue! Just as we were at sweet Qin Ping's 21st Blue Bash! 
It was a hazy grey 18 Sep on the outside, but our PartyMojo crew was hustling and bustling in the function room setting up for Qin Ping's Blue Bash! Upon arrival, our Mojo team started working our magic! We raised a balloon arch, and also structured a ground arch, all in blue and silver balloons. What's more, we had two 40-inch foil balloons columns ascended to hold up the numbers 2 and 1, especially for Qin Ping's 21st birthday! If you think that was all, you're in for more surprises! Not only did Qin Ping have a customized banner with her picture on it, she also had her name blown up on silver foil balloons as a bouquet! It all looked too perfect for Qin Ping's 21st Blue Bash! She sure had one exclusive birthday party!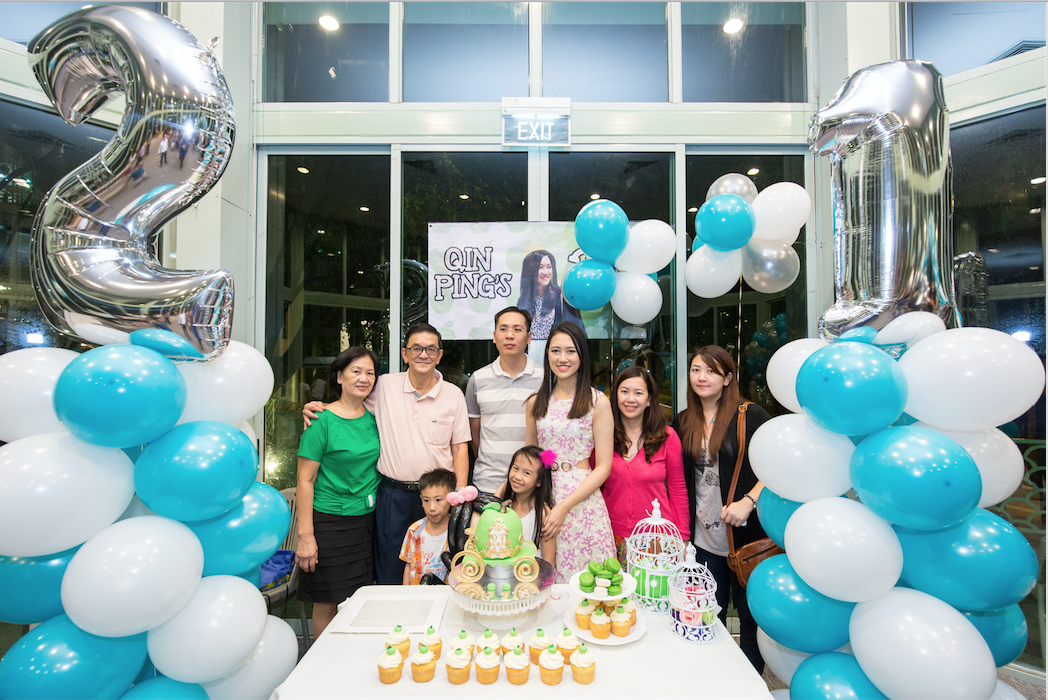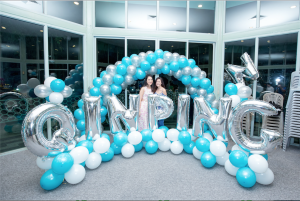 Green Apple birthday cake and mini dessert table
We're not even started on the cake yet. Now if you had thought that Qin Ping's birthday party was a little too blue, hold your thought, because PartyMojo's chum baker has masterfully designed a green apple-carriage cake weaved in royal golden details! If that is not plentiful enough for you, the carriage comes with little cupcakes with white icing and a little green apple on top! And finally, for the table's crème de la crème, Qin Ping had her guests indulging in ritzy white and green french macarons prepared by our baker. That was all too swell.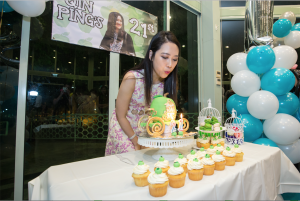 The party kicked off with photo taking with the birthday girl, followed by a live animal show by PartyMojo's very own magician! There were exclusive performances and guest appearances by Flock the pigeon and his little rabbit friend! Our guests were amused and greatly entertained by their acts! Not forgetting, the ultimate please-do-not-try-this-at-home web-spinning stunts by our magician! Who needs a superhero when you have magic?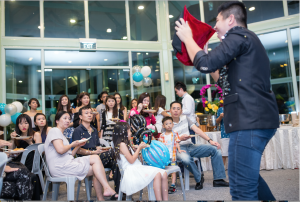 Exciting fringe activities
Regardless your age, what is a party without some balloon fun, right? PartyMojo's very own balloon sculpting artist was there to gift every present guest with a little something for a takeaway. Some pretty ladies got a flower wristband, swords and butterflies for our junior guests, whatever floats their boats! What made Qin Ping's party even more special was the door gift of a caricature drawing by PartyMojo's very own artist! This talented young lad brilliantly animated all the guests onto plain white sheets. At the photo booth, all guests had silly pictures taken with a Polaroid, together with Qin Ping! That must be the best takeaway from this party. PartyMojo ensured that no one walked home empty-handed from Qin Ping's 21st Blue Bash.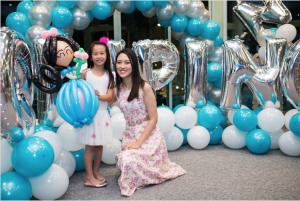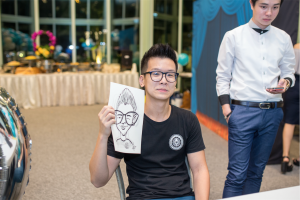 There's a kid in you, like the kid that's in me! The party hyped up with games hosted by PartyMojo's wacky gamers! One's never too old for the classic musical chairs, and no, you can't say no! All of Qin Ping's friends were thrilled as they relived their kiddy days rushing for the empty spot when the music stops! The best part about this party is as we've first said, you're legal! A 21st birthday bash is not one until we played drinking games! What? What parents' supervision? Qin Ping and her friends had a ball of a time that night! Everyone got home safe and sound, if you were wondering.
All in all, Qin Ping's 21st Blue Bash hosted by PartyMojo was terrific! The princess, her friends and all other guests had a ball of a time, a party to remember!