Planning the Ultimate Kids Party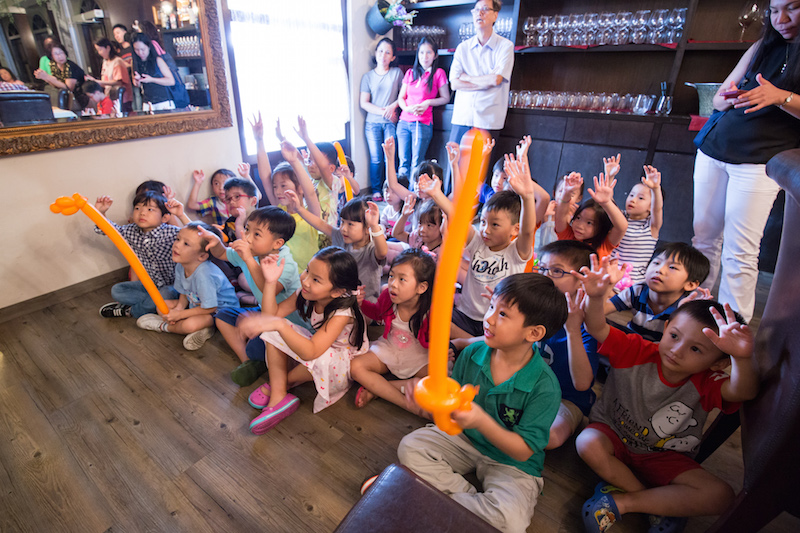 Planning a birthday party for your child can be stressful. However, it doesn't have to be. There are a lot of questions, such as: How many kids should you invite? How often should a birthday party be given? What should you do at the party? What is appropriate for the age?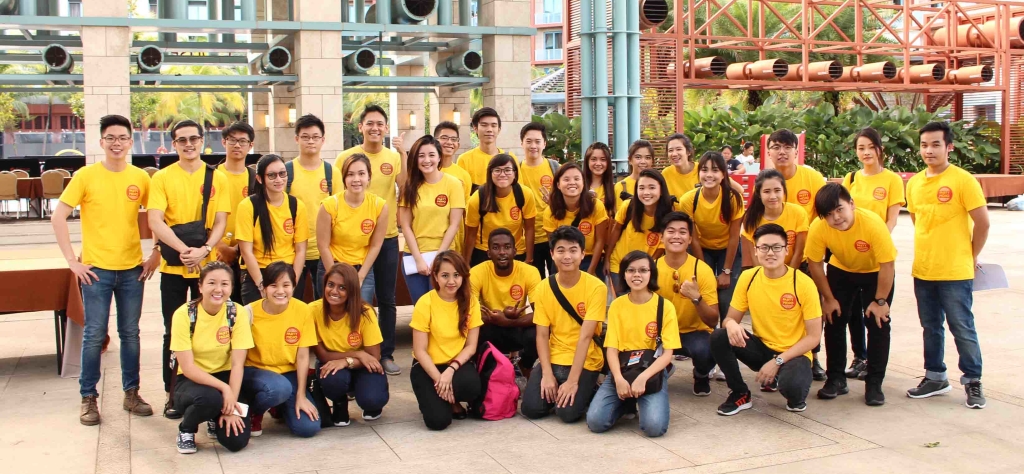 Hiring a kids party planner, such as PartyMojo, can help reduce stress and answer these questions.
Parenting magazine suggests that a good rule of thumb for guests is the child's age plus one. This will keep the child from being overwhelmed with people. However, a child who is used to a busy daycare may be able to handle more children at the party. It is also good to take the type of party being given into consideration.
Obviously, the number of birthday parties a child should have in their life is up to the parent. This decision should include things like money and social aspects. Some parents may choose to give a party every year until they leave home. On the other hand, some parents choose to give only one party for a significant milestone in a child's life.
The type of party given has a great deal to do with the child's age, likes and dislikes. PartyMojo has everything you will want for a party for any age. Here are some ideas of what will make a great birthday party for each age, 1-16.
Kids Party – Age One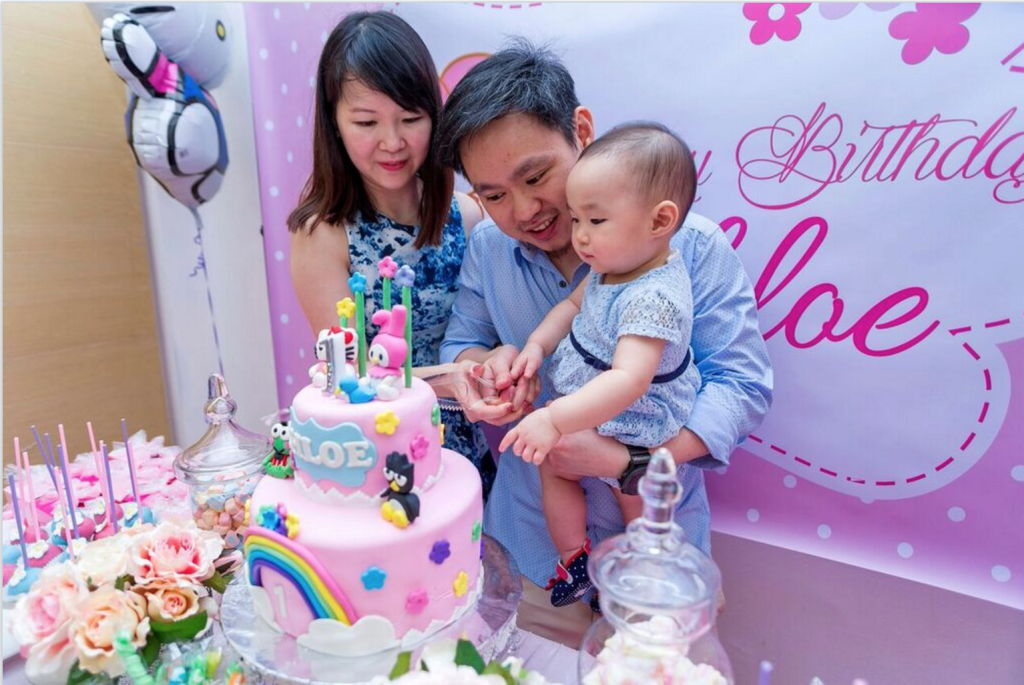 A birthday party for a one-year-old is really more for the adults than the child. Your child will not really understand what is going on. It's important to plan it around naptime so that your child will be happy and not fussy. Also, keep the party short, about an hour. Refreshments, except the cake of course, will be planned around the adults. We have a dessert table that will be perfect for your party. We have a standard package, but this can be themed if you like. If you prefer something besides desserts, we also have catering. This is provided by our partner, Neo Garden Catering.
Age Two to three
According to PBS Parenting, a party for a two or three-year-old needs to be planned carefully. Make sure the room is baby proofed, as they will get into anything. Don't open the gifts during the party, as other children will not understand why they cannot take their gift back home with them.
Their attention span is not very long, so this party should not last more than 90 minutes. They will play together, but still will be apt to go off on their own. Circle games are better for this age than organized games. Cupcakes are easy to serve and are just the right size. We can provide cupcakes of any theme of your choosing.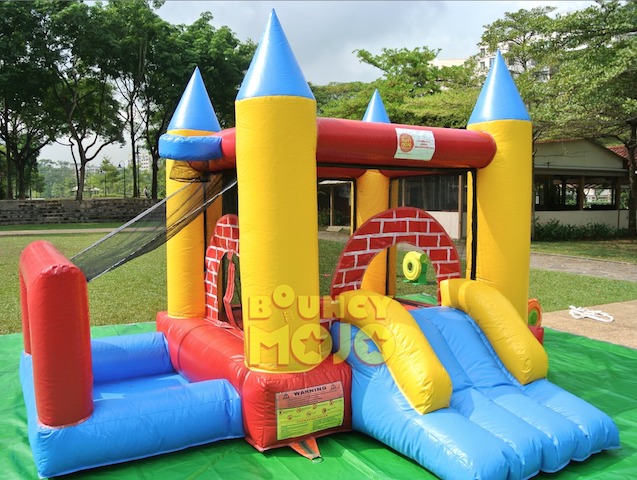 An outdoor theme is a good idea for this party such as a beach theme with a sandbox and sand toys. We have a bouncy castle and inflatable toys that are great for kids of this age. We can also provide a toddler play area that would be a lot of fun for a party. A short animated movie with our prepackaged popcorn would also be a great way to go.
Kids Party – Age Four to five
Age Four to five is the time when your child will really begin to understand and enjoy parties. Kids at this age will love being involved in the party planning. They will enjoy choosing the theme or the games to play. You can choose a theme, such as a favorite movie or toy. If they love to play outside have an outdoor theme. We can do a general theme or plan around whatever theme you choose.
Our Fantastic Mojo party package is great for this age. Your child will love the balloon sculpting and face painting. Games will be played according to the age of your child. Goody bags will be given as game prizes. In addition, we will provide a complimentary photo shoot. Three people will be available to help with all events.
At this age your child may enjoy some kind of simple craft. We have several different choices of arts and crafts. Building snowmen from ice would likely be good for this age. We will also provide other fun and games appropriate for five-year-olds. A party for four and five-year-olds can last up to 2 hours. However, less may be better.
Age Six Through Eight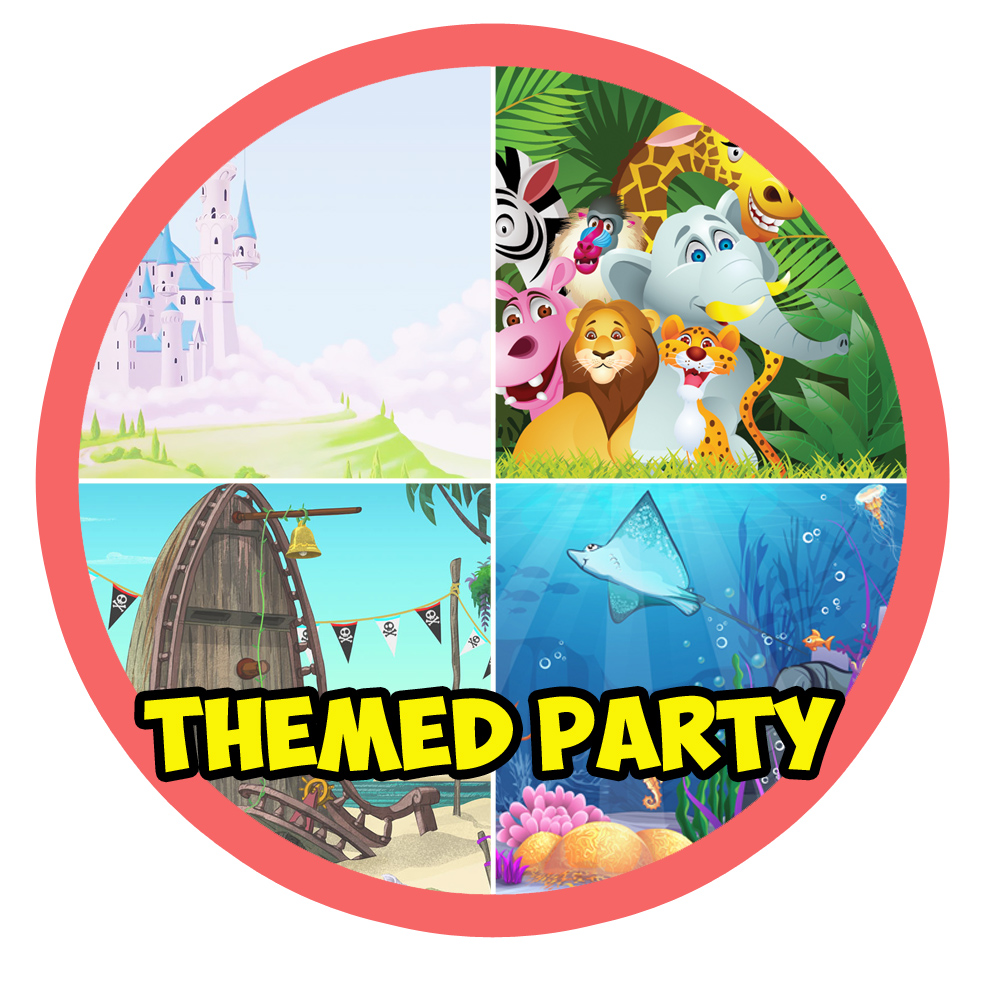 By the age of six, your child may prefer either an all-girl party or an all-boy party. This is the age where they don't like the opposite sex. Our themed party ideas are great for this age. For a girl, the party theme might be our fairy theme or princess them package. A boy might like the pirate them or the car race them package. We have many other themes packages to choose from, or choose your own theme.
Kids of this age will be good at organized games. We can provide a number of age appropriate games. Sports themes are great for boys, girls or both. Treasure hunts are enjoyed by most of this age. If you party includes both boys and girls, consider pitting the boys against the girls. Kids at this age are becoming less picky with their eating, so you will be able to provide a greater variety of food.
Six through eight-year-olds are also getting old enough to consider taking the party elsewhere, such as a zoo or a bowling alley. If your party is outdoors, you can rent our ice cream cart. They will love planning just what they want. With the ice cream cart comes an attendant, so you can let them handle the mess.
Age Nine to ten
A party for a nine or ten-year-old can last a little longer, up to 3 hours. Kids of this age like doing things together. They can do many more things on their own and like being independent. Crafts are often enjoyed by this age. They like doing harder things and working to make sure it turns out good. We have a variety of crafts to choose from that will work for kids of this age.
Because they are becoming more independent, you might consider something that lets them figure things out themselves. Set out a variety of items, boards, tires, etc, and let them build their own obstacle course. They are also becoming more competitive, so they will enjoy racing to see who can run it the fastest.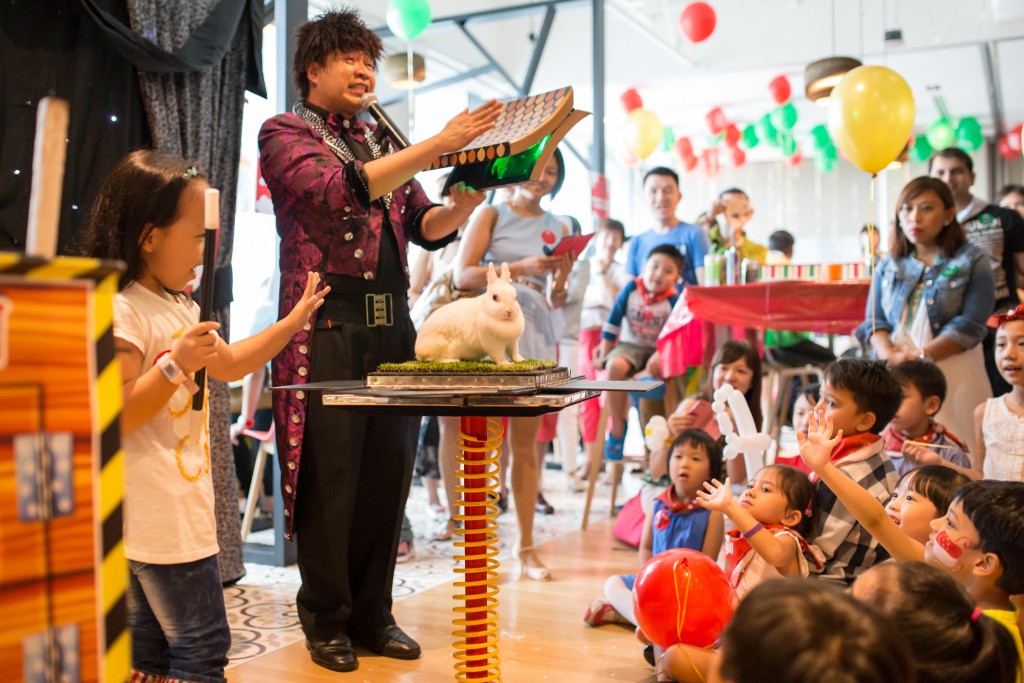 Another thing that fascinates nine and ten-year-olds is magic. We have a variety of magic show packages that will make any kids party a hit. Choose from the Kids Interactive Magic Show, the Live Animal Show, the Roving Magic or the Professional Stage Magic shows. You will definitely want to add food from our catering and a dessert table to fill their hungry stomachs.
Age 12 through 13
At this age, boys are girls are beginning to think more about each other. They like to do things that make them think a little more. Games for these early teen years are becoming more competitive. Games that make them think a little or laugh at each other's antics are a favorite. They like games like murder in the dark, truth or dare, or charades.
Our carnival themed package would be perfect for this age. They can show off their skills to their friends and win prizes. It will give them a variety of things to do in a fun atmosphere. It allows them to choose what activities are their favorite and ignore those they don't like.
Kids of this age are always hungry, so a variety of food is essential. Once again, we provide many options for food. These include catering, prepackaged popcorn, desserts and an ice cream cart. You choose what you want and we will provide it for your teens to enjoy.
Other
PartyMojo has many other things to offer. If you have the party all planned but don't have time to decorate, we can do it. We can decorate for any theme or color scheme. We have partnered with other companies to provide catering and venue options. If you want, we can do the whole party for you, from beginning to end. We have many theme packages already planned, but can work with whatever theme you want.
Our goal at PartyMojo is to make sure that your party goes off as smoothly as possible. We are a kids party planner. We don't want you worrying about whether the entertainment is going to show up. We have based our business on consistency, transparency and punctuality.
Consistency: Customers will expect to receive high level of consistency of services from PartyMojo at any stage of their event planning.

Transparency – No surprises, no last minute charges that will bust your budget. All costs are stated up front.

Punctuality – We aim to be punctual 99% of the time.
We look forward to planning your next party. Contact us today!