1. Halloween Party Idea 1 – Creepy, Dead Man's Finger Food Sandwiches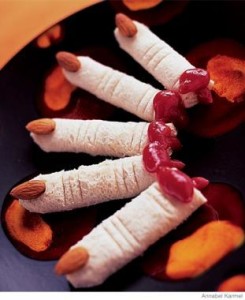 Ingredients Required:
Thin sliced white bread, crusts removed
Soft margarine
Cream cheese or peanut butter
Almonds
Strawberry Jam
Use a rolling pin to gently flatten the slices of bread to make them more pliable.
Spread with a little margarine and some cream cheese.
Roll up the sandwiches
Make three indentations with a blunt knife to form the finger joints.
Trim the ends of the fingers into a 'V' shape and stick an almond on to each tip with a little cream cheese to form the nails.
Add a dollop of strawberry jam over the end of the finger for the gruesome blood!
2. Halloween Party Idea 2 – Wicked Icy Witch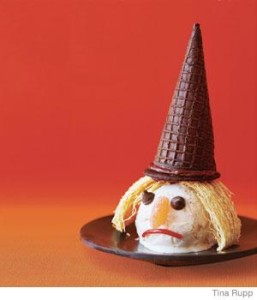 Ingredients Required:
1 qt vanilla ice cream
2 pouches shredded wheat cereal
4 Nabisco Famous Chocolate Wafers
Chocolate icing
4 Oreo ice cream cones
8 chocolate chips
1 bag gummy candy
1 red licorice lace
Divide ice cream into 1-cup scoops and wrap each in plastic wrap
Freeze the ice cream at least 3 hours until firm
Pull apart shredded wheat into thin strips to use as hair; set aside.
Spread chocolate icing on each wafer cookie and stick on a cone for the base of the hat.
Unwrap each ice-cream scoop and top each ice cream with shredded-wheat hair.

Use chocolate icing as glue to stick cone hat atop hair and add chocolate-chip eyes, gummy-candy nose and licorice-strip mouth. 
3. Halloween Party Idea 3 – Frightful Fingers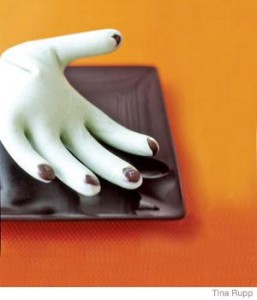 Ingredients Required:
Two 11-oz bags white chocolate chips
4 drops green food coloring
3 powder-free latex gloves
15 M&Ms or almonds
Microwave chocolate chips in a bowl on medium power for 75 seconds.
Stir until smooth then stir in green coloring.
Drop an M&M or an almond into the bottom of the fingers of each glove.
Fold down the end of the glove and pour the melted white chocolate into each glove using a funnel.
Add just enough to fill each finger, pressing the chocolate into the fingers and thumb to remove any air bubbles.
Tie the end of the glove or close it with a rubber band. Refrigerate for about 2 hours. Carefully peel off glove.
4. Halloween Party Idea 4 – Easy, Spooky Ghost Cakes

Ingredients Required:
1 stick unsalted butter plus extra for greasing
Half cup plus 1 tablespoon Superfine sugar
1 tsp vanilla essence
2 large eggs
One cup self-rising flour
Cornstarch for dusting
Non stick baking spray
1 x 24 oz box white rolled fondant icing
1 Tube of black Writing Icing
Beat butter, sugar and vanilla essence together until light and fluffy.
Add one egg at a time and add a tablespoon of flour with each egg added.
Beat well and fold in the remaining flour.
Preheat the oven to 350F. Spoon the batter into a popover pan that has been sprayed with non stick baking spray and fill each molds till just over half full.
Place on a baking tray and bake for 20 minutes. Remove from the oven and leave to cool. Allow to cool, cut off the top of the cakes to form a flat surface then turn out onto a board or plate.
Dust your work surface with cornstarch and roll out the icing . Cut out circles to drape over the cakes. You can use a saucer as a guide.
Drape these over the sponge cakes to form ghosts.
From the trimmings either use a mini cutter to cut out some tiny white oval shapes or roll out some tiny balls of white icing into oval shapes . Dampen them with a little water and stick them onto the front of the ghost.
Use a blob of black writing icing for the pupils of the eyes.