Luna Turns 3 – Safari Themed Birthday Party
One of our little friends, Luna, had just turned three recently! Do you remember the times when you were three years old? What a great time to be so little and adorable! We at PartyMojo were so glad we were able to help create exciting and memorable moments that our dear Luna will remember for many years to come!
Have you been to the Singapore Zoo? Of course you have! Are you missing the tantalizing greens in the rainforest; the exuberant cries of birds, monkeys, and lions? Wish you were there? Well wish no more because PartyMojo brought the safari experience right to Luna's home with our very own
Safari-themed Birthday Party Package
that Luna got! Well, you can make that yours today too!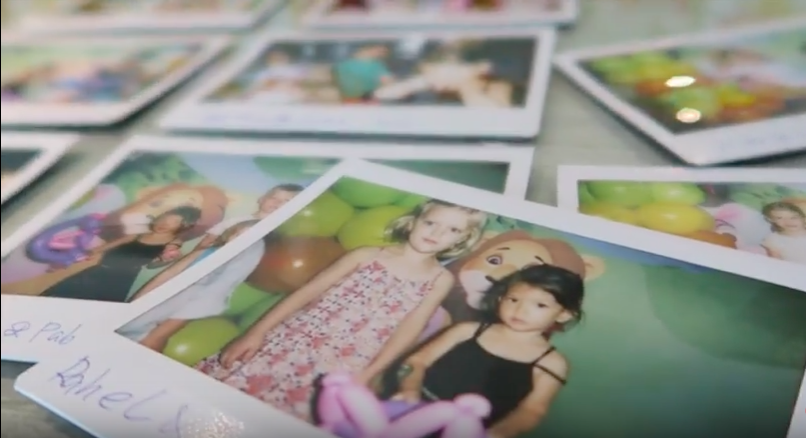 Arriving at the venue 2 hours earlier, our Mojo crew had set up the 3 by 2 meters Safari scene setter, perfect for your photo taking! That includes a pair of yellow, green and orange Safari themed balloon column that ascends to 1.6 meters high! Set-up and delivery included to save you the hassle!
Not forgetting the music to accompany the party for 2 whole hours because it doesn't get goin' until you get groovin'! PartyMojo provides 2 hours of move it move it music played over Bluetooth speaker to hype the party up!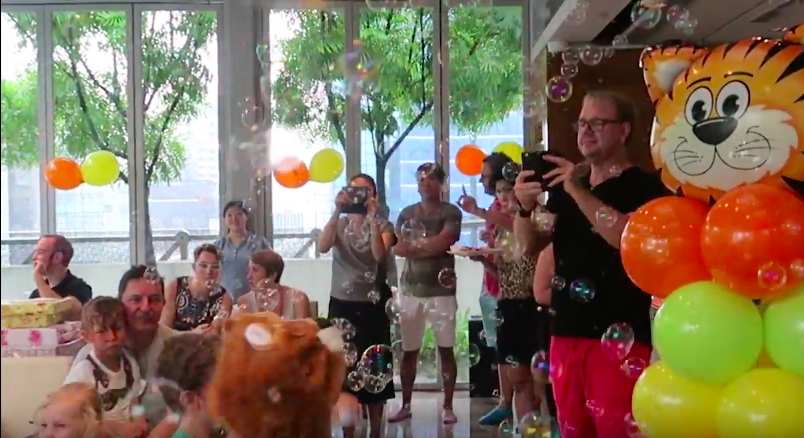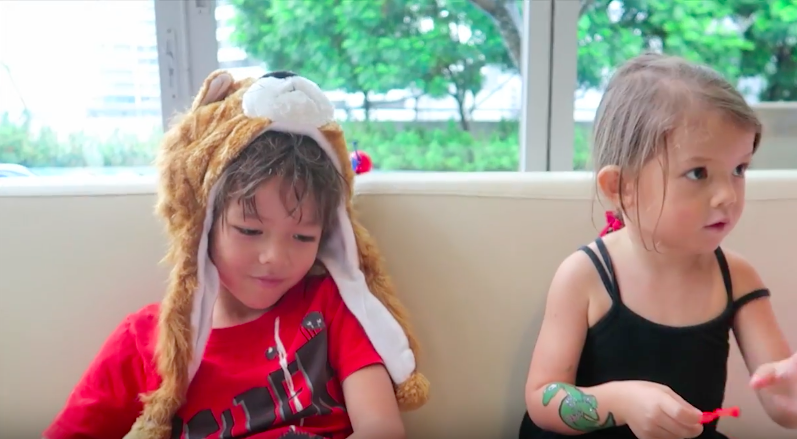 With plush hats in different animal designs, Luna and her friends got to experience Luna's very special day as a lion, tiger, or zebra! You should have heard how boisterous they were when they turned into cute little animals and ROARRRed at each other. These hats are for keeps! The little cubs also squealed with joy when they picked up Safari-themed goodie boxes by PartyMojo!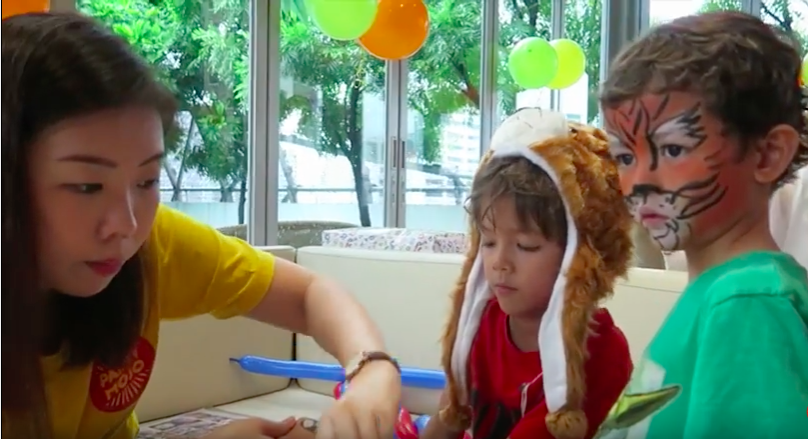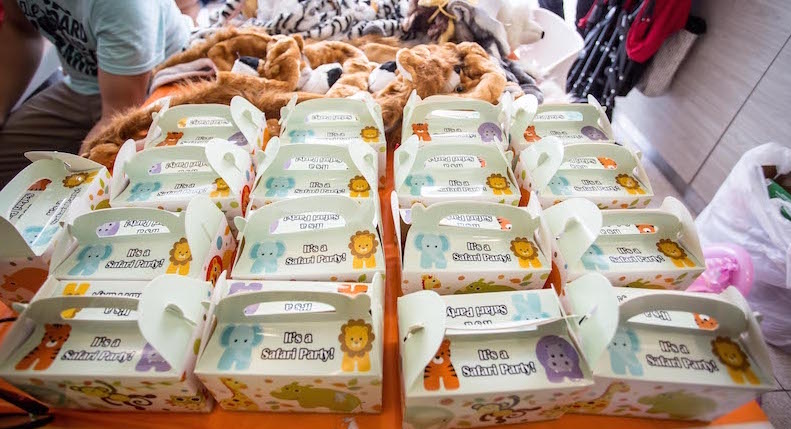 If a hat is not enough to transform you into the King of the jungle that you always wanted to be, fret not, because PartyMojo premium face painters were there to transform Luna and her friends into tigers, leopards and many other wild animals! The children definitely enjoyed prancing around like the wild cats they were.
Our very own professional balloon sculptor dressed in safari-themed costume stepped up to twist balloons into various different animals! The little kings and queens of the jungle were more than ready to embrace these new animals into their animal kingdom!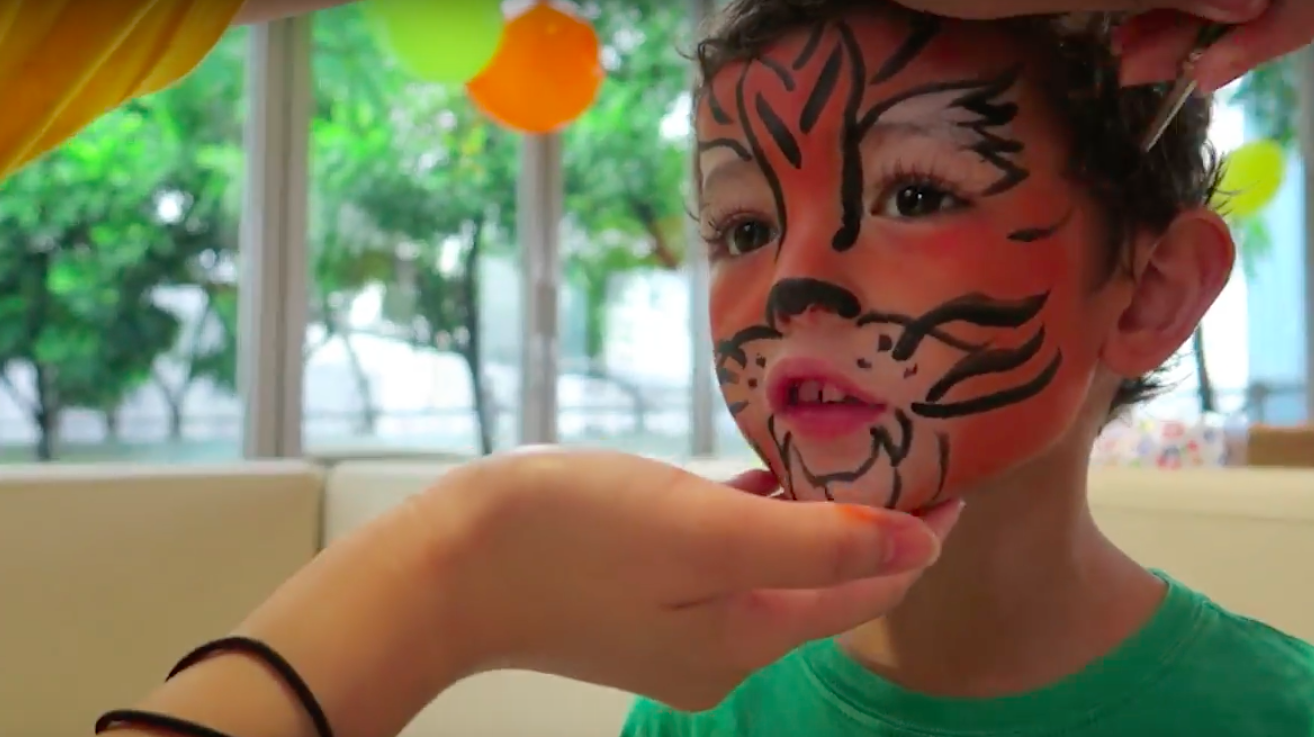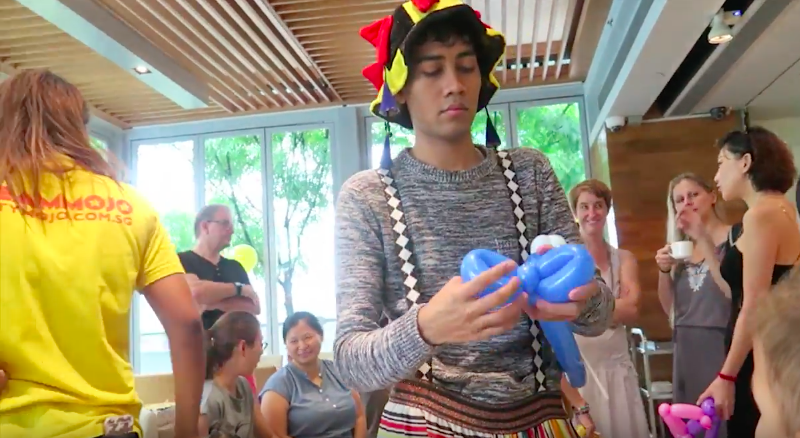 Luna and her little jungle friends could not contain their delight when Alex the Lion mascot from Madagascar made a surprise appearance at the party! For a full hour, Alex was present for meet and greet, and also to join the crowd in the fun!
What is a party without games? Right here, PartyMojo provides 45 minutes of non-stop gaming action at the party and Luna and her friends certainly did enjoy scampering around playing musical chairs, while our Alex the Lion joined in the fray too! Fortunately, the little wild cubs were not one bit scared of big-eyed Alex! When we asked Alex how he felt, do you know what he answered? ROARRRsome!!!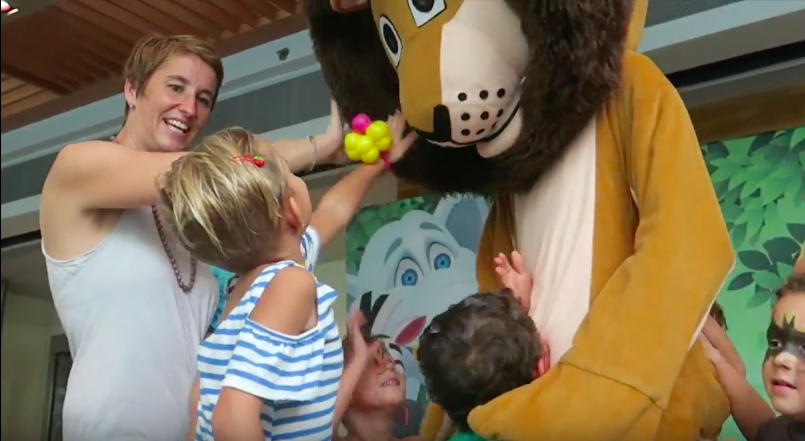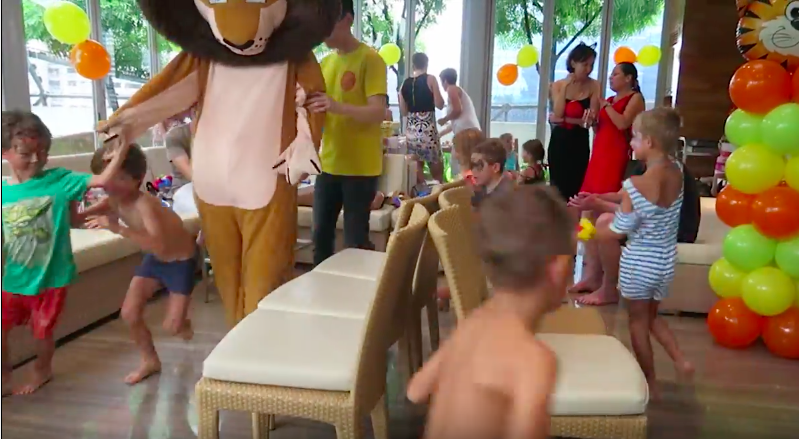 Our favourite act for the day was the Bubble Girl! Our very own PartyMojo Bubble Girl performs tricks with soap bubbles! You would not imagine how awestruck everyone was when bubbles bounced around and filled the room in all four directions! There was the hoola-hoop bubble, the ribbon bubble dance, the caterpillar bouncing bubbles and much, much more!There can only be one word to describe this feeling: Bubbly! For the finale, Luna and her mommy stepped into a spot and were trapped in a huuuuuuge mega bubble, so have your cameras ready! Oh no! Well, how did they break out? Well,you'll find out!
As the party drew to a close, our partygoers all gathered around Luna to wish her a Happy 3rd Birthday!Luna took not one, not two, but—you guessed it—three blows to extinguish the three candles signifying her sweet third birthday! We hope that with her commendable effort, all her birthday wishes come true.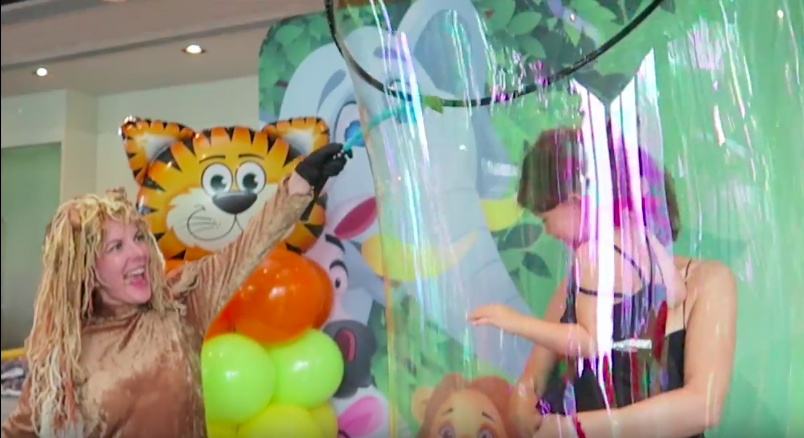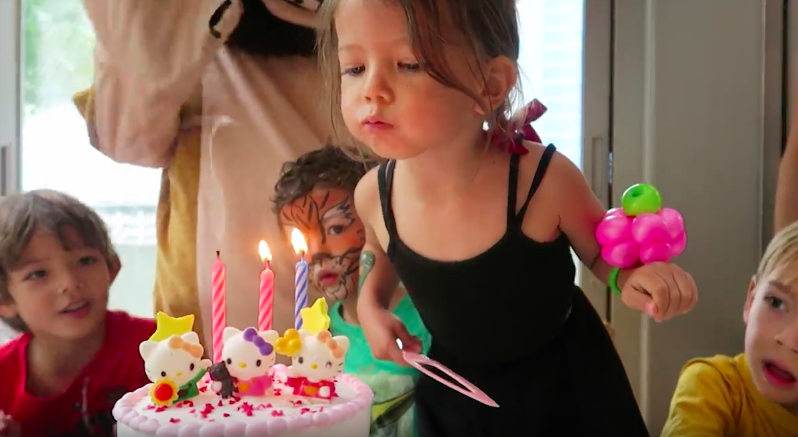 To end the party off, Luna's father gave a heartwarming speech emphasizing the importance of friendship. Our hearts certainly did warm quite a bit. PartyMojo wishes little Luna a very Happy 3rd Birthday, and here's to many more years to come