Can't quite decide on that perfect cake to complete the icing of the party? Picking out the design, theme and flavour can be a tough decision to call for all parents especially wanting only the best for your little princesses!
Check out PartyMojo's list of birthday cakes- we can't promise to contain our creative minds. You may just find your next birthday cake theme, thanks to us! We're going fondant with ideas!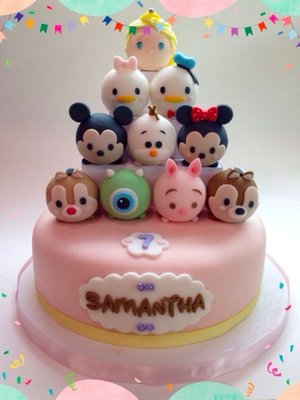 Disney Tsum Tsum Inspired
Image Source: Pinterest
Just like the term Tsum Tsum "to stack"- how about a stacked Disney Tsum Tsum cake? There are so many of them, you have to get the whole Disney crew on board your cake! Stack em up with love for your little girl.
Every new found girl's favourite dream, is to be Ice Princess Elsa! Crown her birthday with a 2 tier Frozen themed birthday cake. Choose your own selective character add ons like sister Anna and funny loving Olaf. You won't be able to let this one go!
"A cake of rare delight". If you have a little ballerina in your midst or all things dance movement, surprise her with a ballerina themed birthday cake for her next dance birthday party! Gymnasts champs get in on the fun too with an acrobatic themed birthday cake!
Always wanted her very own Rainbow Dash? Feel inspired to create your very own My Little Pony themed birthday cake for your little girl. Add on a rainbow and include more characters like Rarity, Twilight Sparkle or Pinkie Pie for a fanstastic magical birthday with friends!
Take me to the carnival! We will bring the circus act to your carnival themed birthday party! Go grand and wow your guests and star of the show, your daughter with a gold dusted carousel birthday cake! If your young one is colorful and outgoing and a little more of a foodie- stack up a 3 tier cake with popcorn, caramel coated apple and candle a candy floss cake!
With the help of Peter Pan and his buddy Tinkerbell, imagination is key. All Fairy enthusiasts have always wanted wings as beautiful as a butterfly. So if you got a little one who is in love with all things fairies, a pretty in pink pixie fairy toadstool or tinkerbell inspired birthday cake will flutter her wings!
Have yourself a junior pianist awaiting for her big break?  Stun her and friends away with flowers, grassy green patches, topped off with a mini figurine of your girl on her cake. All guests will be blown away with how pretty it looks!
We can't leave all of your young Beyonces' in the making out! So surprise her with a 3 tier fondant cake with musical notes and a microphone to top it off! Take it as her Oscar award from her #1 fans!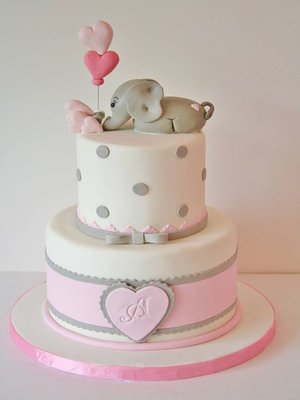 Baby Elephant
Image Source
Simplicity at its best with this pure white and gold printed font for your baby girl. Going with a white cake allows you to design your girl's favourite's or even for your newborn. Picture a halo and a pair of angelic wings or a rainbow for added color to an all white cake. Best yet, a 2 tier cake with an adorable baby elephant on the top! You can never go wrong with the classics.
PartyMojo's Fondant Masterpieces!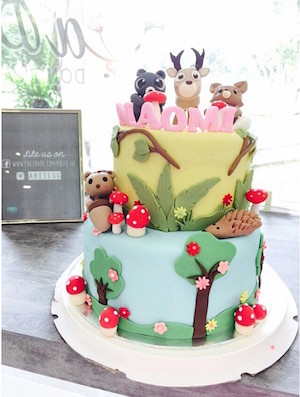 Animal Kingdom by PartyMojo
PartyMojo's very own take on an Animal Kingdom array for your little girl. A 2 tier fondant zoo on a cake! Perfect fit for a safari themed birthday party and animal loving furry friends!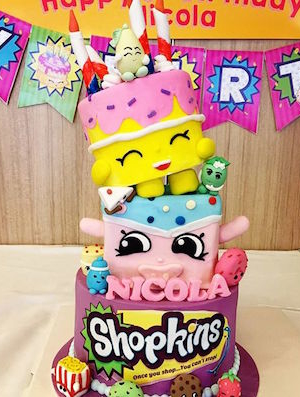 3 Tier Foodie at Shopkins by PartyMojo
The bigger the better! We bet you've never imagined a 3 tier cake as colorful as this one for Nicola at Shopkins! Foodie loving little girls will be awed by colors and adults we must say "how do they stack it up so well?" Surprise your little chef, it'll surprise the rest too!
Need help organizing a party of your own? We have all the missing pieces you need for a rolling good time at your birthday party! Can't decide on a theme? Worry not! Take a look at our themed packages available for your party! Decorative balloons to wide buffet feast spread and a cake to top it all off! Want to take all this experience home? Hire our in house photographer for mini mementos home for all your guests. 
Enquire or book with our friendly staffs at PartyMojo today!