This year, PartyMojo goes digital and featuring our Virtual Chinese New Year promotions that includes Huat Huat Package and Lion Dance Package! Up the scale with Cai Shen Ye (God of Fortune) Mascot, Fringe Activities such as Calligraphy in Black and Gold Ink and even Rainbow Drawing Calligraphy! Like the ancient myth of chasing away mythical beast Nian for protection and prosperity, this year celebrations hold even more significance for all of us as we prepare for a fresh new start.
Not forgetting Kids' favorite Chinese New Year Art & Crafts such as Ang Bao Lantern, Fire Cracker and your own Ang Bao Bag! Wow your guests with more Chinese New Year Performances! View in awe our Sichuan Bian Nian (Face Changing Master) and Traditional Chinese Opera shows, perfect for all ages to enjoy! All workshops are available in virtual format!
Come celebrate a year of prosperity and abundance with PartyMojo!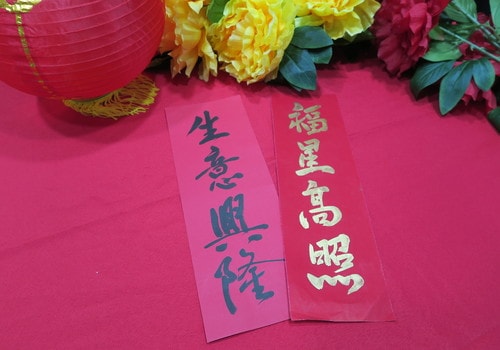 Black & Gold Calligraphy
What is CNY without a professional black/gold calligraphy written by the calligraphy master to bring home? Get auspicious words written for your guests to bring them home and frame them up!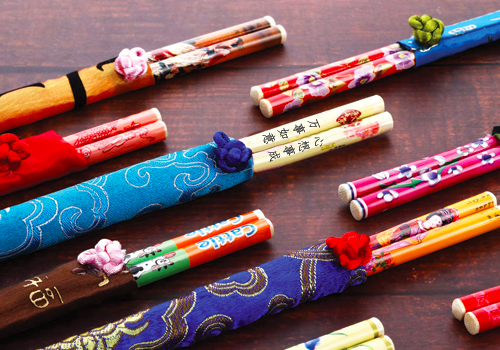 Chopstick Calligraphy
Another special medium for Calligraphy will be our Chinese Wooden Chopstick with silk sleeve! Chopsticks are largely part of our Chinese Culture! How about bring one home with chinese blessings!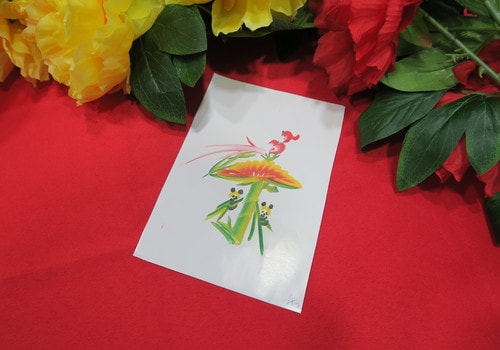 Rainbow Calligraphy
Get these rainbow calligraphy with an interesting twist to the normal calligraphy for your CNY event! The artist uses multiple colours to draw out chinese character(s) using dedicated strokes and patterns!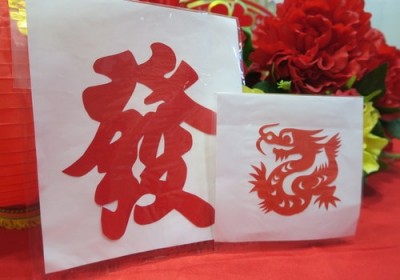 Traditional Paper Cutting
These traditional paper cuttings are certainly eye-catching! Watch the professional artist at work as he handcuts these intricate pieces! Contact us now to find out more!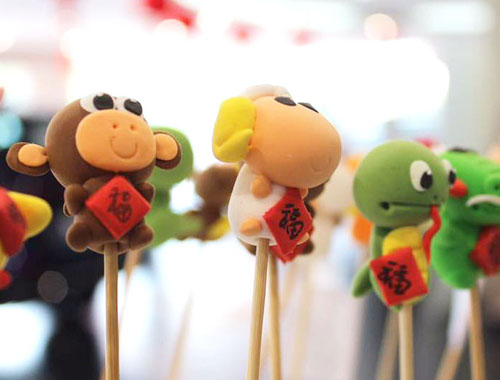 Zodiac Dough Figurine
What's your zodiac animal? Rat? Dragon or a Dog? Well no problem as our Clay Making Master can pinch and skillfully shape lifeless clays into a burst of colours of your zodiac animal!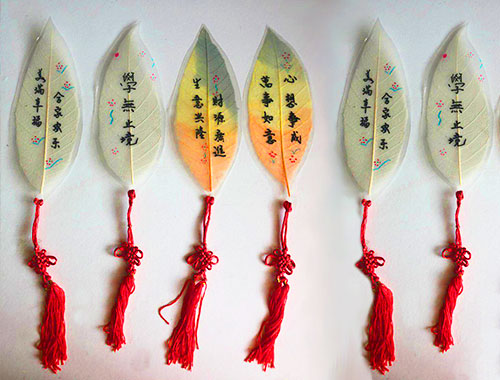 Leaf Bookmark Greeting
Watch as our skillful artist write meaningful greetings on a laminated bookmark made from leafs. Get 1 yourself or get 1 for your friends to share and exchange the festive greetings of CNY!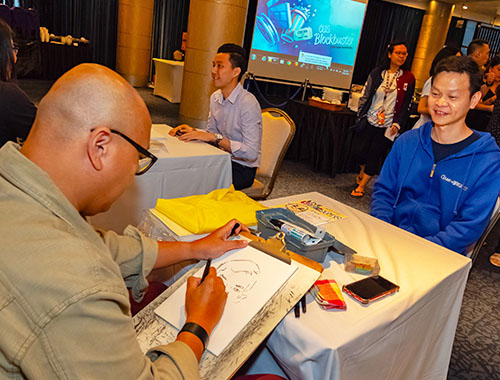 CNY Caricature
Make this CNY more memorable with your own caricature drawing to enhance the holiday feels! Take a seat, give us your best smile and we will draw out a cartoon version of you in no time!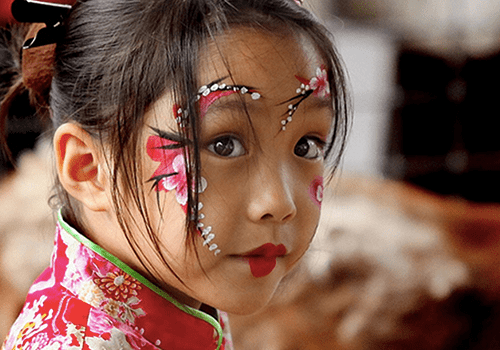 CNY Face Painting
This CNY, be any character you want for, be it the legendary creatures or the God of Fortune himself! Here's your chance to be immerse in Chinese folklores and transform yourself! Call us now!
The prosperous and festive Chinese New Year Live Food Station are specially curated, perfect for that family festive reunion between close friends and relatives! This year, PartyMojo brings it up another level and prepared a wide variety of delicious and yummy food to compliment your event! These festive Live Food Stations will surely fill your tummy and keep you happy throughout the year! Food stations includes delivery and set up to your event venue!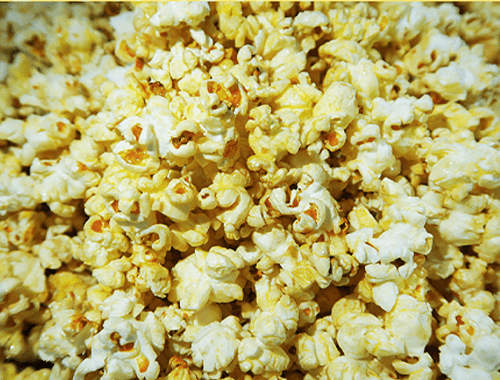 Golden Popcorn
黄金爆米花
金玉满堂 – May Treasures fill your home! Indulge in some tasty and crunchy Golden Popcorn from PartyMojo! The prosperous popcorn are a must-haves at your Chinese New Year party!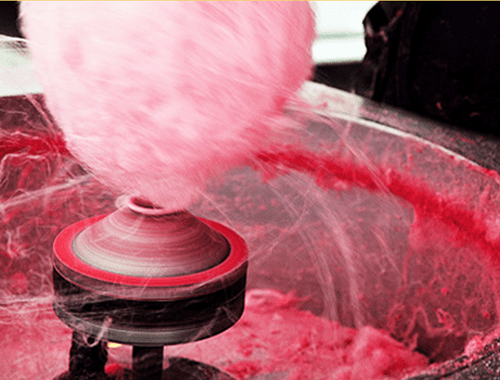 Fortune Candy Floss
转运棉花糖
一帆风顺 – Have a smooth sailing journey in 2020! Sweet and tasty, get set for a sweet start to Chinese New Year! With a prosperous pink colour, you're all prepared to set the mood of your party!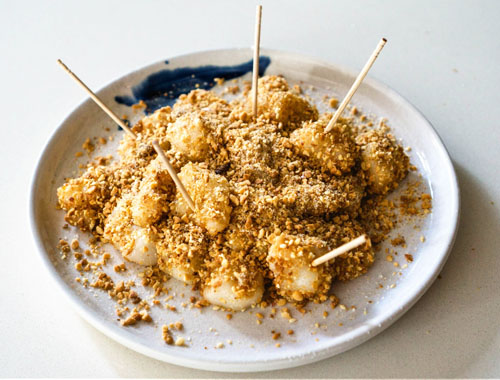 Nutty Muah Chee
花生麻糍
升官发财 – To be promoted and gain wealth! Enjoy Singapore's all-time favourite, Muah Chee! Chewy and flavourful, they make for a good snack when catching up with people during your events!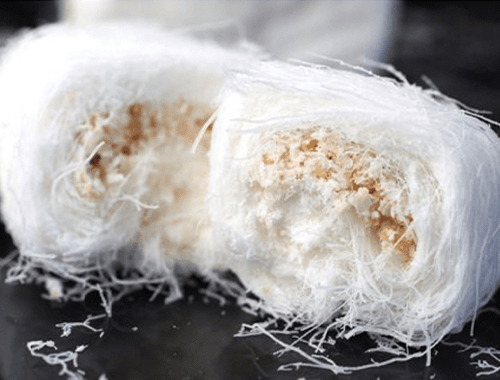 Dragon Beard Candy
元气龙须糖
龙马精神-Wishing that you will be full of spirit and vigour! Not commonly seen at parties, the Dragon Beard Candy is special and certainly an eye-catcher. This is great for attracting the attention of your guests at your Chinese New Year party!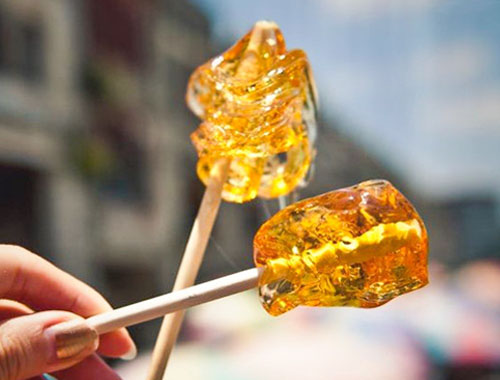 Tian Mi Malt Candy
甜蜜麦芽糖
甜甜蜜蜜 – blessing your relationship with your loved ones to be as sweet as honey! Start the year right with PartyMojo's Malt Candy station, perfect for those with a sweet tooth! Indulge in a treat and celebrate in style!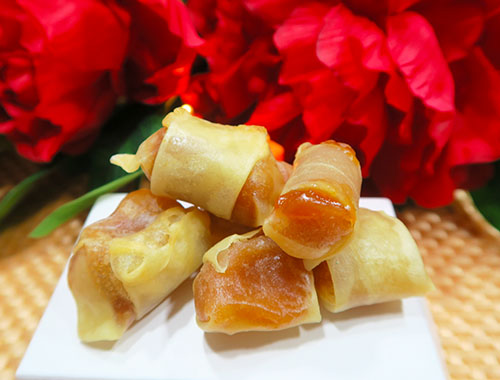 Bite Size Fried Nian Gao
炸年糕
年年高升 – Get promoted and high annual growth every year! This Chinese New Year, indulge in these crispy and delicious bite size fried nian gao and you will achieve greater heights in the upcoming new year!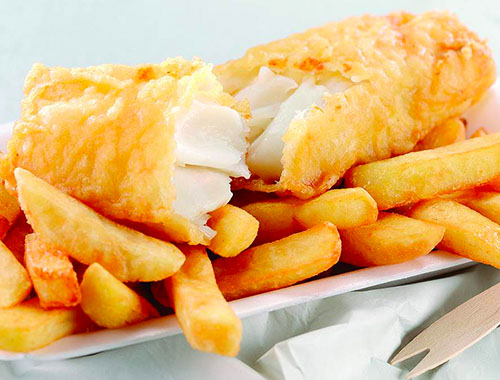 Prosperity Fish & Chip
金黄炸鱼薯条
年年有余 – Wishing you a life of abundance and prosperity! Sink you mouth into juicy and tender fish and chips with PartMojo! Celebrate in style when you serve this delicious dish at your Chinese New Year party!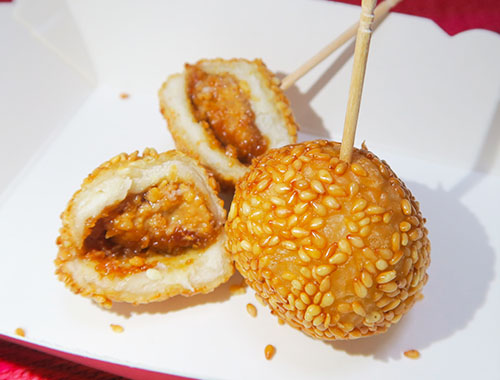 Fortune Sesame Balls
福气芝麻球
扩大财富 – We hope you will expand your fortune in the coming year! Celebrate this Chinese New Year with a blast with PartyMojo's Fried Sesame Balls. Oozing with goodness every bite, this is certainly a station not to be missed!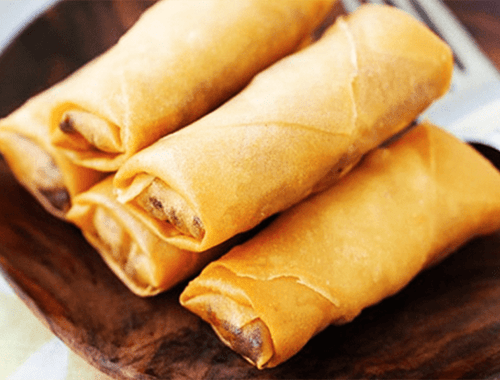 Wealthy Spring Rolls
财富春卷
黄金万两 – To have  ten thousand tael of gold! These delicious fried spring rolls are the perfect finger food during events as it is easy to eat. Fried to golden perfection, have it on the go when catching up with one another!
CNY EVENT SERVICES (Hybrid/Virtual)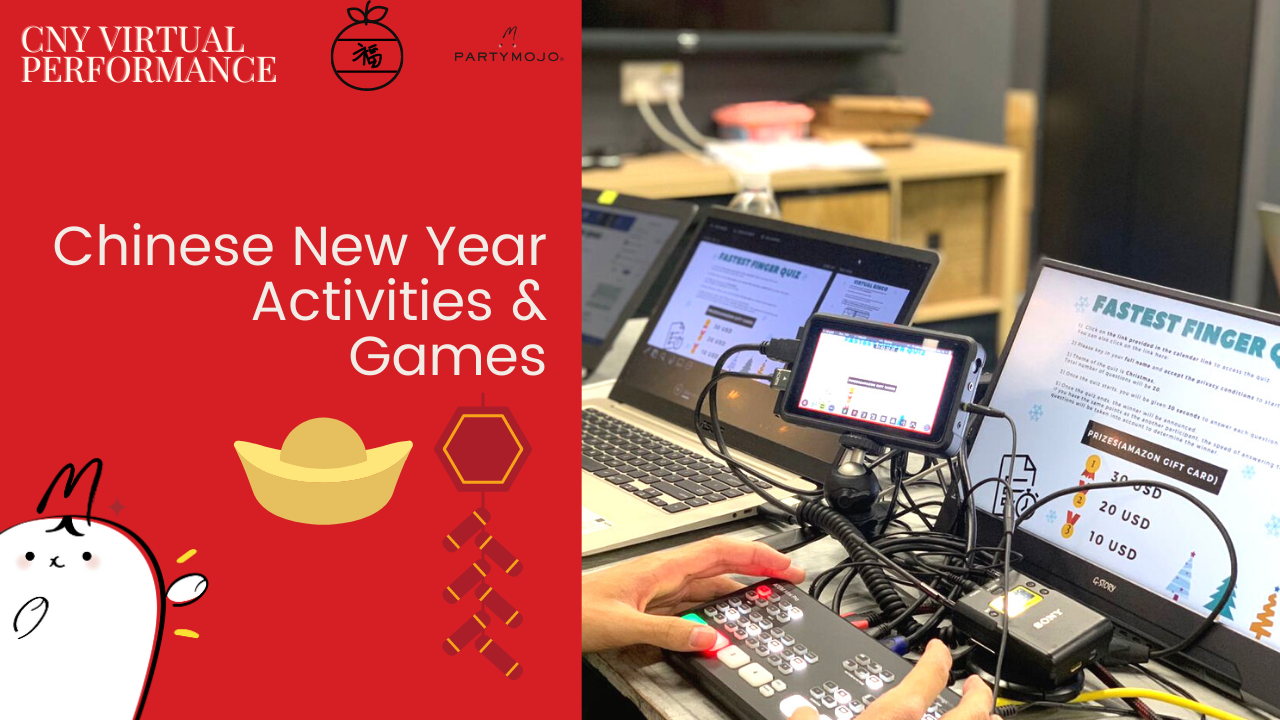 Hybrid/Virtual CNY Games
Exclusive festive CNY themed games that engage every of your virtual audience! Each game is facilitated by our professional host and can be fully customised to your company's theme.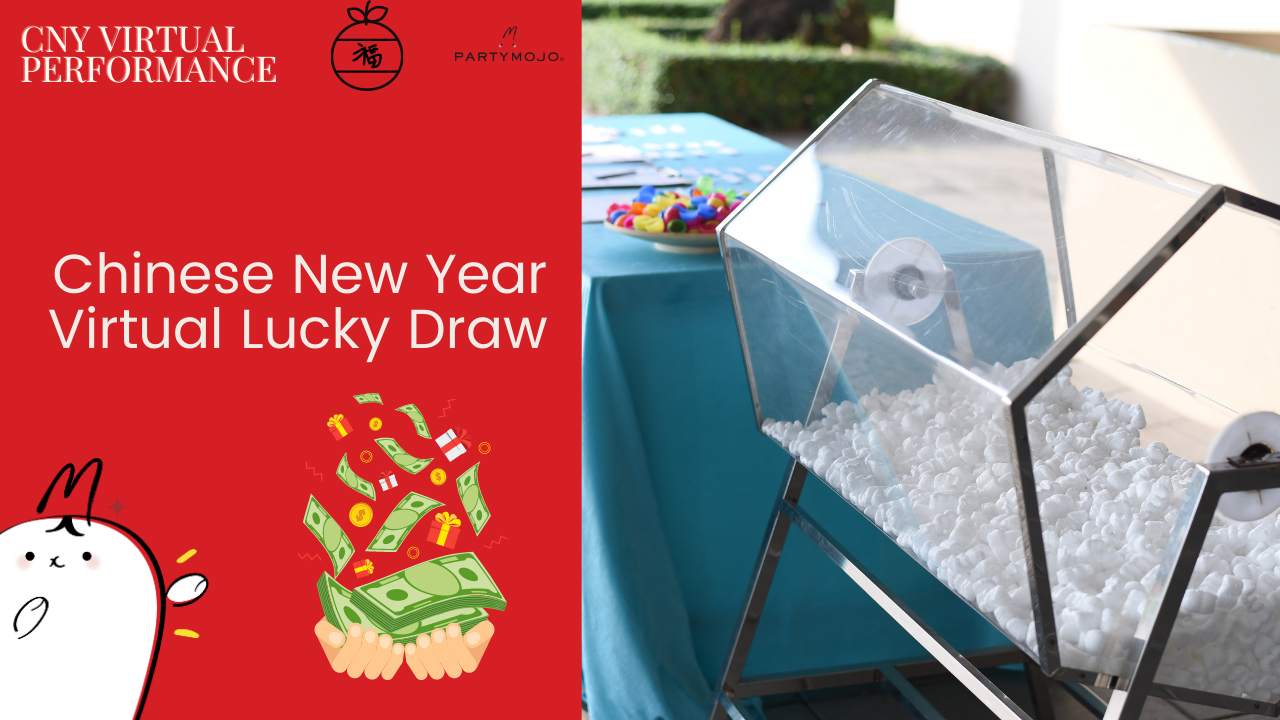 CNY Lucky Draw
Experience the thrill of winning year end grand prizes with our all new virtual lucky draw mechanisms! Huat ah!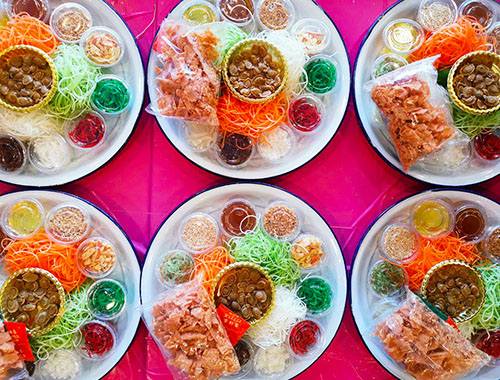 Abalone Yu Sheng
How can you miss out Lohei (撈魚生) during CNY? Lohei is a Chinese ritual of tossing the yu sheng and saying of auspicious phrases before eating. Only applicable as add on! Ala carte order not available.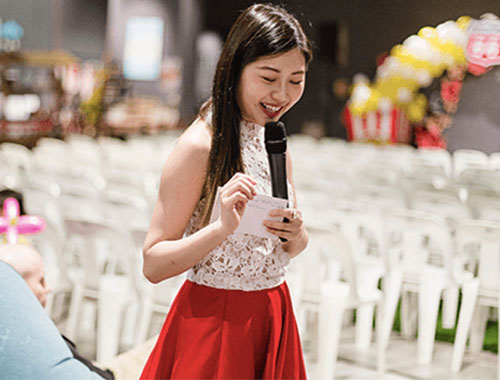 Emcee & Sound System
Your CNY event is not complete without someone to host and lead! Our professional emcee can host activities such as Lohei, Lucky Draw and Contests. Enquire with us for longer hours!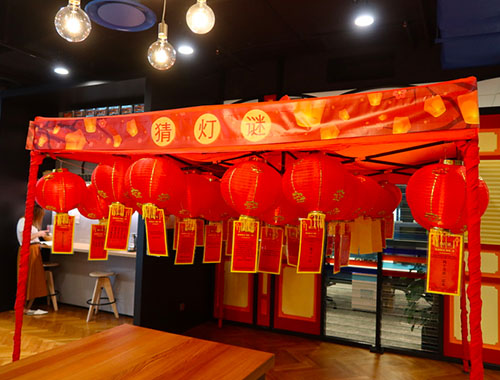 Lantern Riddle Booth
Each booth comes with professional tentage set up with 48 lantern riddles (32 Mandarin & 16 English riddles)!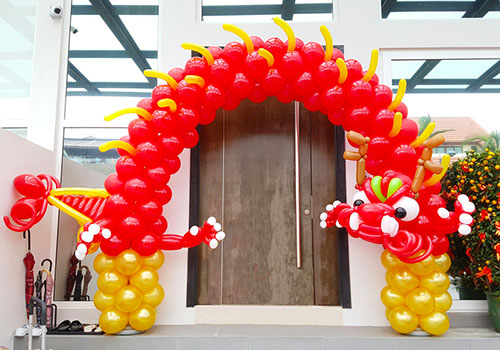 CNY Balloon Arches
Welcome your guests with a CNY Balloon Arch! The above photo sample is an advance balloon arch.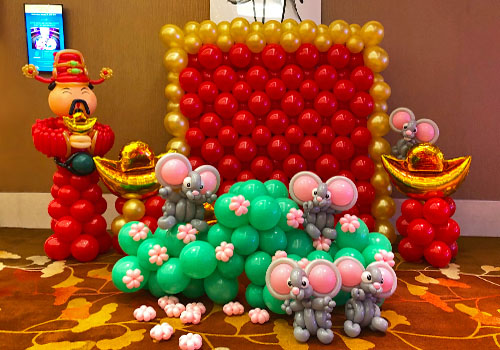 Balloon Decoration Package
Spice up your celebrations and heighten up the atmosphere with our all in one Balloon Decoration Package! This package is perfect as a photo backdrop! Check out what is inlcuded for the year of Rat!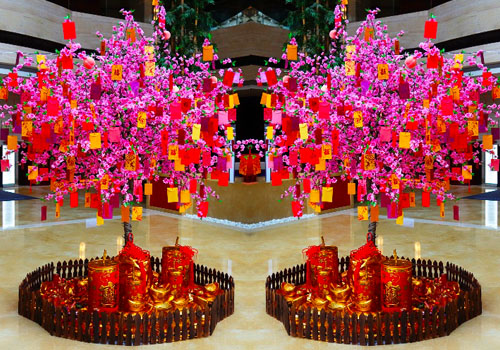 Cherry Blossom Tree Package
Not a fan of balloons or you want something more vibrant, lovely and stunning? Then our NEW Cherry Blossom Tree Decoration Package is a great alternative! Each package comes with 1 tree.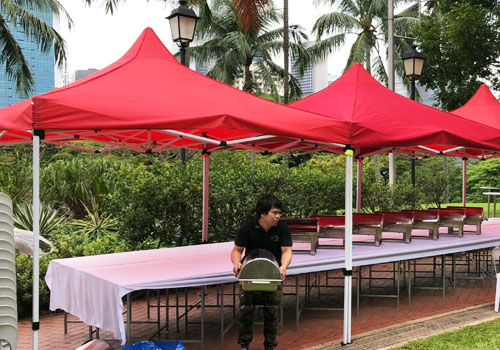 Red Tentage Rental
Stay under the shade! This 3m by 3m tentage is the solution for your outdoor CNY Celebrations!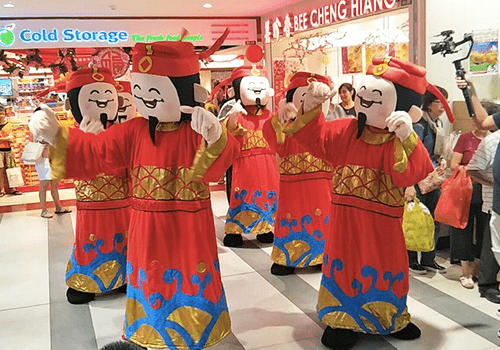 Cai Shen Ye Mascot
Everyone loves Cai Shen Ye, the God of Fortune!  Get him and his friends together as they struct down your CNY party, spreading wealth and abundance to everyone present!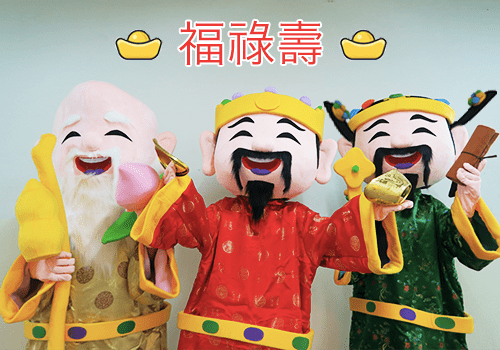 Fu Lu Shou Mascot
Have triple blessing with Prosperity (Fu), Status (Lu) and Longevity (Shou) to brighten up the entire atmosphere! Rental of all mascots comes with assistant(s) and chocolate gold coins!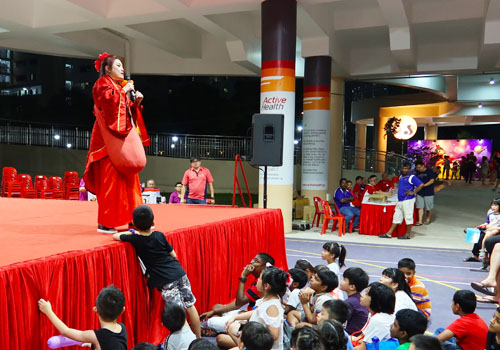 Storytelling
Dressed in CNY theme, be immerse in the story told by our storyteller! Choose between The Great Race of the 12 Zodiac or The Legend Of Nian and immerse yourself in the exciting story!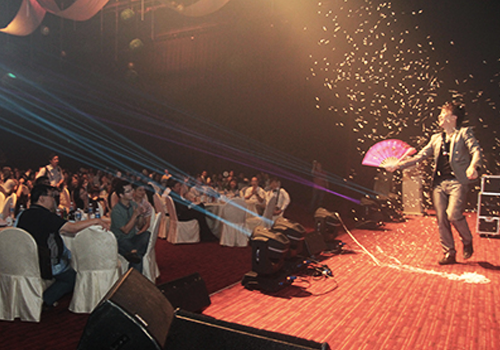 CNY Magic Show
There is no better way to welcome the new year with Lion Dance! Invite a group of talented lion dance performers and drummers with experience to hype up your event!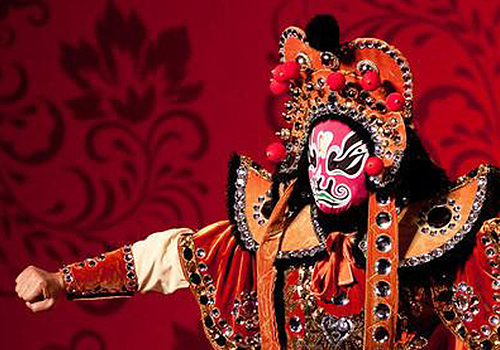 Si Chuan Bian Nian
Watch an exciting show of traditional Si Chuan Face Changing Performance! Don't blink or you might miss out on the times the artist changes his mask to another beautiful design!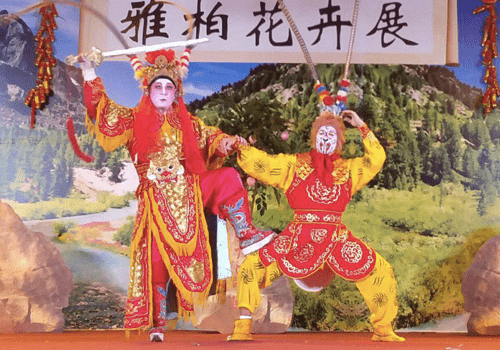 Chinese Opera
Chinese Opera are interesting, engaging and a brilliant way to kick off your CNY celebrations! Watch as the performers do their thing and amaze you and your guest at your celebration!
Terms & Conditions
Payment Terms
All Chinese New Year Promotions prices quoted are in Singapore Dollars (SGD) and are subjected to 8% GST.
A 100% full payment is required to confirm the booking.
Breakage and damages to any equipments will be charged to client accordingly.
A transport surcharge of $30 is applicable for the following venues: Changi, Tuas, Sentosa, Turf city.
All cheques are made payable to PARTYMOJO PTE LTD.
Payment can be made via bank transfer to: DBS current Acc 003-932293-3 Branch code: 7171-003.
PartyMojo now accepts PayNow! The QR Code can be found at the bottom of the invoice issued.
Postponing of event can only be done 5 working days prior to the event.
Postponing of event is subjected to a $100 – $150 surcharge, subjected to availability.
50% of invoice charges if cancellation is made more than 5 working days before event time.
100% of invoice charges if cancellation is made 5 working days before event time.
Other Terms
PartyMojo will not be liable for cleaning up of any mess created by the activities/party guests.
PartyMojo reserves the right to cease the party immediately if the client verbally abuses any of our staffs. In the event that the client's guest verbally abuses a PartyMojo staff, PartyMojo staff will inform the client immediately. If the abuse does not cease, PartyMojo reserves the right to leave the event immediately.