It's the time of the year again! You find yourself in a child toys store, surrounded by gazillions of toys in a multitude of attractive colours… but do you know which one is suitable for your child (or a friend's child)? Today, Party Mojo will provide a list of popular gift ideas to ease your burden! This issue will feature top gift ideas for every parent's little princess girl since it's always "ladies first". Look out for our top gift choices for your little prince in the next upcoming post.
Turn her Drawings into a Customised Toy! 
Let your young girl design her favourite soft toy and transform into an actual soft toy for her. It seems like Cinderella's fairy godmother really exists in real life. You may even transform her beloved pet into a customised plush toy. Bedazzle your child, your family, your pet and yourself!
Customised Adult and Child Apron Set
Always busy in the kitchen and cannot spare enough time for your little girl? Why not personalise a set of adult and child aprons for both of you? A lovely personalised apron set is perfect for any cooking or baking mad family! Good chance to involve the young cook/baker in your house.
Girls Play Tent
The lovely girls can enjoy their beautiful play tents which come in the styles of Disney castles and many more! Let your young princesses enjoy some privacy and fun time in a totally girly play tent as a present!
http://www.toysrus.com/family/index.jsp?categoryId=2257602
Girls Favourite Colouring Set
Let the creative juices of your young girls flow by giving her colouring and drawing sets. Provide her with sticker sheets, markets, colouring paper and stencils…. And watch the young artist explore her limitless imagination as she starts doodling around.
http://www.urbanbaby.com.au/Tiger-Tribe-Piccolo-Colouring-Set-Big-Girls-Favourites#.U-iLQdKnrIE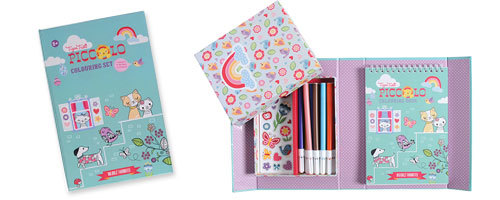 Heartbreaker Bow
The lovely, demure and gentle nature of classic Disney Princesses may not be suitable for every girl. Is your young girl a feisty Katniss Everdeen from Hunger Games instead? How about a heart breaker bow gift which can take down all heartbreakers and haughty Princes instead?
http://lifesprinkledwithglitter.blogspot.sg/2012/06/pvc-bow-and-arrow-finger-glove-for.html