The ultimate Christmas Live Food Stations specially curated for your cosy festive celebration, great for both indoor and outdoor events, office celebrations, close group parties and others! This year, PartyMojo bring to you 2 new Food/Drink Stations; Green Tea Waffles Tree and Christmas (Fruit) Punch Drink Station! These Live Food Stations will surely light up and fill up those hungry bellies! Food stations includes delivery and set up to your event venue!
Green Tea Waffle Tree
Waffles are freshly prepared and cut into 2 triangles to represent the tree! For Christmas, we provide 4 types of sauces: Maple Syrup, Chocolate Sauce, Strawberry Syrup and White Chocolate! End it off with 2 toppings, Honey Stars and Rainbow Sprinkles!
Christmas Popcorn
Taste the magic and have some festive inspired treats with PartyMojo! Created to celebrate the Christmas festive mood, our Christmas Popcorns is made love and a pinch of blue magical powder! Our popcorn flavour is Raspberry!
Christmas Candy Floss
This Christmas, indulge in your favourite treats with PartyMojo! Created to celebrate the Christmas festive mood, our Christmas Candy Floss is made with the spirit of giving and a pinch of blue magical powder! Our candy floss is Blueberry flavour!
Instant Hot Choc Station
Nothing is as satisfying as a deliciously rich and creamy cup of hot chocolate using cocoa powder that will surely warm your body up! Spruce up this station with the christmas set up!
Barista Hot Choc Station
Special Christmas Edition for our Barista Station – Red Velvet Hot Choc station and Special Christmas Latte! Popular for that year end Christmas Celebration in office!
Christmas Donut Wall
Decked out in red and green festive colours, our Christams Donut wall is fully brandable with your corporate logos. Comes complete with chocolate fondue station.
Live Carvery Station
Santa loves these delicious Smoked Duck and Roast Beef! Sink your teeth into PartyMojo's scrumptious, juicy Live Carvery Station, with friends and family, at the convenience of your own space. Grab some fries to go along too!
Raclette Cheese Station
This Switzerland originated raclette cheese dish is now available at your events! Served with baby potatoes and drizzled with Swiss Cheese, it's perfect for Christmas! What's better, it is free flow based on the duration of your booking!
Christmas Dessert Table
Christmas is all about feasting and bonding with your family! We cannot forget dessert?! Treat yourselves and your guests this Christmas with our Dessert Table in Christmas Theme! You can never be too full for dessert, can you?
Hot Chocolate Drink
Get that warm, cozy feeling beside the fireplace with PartyMojo this Christmas! Enjoy a hot and steamy cup of hot chocolate drink topped with marshmallows and drizzled with chocolate syrup!
Christmas Punch Drink
Tangy, refreshing and fruity, perfect for Christmas! PartyMojo's Christmas Punch offers a unique blend of cranberry, pineapple, orange and lemon soda! Drink will be served from cambro drink dispensers.
Sno-Cones Station
Let it snow~ Let it snow!  Enjoy this snow-inspired dessert with Christmas colours of Blue, Red & Green! Excite yourself with the colours and flavours and let your eyes gleam with all the icy love.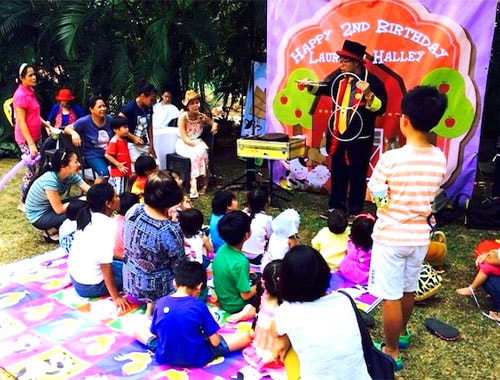 Kids Interactive Magic Show
It always amazes kids when the magician pulls out a rabbit from an empty bag or a string of lights out of his mouth! This Christmas, we brought in more Special Props just for your guests to enjoy! The magic show is suitable for children of ages 3 to 6.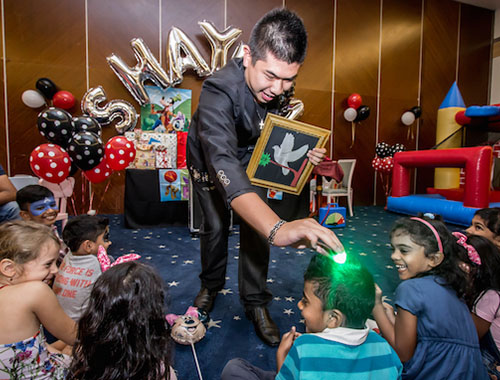 Live Animal Magic Show
Truly Astounding, our Magician makes use of LED screens to produce mind-blowing illusions! This Christmas, watch the live birds carry out their performance with special props! Suitable for children and adults of all ages!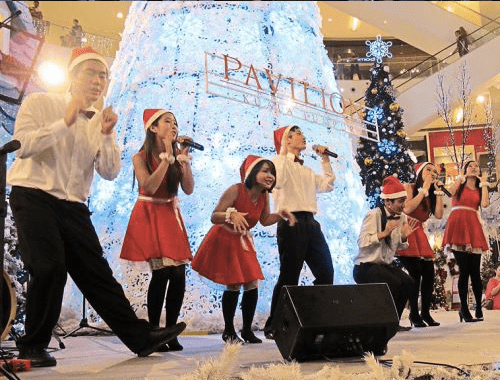 Christmas Carols
No better way to greet the Christmas season with Christmas Carols! Invite a group of talented singers with the most soothing voice to get in the mood! Sway your body to the jingles and soak in the perfect festive atmosphere!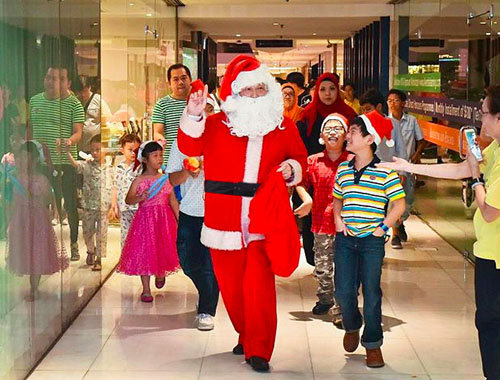 Santa Mascot Appearance
What's Christmas without Santa! This Christmas, come arrange for a meeting with Santa and his diligent Santarinas! Let the kids tell Santa their wish list or simiply have Santa to give out candycanes!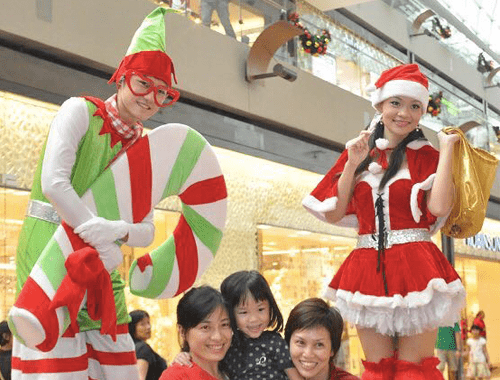 Stilt Walker Appearance
Stilt walkers are tall, pretty and gets lots of attention and photo opportunities! They are perfect for your celebration! Our stilt walkers include Reindeer, Santa, Santarina, Elves!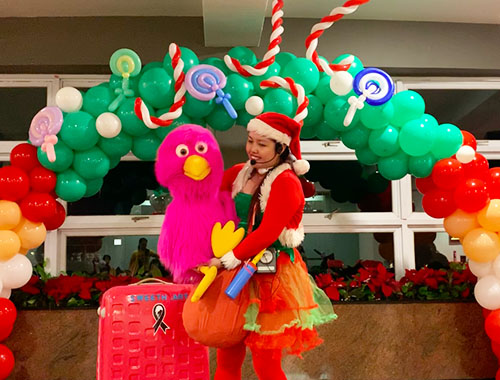 Christmas Puppet Show
Enjoy 30mins of comedy and engaging Puppet Show entertainment for kids of any age! For Christmas, our puppet show teller will dress along with the Christmas festive!
The one-stop destination for your Christmas decoration needs! Create the magical atmosphere of Winter Wonderland for your Christmas event this year! These decorations are suitable and will definitely brighten up your function rooms, office pantry and even open spaces! Enquire with us today!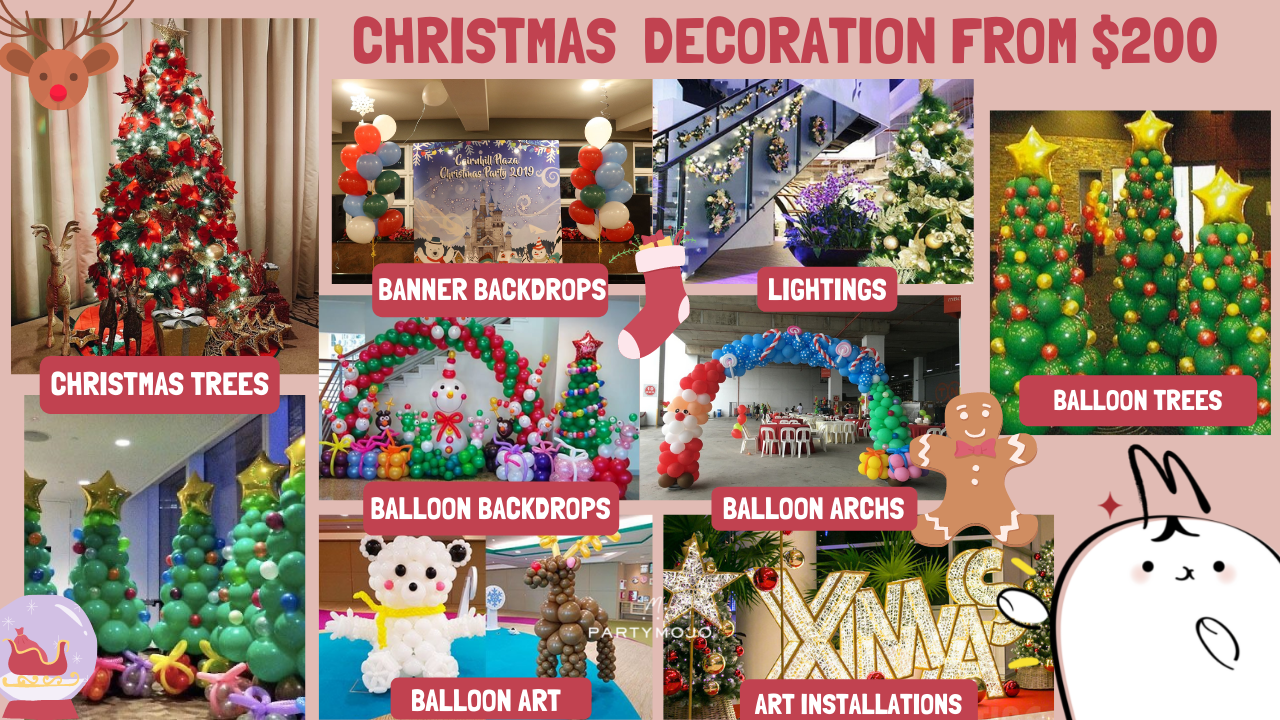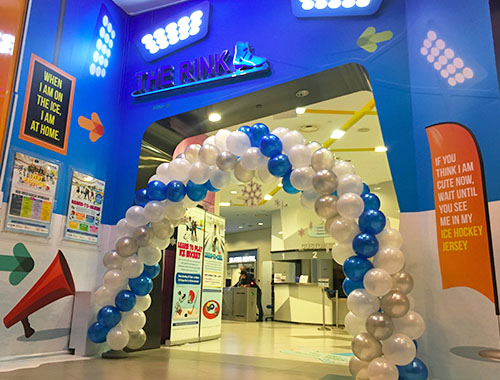 Basic Balloon Arch
Don't miss out the chance to have a balloon arch for your Christmas party! Choose up to 3 colours for your basic balloon arch for a spiral design or opt for a bright and beautiful rainbow balloon arch!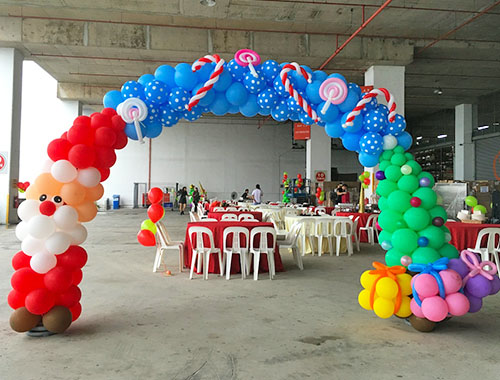 Advance Balloon Arch
Have a design in mind or looking for something more majestic? You can even customise your own balloon arch to suit your own Christmas theme! Show us a sample image and we will try to do it!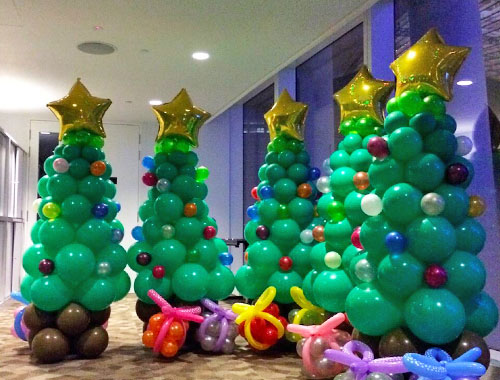 Christmas Balloon Trees
PartyMojo's Christmas Balloon Tree comes with a gold star and around the height of 1.8meters! Balloon Christmas Trees comes with colourful ornaments or you can request for other colours!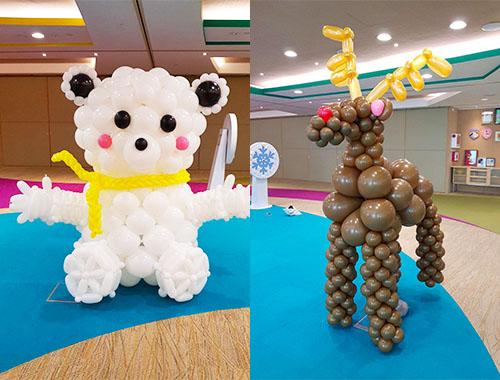 Balloon Art Installation
Balloon installations that will certainly have heads turning. Kids love them and these balloon art installations are often photo opportunities! Get the Christmas vibe with these balloon art installation!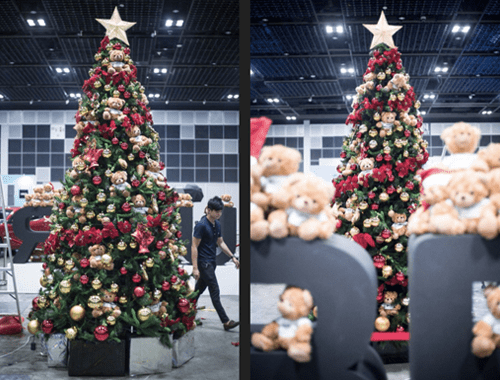 Authentic Christmas Tree
Christmas is not complete without a Christmas Tree! Our Christmas Tree comes with a gold star and is about the height of 1.8meters! They come with colourful ornaments too!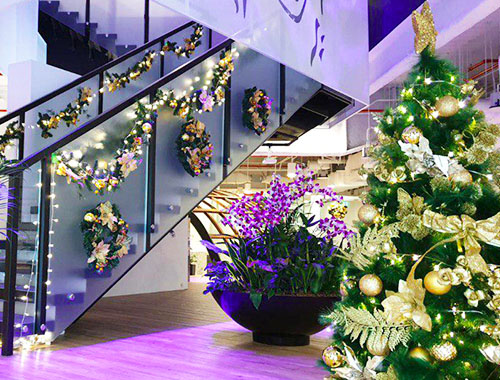 Christmas Decorations
Have a whole area of the office to decorate? Don't know how? PartyMojo is here! Our experts can install fully decorated Christmas Trees with wall and table decorations with garlands and buntings.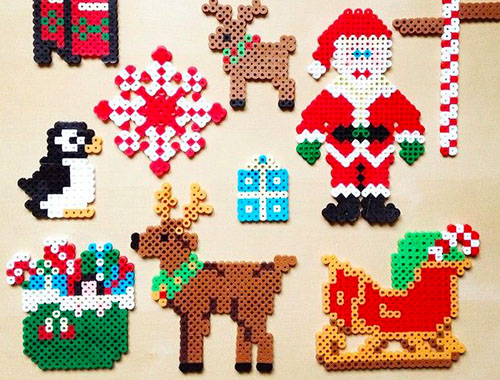 Christmas Hama Beads
Christmas hama beads are a great art and craft activity that trains those like fingers and their patience! Follow our hama bead template of a Snowman, Santa, Reindeer, Christmas sock and many more!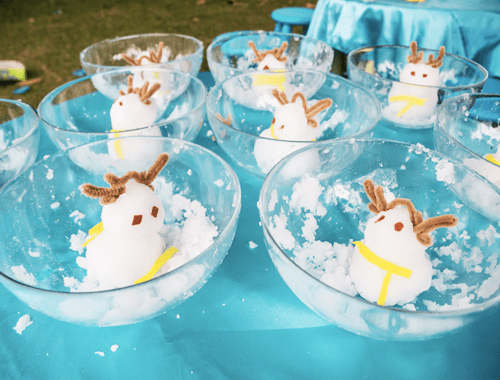 Snowman Building
Do you want to build a snowman? Is it really possible to have snow in Singapore? YES! It is possible! Kids get to mix a packet of instant snow with TADA! Snow! Next up, pinch and decorate it to create their own mini snowmen!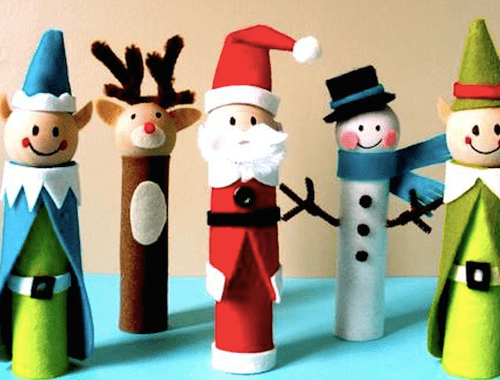 Christmas Finger Puppet
Out of ideas for this Christmas? Why not let your kids make their very own Santa and Friends! Unleash their creativity and let them be their very own storyteller with their Christmas edition finger puppets!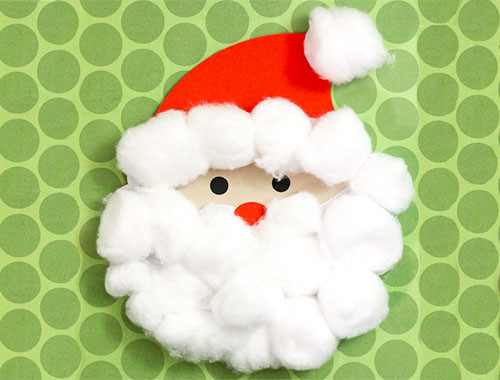 Puffy Santa
It isn't Christmas without Santa! Create Santa's signature puffy look and exericise your creativity as the kids customise Santa's look. Requiring minimal assistance, this art and craft activity is perfect for the little ones!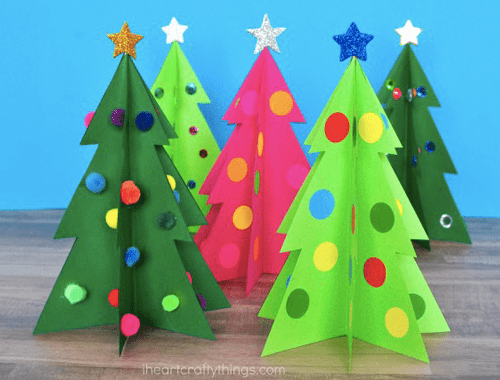 3D Christmas Tree
Always wanted a Christmas tree in your home? Then this beautiful paper craft is perfect! The tree can be customized with different colours and embellishments so every child can create their own unique looking Christmas tree!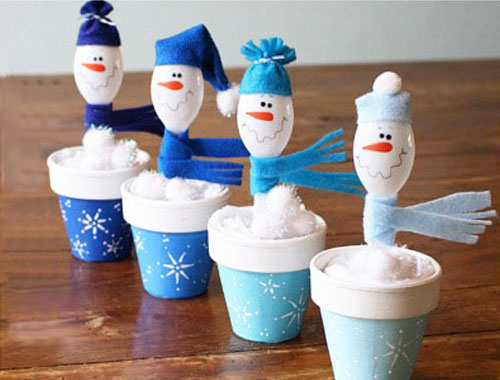 Spoony Snowman
Inspired by the Toy Story Forky, we have our own Spoon Snowman craft! Create your very own Spoony Snowmen Christmas Decoration with recycled materials! Kids get to decorate and draw the face of Spoony and give it a second life.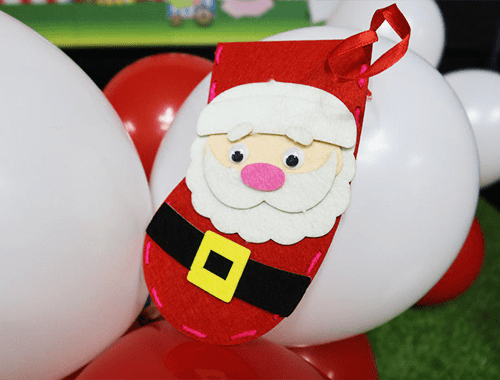 Christmas Felt Socks
There's no point of Santa visiting if there's no stocking to collect his presents! With this easy and interactive art and craft, kids get to make your very own DIY christmas socks! Make it attractive so that Santa comes!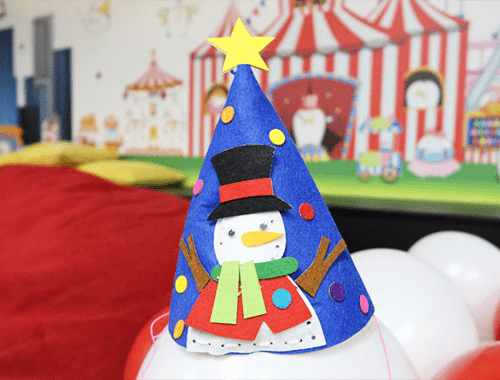 Christmas Felt Hat
A beautiful hat, with a star to top it all off! Make a DIY Christmas felt hat and design it to your preference! Explore your creativity with this fun and easy Art and craft now. Create the most unique Christmas Hat at your party!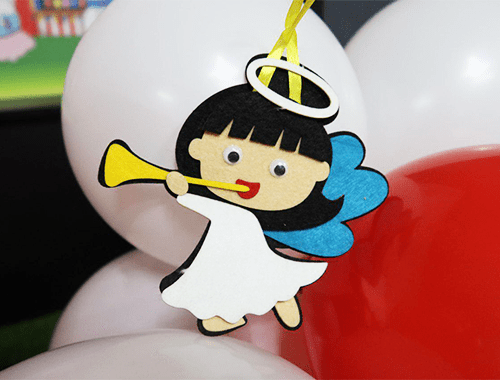 Hanging Ornament
Running out of different things to customise your Christmas trees to get in the mood? Then why not make your very own DIY Felt Hanging Ornament! Fun and easy to create, make your Christmas trees stand out with this one and only ornaments!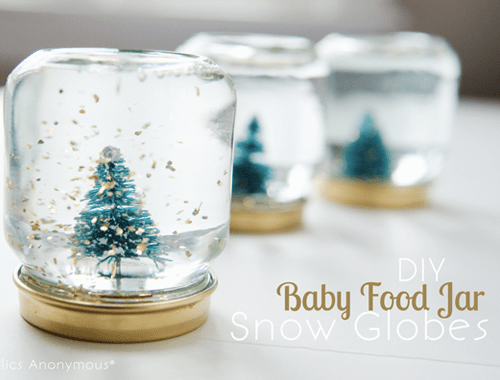 Snow Globe Making
Bring the beautiful essence of winter into your home all year round with this fun make-your-own snow globes craft! Make this snow globe craft with a Christmas character such as Santa or Reindeer or Snowman inside the snow globe!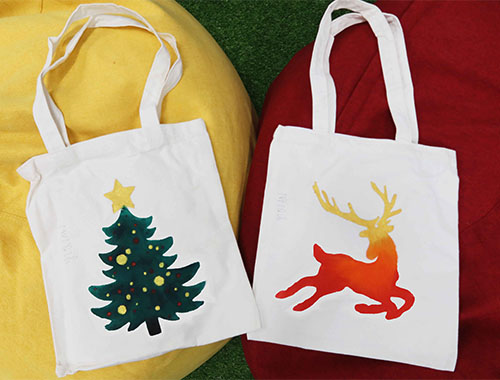 Tote Bag Painting
With multiple colour options, kids get to fill in the tote bag stencil with bright colours and wait for abit to let it dry! This craft is also sustainable to our environment as we can reuse this tote bag to cut down on our plastic usage!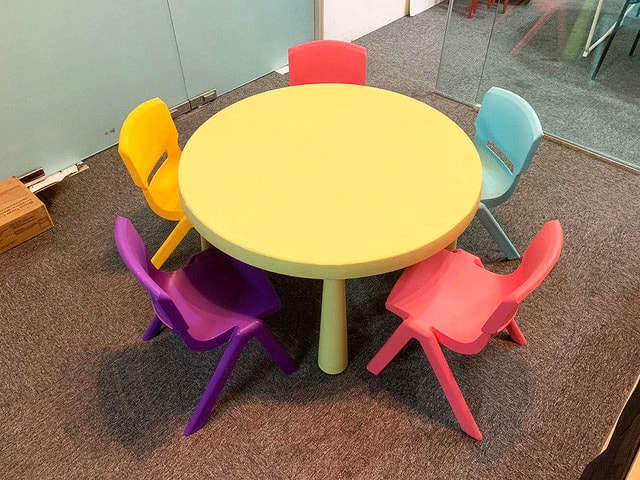 Kids Table & Chairs Rental
Love our Christmas art & craft stations but don't have the logistics? Fret not! Your all rounder event provider got it covered! Need Kids Table & Chairs for your event? You can rent it from us with a package price at $190 for 4 tables and 20 chairs!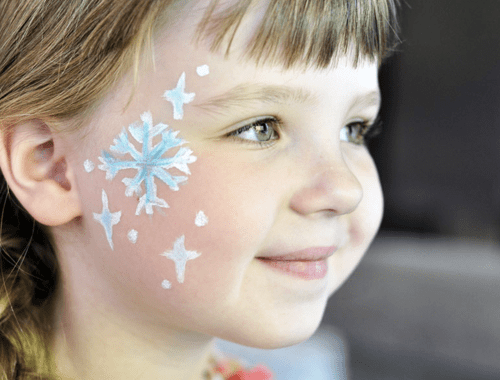 Christmas Face Painting
This Christmas, be any character you want for, be it Santa, his elves or a Reindeer! Here's your chance to be Elsa from Frozen too!  Call us at PartyMojo now to make your dreams come true!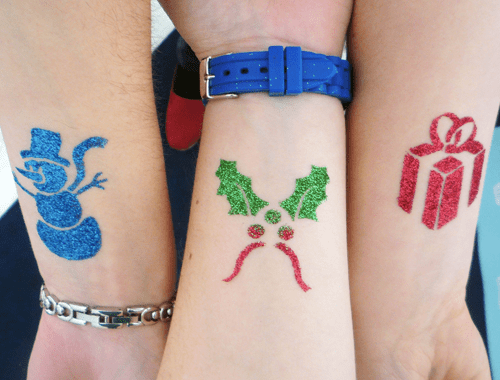 Christmas Glitter Tattoo
Forget those cheap and traditional stick-on tattoos! These are applied with a stencil, brush and body glitter; a brilliant activity that gives kids a piece of wearable art.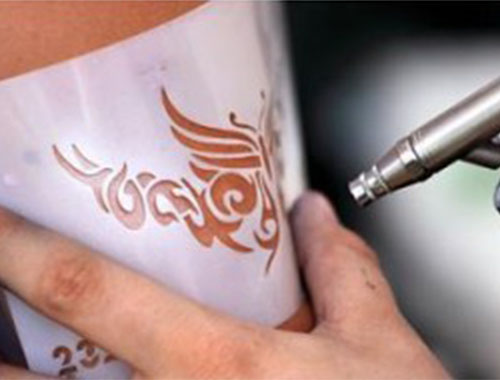 Christmas Air Brush Tattoo
A Christmas Outfit is not complete without accessories!  Get some airbrush tattoo to complete the look! It's certainly memorable as our temporary airbrush tattoo lasts for days!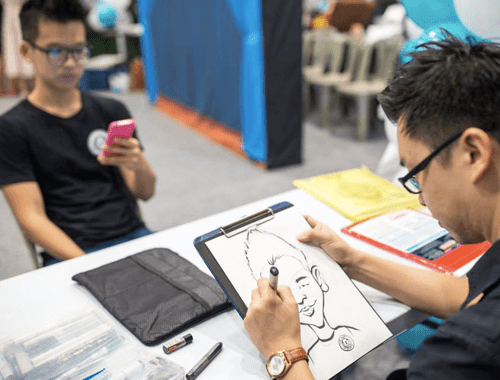 Christmas Caricature
What's a party without pictures for memories! Make this Christmas more memorable with your own caricature drawing! The drawing would be drawn on Christmas themed paper to enhance the holiday feels!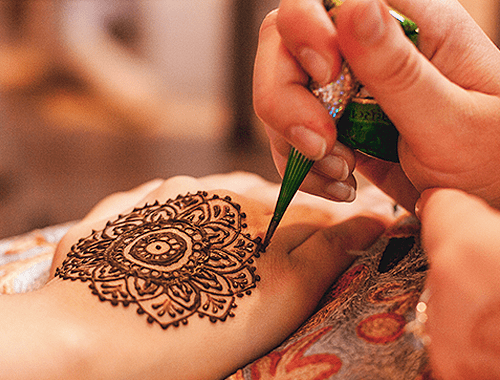 Henna Tattoo
Henna is not only historical and cultural, it is also immensely beautiful. Best of all? It's semi-permanent. Henna's timeless elegance allows it to complement any outfit and look. Indulge in traditional body art with us!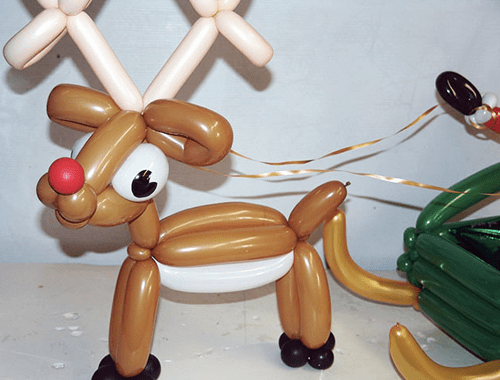 Christmas Balloon Sculpting
Bring Rudolph the reindeer and Santa to your guests! Not only do you get to watch meaningless shapes turn into something awesome, you get to keep them too! Le your child watch this wonder and keep a specially crafted balloon sculpture!
Christmas is not complete without PartyMojo's Christmas Carnival Game Booths! Our Chirstmas theme game booths are always a highlight during Christmas parties! Both kids and adults absoluetly love them. Get these awesome game booths at only $120 per booking, regardless of hours! What's better? Add on prizes to up your game! and if you need manpower to man the booths, we got you covered! *Hurry! For a limited time only!*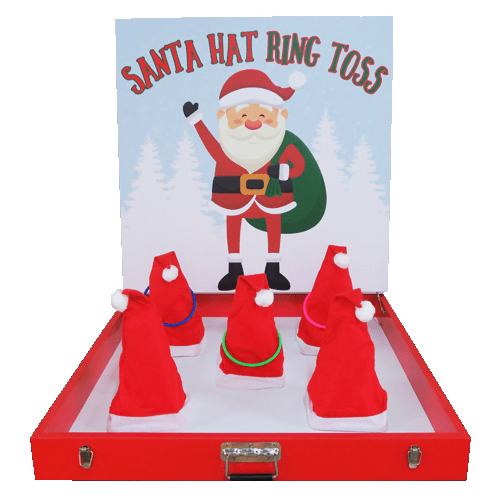 Santa Hat Ring Toss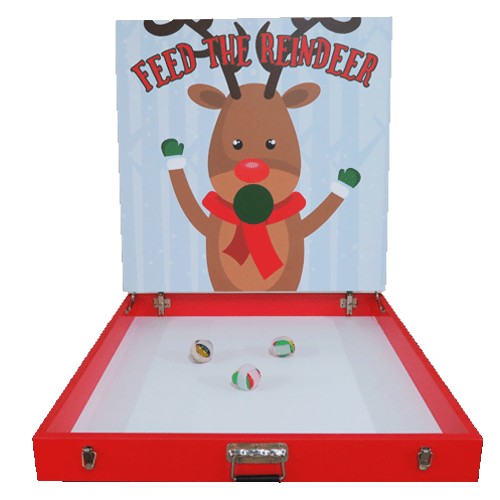 Feed the Reindeer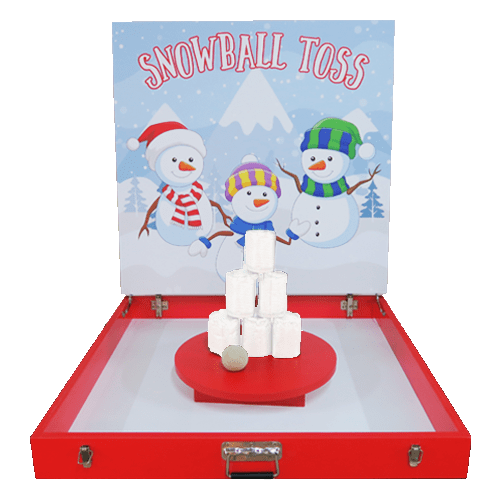 Snowball Toss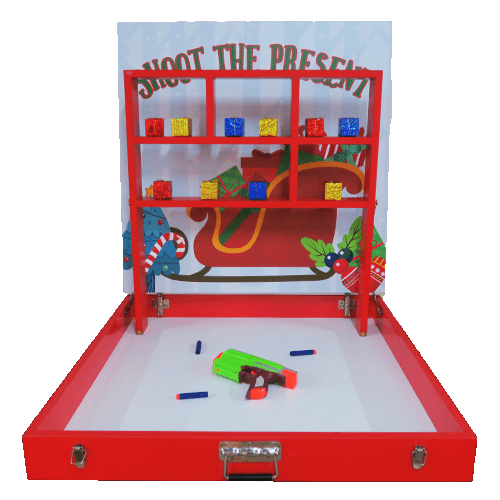 Shoot the Presents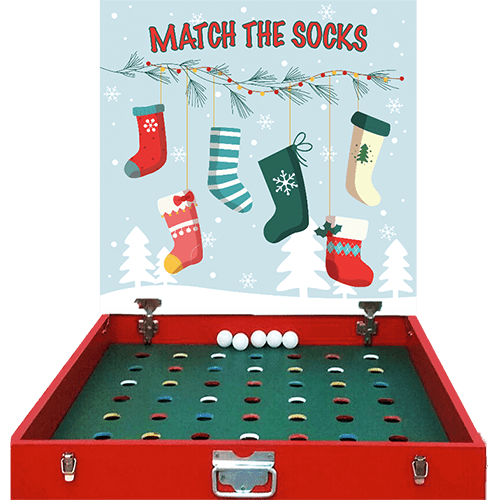 Match the Socks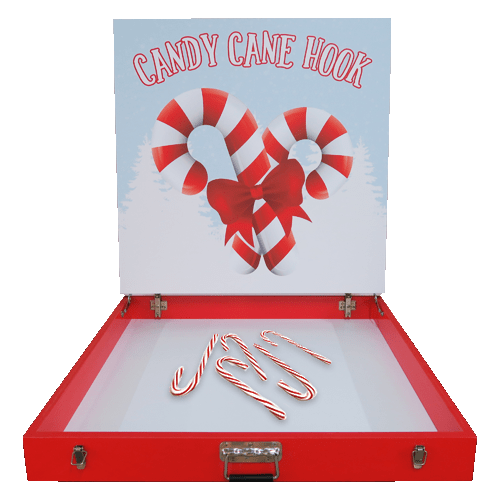 Candy Cane Hook
Want to top up for game prizes and manpower to mend the games booths? Or want more game booths? Contact us to find out more!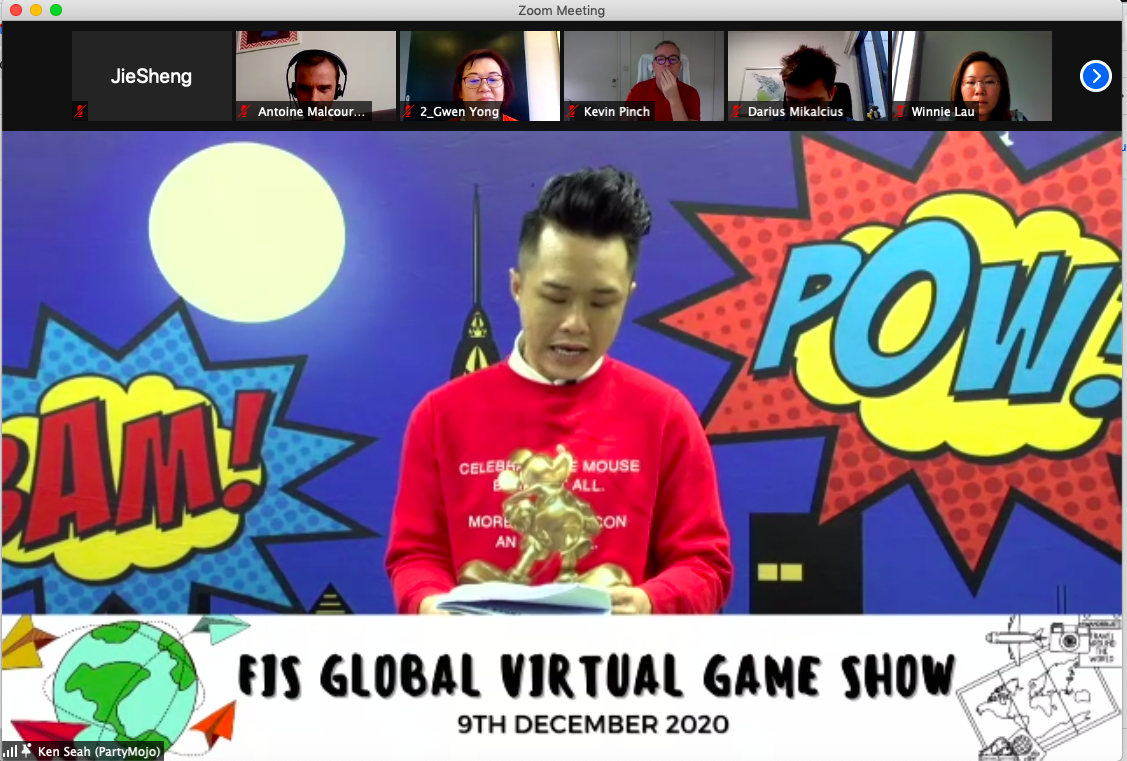 Virtual Games Night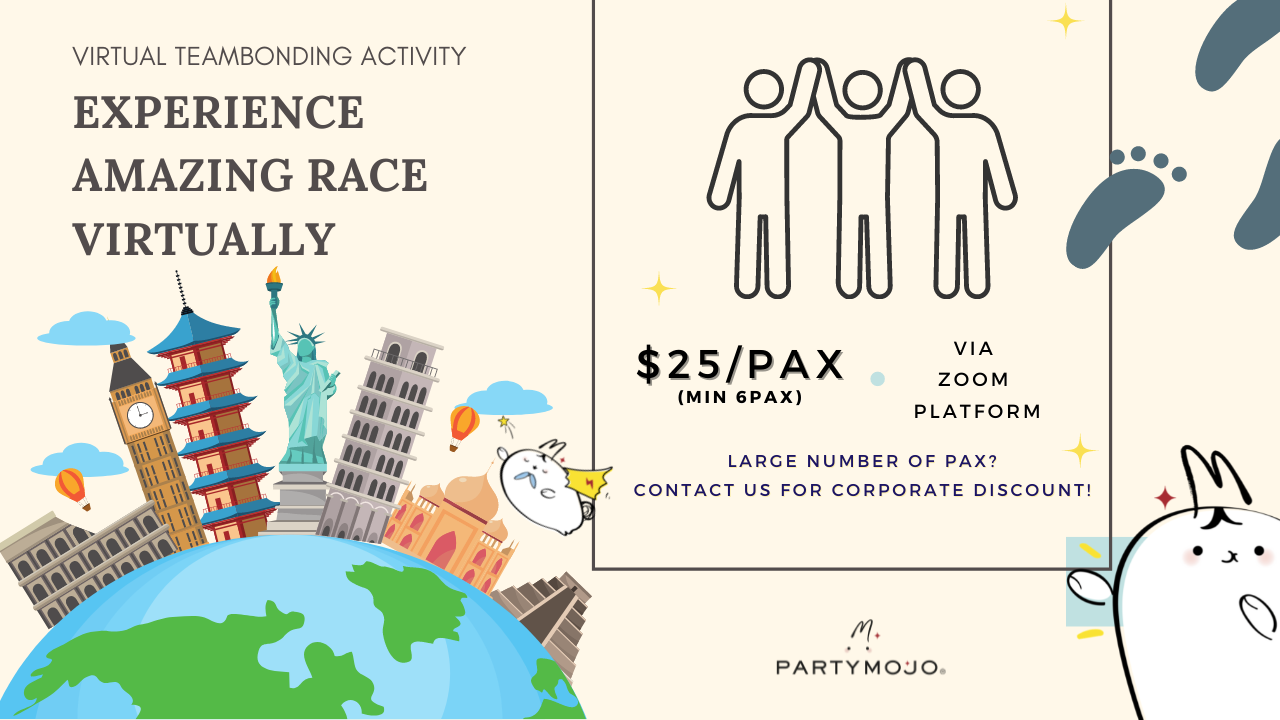 Virtual Amazing Race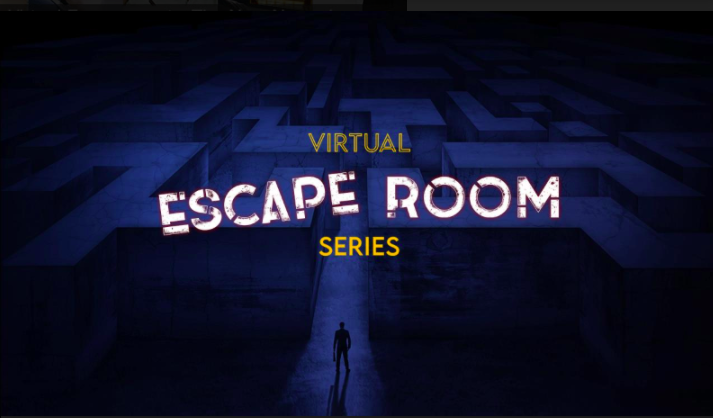 Virtual Escape Room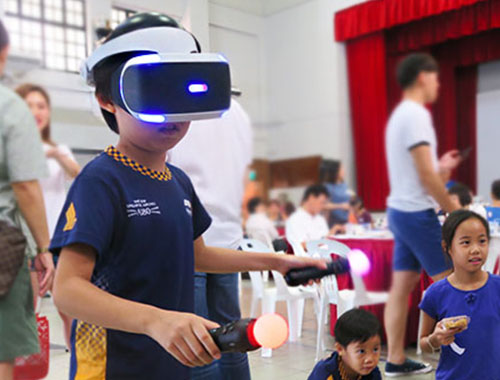 Virtual Reality (VR)
Enjoy a wide selection of awesome VR games for everyone this Christmas! Our wide variety of VR games include: Beat Saber, Danger Ball and many more for you to enjoy during this festive season!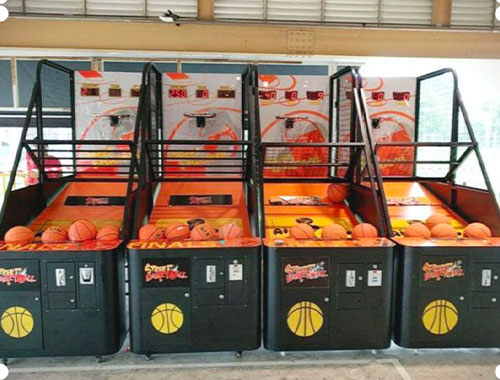 Basketball Machine
Fulfil your professional basketballer dreams this Christmas with PartyMojo's Basketball Arcade Machines! Get competitive and challenge your friends for a match of the best basketball shooter!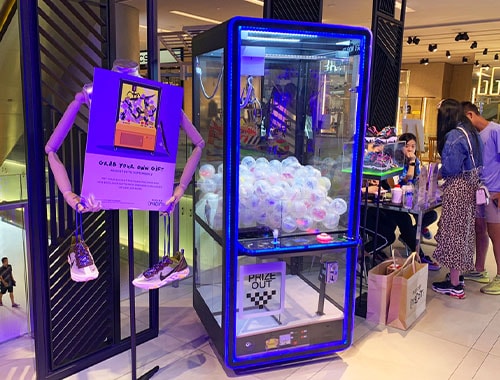 Claw Machine
PartyMojo's Christmas Claw Machine is perfect for prize-giving and audience interaction! Customise the gift to be included! Capsule balls, plush toys or vouchers etc! Enquire with us for more details!
Christmas Goodie Bags
It's the season of giving! Give the kids something to bring home from the event! What's included in the Christmas Goodie Bag? Inside the Christmas Paper Bag you will find 1 Kids Santa Hat, Christmas Treats and 1 Special Christmas Item!
Emcee & Sound System
Looking for someone to hype up your event? Don't fret over who to host! Our talented and experienced emcees are able to host your upcoming Christmas event! We also have professional sound system to go with your emcee, providing the best visual and audio effects for your event!
Christmas Photobooth
Look at the camera and strike a pose! Instant print photobooth comes with serveral print sizes and Christmas theme props! Gather your friends and head on over to preserve your Christmas Party memories with Christmas Photobooth!
Professional Photography
Safe keep your memories from your Christmas celebrations with professional photography! Our photographer will rove around your celebration and capture moments of the Christmas festive!
PartyMojo's Carnival Food Stalls
Christmas Activities are Most Suitable For
Our Corporate Clients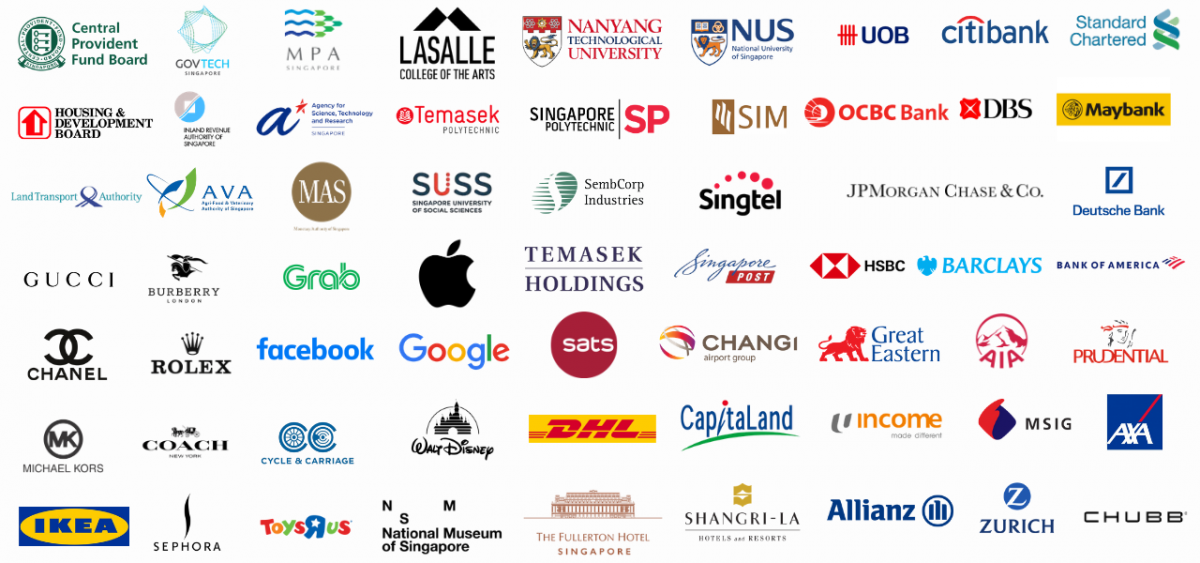 Terms & Conditions
Payment Terms
All prices quoted are in Singapore Dollars (SGD) and are subjected to 8% GST.
A 100% full payment is required to confirm the booking.
Breakage and damages to any equipments will be charged to client accordingly.
A transport surcharge of $30 is applicable for the following venues: Changi, Tuas, Sentosa, Turf city.
All cheques are made payable to PARTYMOJO PTE LTD.
Payment can be made via bank transfer to: DBS current Acc 003-932293-3 Branch code: 7171-003.
PartyMojo now accepts PayNow! The QR Code can be found at the bottom of the invoice issued.
Postponing of event can only be done 5 working days prior to the event.
50% of invoice charges if cancellation is made more than 5 working days before event time.
100% of invoice charges if cancellation is made 5 working days before event time.
Other Terms
PartyMojo will not be liable for cleaning up of any mess created by the activities/party guests.
PartyMojo reserves the right to cease the party immediately if the client verbally abuses any of our staffs. In the event that the client's guest verbally abuses a PartyMojo staff, PartyMojo staff will inform the client immediately. If the abuse does not cease, PartyMojo reserves the right to leave the event immediately.