Following a slew of action and superheroes movies being screened this year, it is every boy"s dream to one day host a superhero kids party! Lots of parents have been asking us what is included in PartyMojo"s Superhero birthday package and today we decided to blog about a recent Superhero themed kids party that we have done for a beloved customer! Let"s go!
Themed Backdrop
With every package, we include a night city Superhero-style backdrop that looks great for photo shoot and a great presence during the cake-cutting ceremony for the audience. It does include the 3D miniature buildings you see on the table. We have chosen the luminous color because it fits most of the superheroes" story background, a great fit from Spiderman to even Thor or Hulk 🙂
We are very honored to be hosting party for our birthday boy who has been a fanatic fan of Batman since young.
Most of our packages start off with face painting services first because it is a good way to welcome the incoming crowd. Face painting is one of the best options to get everybody involved in the theme, an even better solution for guests who did not turn up in superhero costume as it instantly transform their faces to the next superhero they love! Also, with the first few guests or kids face-painted, it is also a little trick for little guests to be looking more forward to the party once they stepped in!
There are 3 entertainment options available for the party namely: Balloon Sculpting, Face painting and Play-dough corner. The first two are self-explanatory with the third option offered if there are younger kids in the guest lists. In this corner, they make their own sculptures and learn how to make a figurine from a ball of dough.
Due to the age group of the kids, we have discussed with the parent to make the party a little unique with the combination of our Toddler party package and superhero themed package. We set up the play area with safety play mats, ball pits, tunnels and play tents.
Without a doubt, our little cutie above won the Best Dressed Guest Award 🙂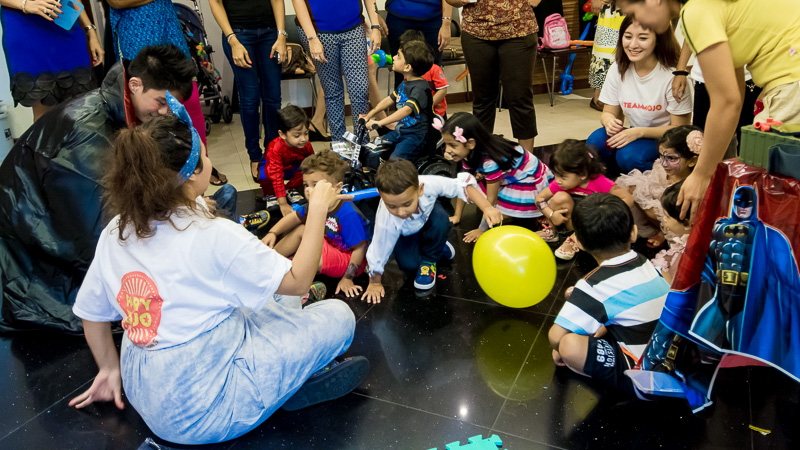 Finally, it is our game time! Our professional game master conduct games according to the age group and it is imperative to play games that cater to the crowd size and age group which can fully capture their attention. Of course, there are definitely times when games are harder to play due to the crowd size (less than 5) or with infants (less than 1 year old).
Oh! Did we mention that the package comes with hand-made superhero capes for every kid attending? Beside the face painting session, all the guests will also get a superhero cape that is complementary to the theme! All the capes are for the kids to bring home and normally they are snatched up the moment they are displayed out. If the kids are of older age group between 5-8, we will definitely suggest to take up the face paint and balloon sculpting option. Just imagine, a superhero cape superhero face paint a bow or sword premium balloon = a VERY thrilled 6 year old guest.
PartyMojo Mantra: Birthday cake should always look good AND taste good. In this aspect, this birthday cake scores a 10/10. For more recommendations, feel free to approach or email us at [email protected]!
The cake tasting ceremony!